June Jobs Report Positive, But Not Spectacular
June's Jobs Report was healthy, but the economy still needs to do better.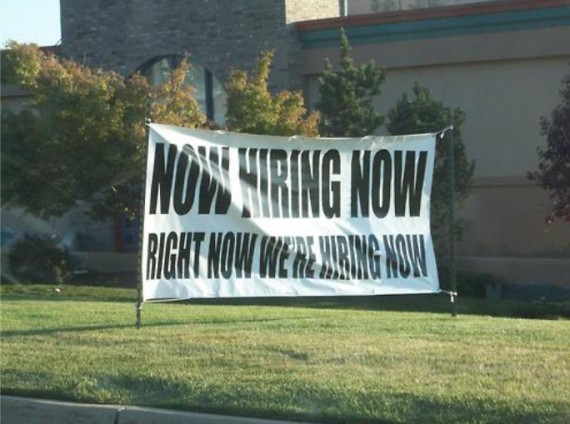 Coming as it is the day after the 4th of July and in the middle of what many Americans are treating as a long weekend, it's likely that today's release of the June Jobs Report may be getting less attention than normal, but it was released nonetheless and, much like last month we ended up with another good-but-not-great report that shows that the economy seems to be growing in a slow but steady manner that is at least generating mildly good jobs numbers. At the very least, it would appear that we've broken the trend that we had seen over the previous three years where a strong winter/spring is followed by a slumping summer of minimal to no job market growth, and that alone is pretty good news.  Looking at the topline numbers, net nonfarm payrolls increased by 195,000 while the unemployment rate remained steady at 7.6 percent. There are a few data points of potential concern in the today's numbers, but on the whole this was a good report that, hopefully for those who still have to find work, is the indication of a new, much more positive trend:
So here's how the Bureau of Labor Statistics put it:
The number of unemployed persons, at 11.8 million, and the unemployment rate, at 7.6 percent, were unchanged in June. Both measures have shown  little change since February. (See table A-1.)

Among the major worker groups, the unemployment rate for adult women (6.8 percent) edged up in June, while the rates for adult men (7.0 percent), teenagers (24.0 percent), whites (6.6 percent), blacks (13.7 percent), and Hispanics (9.1 percent) showed little or no change. The jobless rate for Asians was 5.0 percent (not seasonally adjusted), down from 6.3 percent a year earlier. (See tables A-1, A-2, and A-3.)

In June, the number of long-term unemployed (those jobless for 27 weeks or more) was essentially unchanged at 4.3 million. These individuals accounted for 36.7 percent of the unemployed. Over the past 12 months, the number of long-term unemployed has declined by 1.0 million. (See table A-12.)

The civilian labor force participation rate, at 63.5 percent, and the employment-population ratio, at 58.7 percent, changed little in June. Over the year, the labor force participation rate is down by 0.3 percentage point. (See table A-1.)

The number of persons employed part time for economic reasons (sometimes referred to as involuntary part-time workers) increased by 322,000 to 8.2 million in June. These individuals were working part time because their hours had been cut back or because they were unable to find a full-time job. (See table A-8.)
And on the job creation side of the equation:
Total nonfarm payroll employment increased by 195,000 in June, in line with the average monthly gain of 182,000 over the prior 12 months. In June, job growth occurred in leisure and hospitality, professional and business services, retail trade, health care, and financial activities.  (See table B-1.)

Leisure and hospitality added 75,000 jobs in June. Monthly job growth in this industry has averaged 55,000 thus far in 2013, almost twice the average gain of 30,000 per month in 2012. Within leisure and hospitality, employment in food services and drinking places continued to expand, increasing by 52,000 in June. Employment in the amusements, gambling, and recreation industry also continued to trend up in June (+19,000).

Employment in professional and business services rose by 53,000 in June. Job gains occurred in management and technical consulting services (+8,000) and in computer systems design and related services (+7,000). Employment continued to trend up in temporary help services (+10,000). Over the past year, professional and business services has added 624,000 jobs.

Retail trade employment increased by 37,000 in June. Within retail trade, employment increased by 9,000 in building material and garden supply stores and by 8,000 in motor vehicle and parts dealers. Employment in wholesale trade continued to trend up (+11,000).

Health care continued to add jobs in June, with a gain of 20,000. Within the industry, employment continued to trend up in ambulatory health care services (+13,000). A gain of 5,000 jobs in hospitals followed a loss of 8,000 jobs in May.

Employment in financial activities rose by 17,000 in June, with most of the increase occurring in credit intermediation (+6,000) and in insurance carriers and related activities (+6,000).

Federal government employment continued to trend down in June (-5,000) and has declined by 65,000 over the past 12 months.

Employment in most other major industries, including mining and logging, construction, manufacturing, and transportation and warehousing, showed little change in June.
In addition to these numbers, the jobs numbers for April were revised upward from 149,000 new jobs to 199,000 new jobs while the numbers for May were revised upward from 175,000 to 195,000. That puts average jobs growth for the three months making up the 2nd Quarter of 2013, pending revisions to June's numbers that will come out over the next to months, at 196,000 per month compared to the 182,000 per month average for 2013 as a whole to date. While this is far better than what we've seen in the not too recent past, it's worth noting that if we continued that 196,000 average going forward, it would still take until 2021, after two Presidential elections, before we would return to pre-recession employment levels. At 182,000 per month, it would quite obviously take longer than that. Another cautionary note can be found in U-6, the long term unemployment rate, which took a jump from 13.8% to 14.3% last month. Given the fact that labor force participation actually increased  by a slight, though not entirely significant, amount, it's not entirely clear why this happened or what it means for the future, but it's something worth keeping an eye on.
In the media, CNBC is choosing to emphasize the positive but also pointed out that the growth wasn't entirely what we'd call robust:, which may actually be good for the stock market if not the economy as a whole:
The numbers provided a mixed bag of news: While the actual employment level grew by 160,000, the unemployment ranks increased as well, by 17,000.

Those working part-time for economic reasons also jumped, growing 32,200 for the month.

That pushed a more encompassing count of unemployment that includes discouraged and underemployed from 13.8 percent to 14.3 percent.

Moreover, the quality of jobs was weak.

The bulk of the gains—75,000—came in the hospitality industry of bartending and waiters.

Professional and business services was the second-best growth area, adding 53,000 and retail grew 37,000.

"It's so hard. Unless you know somebody you can't get a job," said Sharon MacGregor, 43, of Patterson, N.J.

MacGregor was laid off a year ago from her job at a medical education company and has struggled since to find a job that can help her make ends meet.

"Now that I've been unemployed for more than six months, I don't feel like I'm even being considered," she said. "Pay is so low. I know we're not supposed to be choosy, but you have to live."

The average duration of unemployment actually fell in June but remained elevated at 35.6 weeks.

While the numbers provided confirmation that employment gains continued pretty much apace with the past year or so, the Fed's targeted growth level remains elusive and the routine of zero interest rates and the $85 billion a month of bond purchases likely will continue.

"We can expect the Fed to continue providing hints of tapering, while maintaining status quo with the current QE program," said Todd Schoenberger, managing partner at LandColt Capital. "Overall, this report is remarkably bullish for stocks."
The New York Times is slightly more circumspect:
The economy added 195,000 jobs in June, the Labor Department reported Friday morning, slightly more than analysts had been expecting and suggesting steady growth.

Wall Street has been feverishly awaiting the June employment report. Not only does it provide another indicator of overall economic strength, it also affects the timing of the Federal Reserve's decision to start tapering a major part of its stimulus efforts.

A strong report increases the likelihood the central bank will start pulling back on its bond purchases as early as September, a prospect that has made some investors more cautious in recent weeks. On the other hand, signs of weakness in the labor market would likely prolong the Fed's program of purchasing $85 billion in bonds per month.

Along with job creation, the Fed is closely watching unemployment levels. The unemployment rate, which is based on a separate survey from the one that tracks jobs, remained at 7.6 percent, unchanged from May.

The chairman of the Federal Reserve, Ben S. Bernanke, said two weeks ago he anticipated the bond-buying program would wrap up when the unemployment rate sinks to 7 percent. The Fed estimates that could happen by the middle of next year.

Despite signals from the Fed that the labor market is strong enough to handle a reduction in the stimulus, the pace of job creation has slowed in recent months.

Over the course of March, April and May, the economy added jobs at an average rate of 155,000 a month, down from the 233,000-a-month pace that prevailed in December, January and February.

While the economy has held up better than some analysts had expected in the face of tax increases and automatic cuts in federal spending this year, overall growth has been tepid. The economy grew at an annual rate of 1.8 percent in the first quarter, short of what's needed to quickly lower the unemployment rate or reduce the ranks of the jobless.
Of course, the sequester was not in effect during the 1st Quarter of the year, so you can't really ascribe the weak growth then to the sequester, although admittedly there may have been some anticipatory cutbacks going on at that time. During the bulk of the period that the sequester has been in effect, though, we've actually seen some of the best job growth that we've had in quite some time. Along with many other factors that others have cited, this suggests that the gloom and doom that was being tossed around in the months before the sequester went into effect in March was largely overblown.
This isn't the kind of jobs report that its worth popping champagne corks over. That should be reserved for a time when we're averaging at least 225,000-250,000 new jobs for month, and preferably more. But it's respectable at the very least. Whether it's sustainable is something we'll have to wait to find out.