Just Say No To "National Service" Schemes
The return of a really bad idea.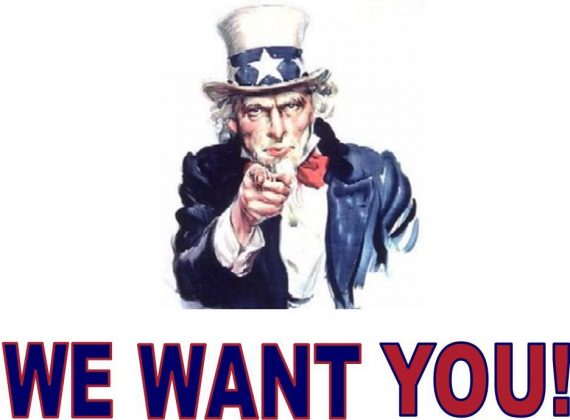 Earlier this week in a piece in The Washington Post, Michael Gerson trotted out a canard that has been floating around seemingly for decades now, the idea that all Americans should engage in some sort of "national service" upon turning 18:
It is not an auspicious time to begin a dialogue on national service. Which demonstrates why it is needed.

The impetus for this discussion has come from the military. During an event at the Aspen Institute's Ideas Festival last year, Gen. Stanley McChrystal offhandedly endorsed universal national service for young people graduating from high school or college, fulfilled in either a military or civilian setting. His particular concern was the growing disconnect between the less than 1 percent of Americans who serve in the armed forces and the rest of the country. The result is not only an unequal distribution of burdens but also the unequal development of citizens. "Once you have contributed to something," McChrystal said, "you have a slightly different view of it."

This mention has matured into a proposal, endorsed by a list of luminaries including former secretaries of state Condi Rice and Madeleine Albright and former defense secretary Robert Gates. Instead of giving 18-year-old males a meaningless (to them) Selective Service number, why not also give all 18-year-old men and women information on the five branches of the armed forces, along with the option of serving a year or more in a civilian service program? National service, while not legally mandatory, would be socially expected.

(…)

How then does a democracy cultivate civic responsibility and shared identity? Taxation allows us to fund common purposes, but it does not provide common experiences. A rite of passage in which young people — rich and poor, liberal and conservative, of every racial background — work side by side to address public problems would create, at least, a vivid, lifelong memory of shared national purpose.
Gerson says that he doesn't favor universal national service, which would require every American man and woman to "donate" some amount of time, usually defined as two years or so, to the state in the name of national service. However, that has been the common way in which the idea has been expressed over the years. Indeed, if all that these "national service" ideas were about were trying to persuade young people to volunteer to do things, it would be rather pointless to talk about them given all the opportunities that already exist for such volunteerism. Instead, the true essence of the "national service" crowd can be found in things like this May Wall Street Journal piece by retired General Stanley McChrystal:
It is right that we send off the young Americans graduating this month from high school, college and professional schools with speeches. They should be congratulated for completing the many exams now behind them. But we must remember another test—Lincoln's test of citizenship—and begin to mark these important junctures in life not just with words, but with real-world commitment.

Universal national service should become a new American rite of passage. Here is a specific, realistic proposal that would create one million full-time civilian national-service positions for Americans ages 18-28 that would complement the active-duty military—and would change the current cultural expectation that service is only the duty of those in uniform.

At age 18, every young man and woman would receive information on various options for national service. Along with the five branches of the military, graduates would learn about new civilian service branches organized around urgent issues like education, health care and poverty. The positions within these branches would be offered through AmeriCorps as well as through certified nonprofits. Service would last at least a year.

Returning military veterans would be treated as the civic assets they are and permitted to use a portion of their GI Bill benefits to support a period of civilian national service, since such service helps them transition to life back home.

The new service opportunities would be created in accordance with the smart rules that have guided AmeriCorps since its founding in 1994, which allow that program to field tens of thousands of service members without displacing workers and who fill vital niches their paid colleagues do not.

(…)

Instead of making national service legally mandatory, corporations and universities, among other institutions, could be enlisted to make national service socially obligatory. Schools can adjust their acceptance policies and employers their hiring practices to benefit those who have served—and effectively penalize those who do not.
Writing from the Aspen Institute's annual conference, Arianna Huffington joins the movement too. To be honest, I'm not all that impressed with the new movement for "national service," mostly because I've lived through all the other movements for "national service" that have popped up over the years only to die off. Every time, the arguments are pretty much the same. Americans must "give something back" to the nation, we're told, or they "owe something" to the community. Somewhere along the way that non-objectionable idea gets changed into the idea that everyone ought to be compelled, and have no doubt that compulsion is at the heart of these arguments, to "be part of the community" whether they want to or not. More often than not, these proposals end up being not just talk about reinstating the military draft, but of expanding it so that young people end up getting drafted into something other than just holding a gun and saluting for a couple years. Because, of course, there's nothing that will inspire your love of country more than digging ditches and building things for the next two years.
Daniel Larison takes on Gerson's assertion that national service is something that conservatives should support:
As he tends to do, Gerson takes admirable ideals and makes a mockery of them. Conservatives should feel gratitude for our inherited traditions and institutions, and conservatives should want to contribute to the common good, but that doesn't mean that they should want or support national service organized by the federal government. A person forced by law or social convention to do such service isn't going to feel gratitude or affection. It is more likely that he will be made to resent the authority or the convention that so compels him. National service isn't a "devolution of responsibilities." It is an unwelcome redefinition of what a "responsible" citizen is expected to do.
This seems spot-on, whether the compulsion behind "national service" comes from the law, from employers and schools make it a requirement, or from society in general, it is still a form of compulsion and it's not hard to see most people becoming resentful of being forced to do things they'd rather not to at the literal start of their adult lives. How, exactly that's supposed to engender a "sense of community" is beyond me. If people are volunteering for these projects, and by all accounts there are plenty of people out there willing to volunteer if there are spots available for them, that's one thing, but forcing them to "volunteer," by whatever means pretty much turns the intent of volunteerism on its head. Moreover, with all due apologies to the author of President Kennedy's Inaugural Address, there's simply something wrong with the idea that the people belong to the state or owe anything to it other than obey just laws and paying taxes when they're due. It's state that belongs to the people, not the other way around.
Conor Friedersdorf makes an excellent point about how a one-size-fits-all "national service" program could never be implemented fairly:
1) The educational and career demands of modern society are already causing people to delay marriage and child-bearing. I wouldn't want to coerce anyone to wed and procreate early. But building another one or two year lag into "coming-of-age" could have unintended consequences.

2) A one-size-fits-all mandate inevitably does serious harm to some people in a society as diverse as ours. Working for Uncle Sam might not cost the average person much at age 18 or 22. But think of how important that precious year of youth is to some people — for example, the thousands of Americans who make their careers in professional athletics, whether the NBA or Olympic badminton. They've got a limited number of years to pursue their passion. If you're LeBron James, a year of service when you're age 40 makes a lot more sense! If you're a young Mormon couple with religious obligations to your community and a desire to have a really big family, an extra volunteering burden in your early 20s matters a lot. Maybe it means you have to have one less kid. The Washington, D.C., wonks who write the laws won't think of these minorities.

3) Lots of people fulfill obligations beyond themselves that aren't "public service" as we generally understand it: helping to support their single mother and younger siblings; taking care of a sick parent or grandparent; working so a significant other can afford law or medical school; babysitting for a neighbor while she finishes her master's degree on Wednesday nights; helping a talented but disorganized friend complete her application for art school. Is it proper to compel those people to reallocate their time, so that they're serving "the public" rather than their family, friends or neighbors? Of course, any opt-out clause for people in the circumstances I've described would make national service so easy to avoid that it wouldn't be universal. People "give" in lots of different ways. Why should one of them be elevated and made compulsory?
Friedersdorf goes on to list a number of other well-taken points that I recommend to your attention, but these three seem to me to strike me as the core of the argument against making "national service" mandatory, whether that mandate comes from the law or from social pressure. Everyone's life is different and everyone finds ways to give back to their community in different ways. Shoving every 18-20 year old into the same government-run program and assigning them based on what some bureaucrat thinks is best strikes me as just another example of the inherent failures of central planning which one would think we would've learned long ago. Instead of forcing people to contribute, wouldn't it be better to leave the decision to them, and let them contribute in their own way not just when they are 18-20, but throughout their adult lives? There's nothing wrong with volunteerism, but the idea of forced volunteerism is the kind of Orwellian concept that only a bureaucrat, or one of the elitists that hangs out at the Aspen conference, could love.