Heads of UN Agencies Call for Israeli Ceasefire
The laws of armed conflict aren't designed for this war.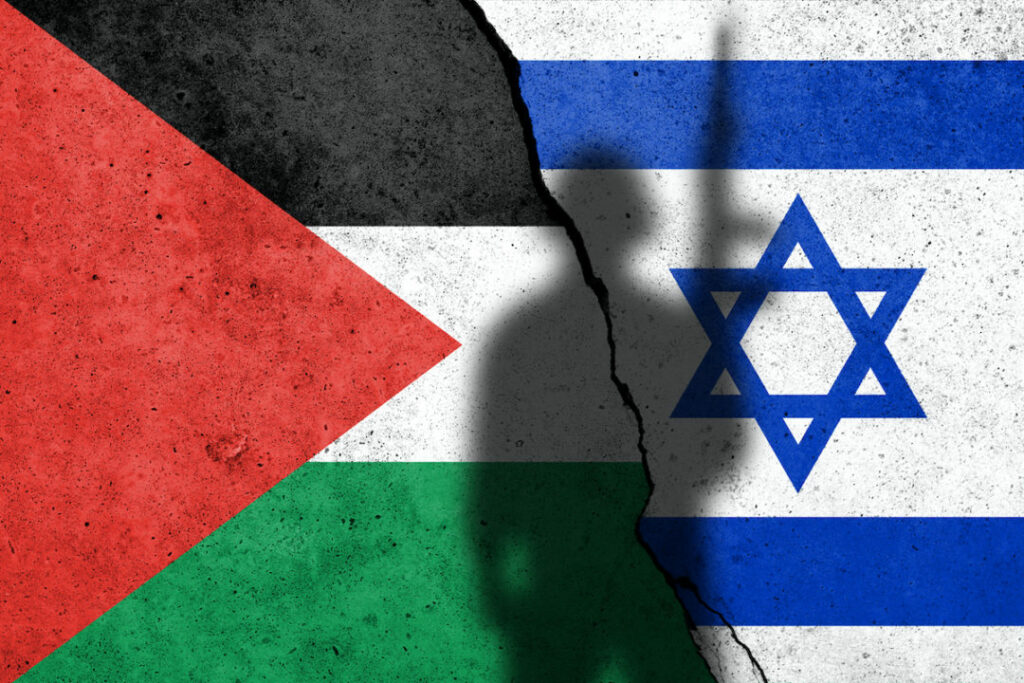 BBC News live blog ("UN agencies call for immediate ceasefire in rare statement"):
The heads of all major UN agencies have issued a rare joint statement calling for an "immediate humanitarian ceasefire" saying "enough is enough".

"For almost a month, the world has been watching the unfolding situation in Israel and the occupied Palestinian territory in shock and horror at the spiralling numbers of lives lost and torn apart," the UN bosses say.

The heads of organisation including UNICEF, the WHO, the World Food Programme – as well as charities such as Save the Children – described the "horrific" loss of life on both sides, and demand the unconditional release of hostages taken by Hamas during its 7 October attacks.

The statement continues:

"However, the horrific killings of even more civilians in Gaza is an outrage, as is cutting off 2.2 million Palestinians from food, water, medicine, electricity and fuel."

The statement adds that 88 people working for UNRWA, the agency focussed on Palestinian refugees, had been killed since 7 October, the highest number of UN fatalities "ever recorded in a single conflict"
While the statement is careful to condemn Hamas for its atrocities and to call for them to release their hostages, this is clearly aimed at Israel. After all, Hamas wins if there's a ceasefire. And Hamas doesn't much care about the opinion of the world community, so likely won't feel any pressure to release hostages.
WaPo ("As Gaza death toll soars, secrecy shrouds Israel's targeting process"):
The Israeli airstrikes that hit the Jabalya refugee camp on Oct. 31 sent buildings tumbling down on families displaced from across the besieged enclave. More than 110 people were killed, many of them women and children crushed beneath the rubble, doctors said.

The Israeli military said the operation achieved its aim.

"We were focused on our target," Lt. Col. Richard Hecht, a spokesman for the Israel Defense Forces said Monday, referring to Ibrahim Biari, a high-ranking Hamas commander. "We know that he was killed."

Since the conflict began, nearly 10,000 Palestinians have already been killed, according to Gaza's Health Ministry, as the IDF presses for the destruction of the Hamas militant group that rules the enclave. Although Israeli officials insist that each strike is subject to legal approval, experts say the rules of engagement, which are classified, appear to include a higher threshold for civilian casualties than in previous rounds of fighting.

"There was always a conscious effort to limit the amount of civilian casualties in the few occasions that we have struck in areas where we knew that there would be civilian casualties," said Jonathan Conricus, the international spokesman for the IDF. He would not comment on whether Israel has changed its rules of engagement and accused Hamas of inflating the death toll.
While I am instinctively suspicious of casualty numbers provided by either side of a conflict—and especially one that doubles as a terrorist organization—Hamas' projections in earlier conflict have tended to closely mirror those of international organizations doing independent monitoring. That said, it's really tough for even disinterested parties to accurately count casualties while the fighting is this intense.
Regardless, the quandary that we've focused on for the last month—the dichotomy between international humanitarian law and a fight between a modern nation-state and a terrorist group hiding among a civilian population—remains fraught.
"Essentially, the laws of armed conflict strike a balance" between the military advantage of the attack and the expected harm to civilians, said Pnina Sharvit Baruch, a former IDF legal adviser.

"The higher the military advantage, the higher harm to civilians would still be considered proportionate," she said, describing Israel's logic, saying that any harm to civilians is collateral, not intentional.

The consequences of those calculations are spread across the floors of Gaza's hospitals and morgues. Entire families have been killed; infants are buried with their parents in mass graves. Strikes have hit water towers and bakeries, schools and ambulances. Human rights groups have flagged a growing number of strikes as potential war crimes and urged an international investigation.

In comments last month, the International Criminal Court's prosecutor, Karim Khan, said that every military decision-maker in the conflict should be "on clear notice that they will be required to justify every strike against every civilian object."

International law requires militaries to make clear distinctions between civilians and militants, and to take all possible precautions to prevent civilian harm. The principle of proportionality prohibits armies from inflicting civilian casualties that are "excessive" in relation to the direct military advantage anticipated at the time of the strike.

It is an inexact standard that requires a full investigation, a difficult task in an active war zone. How Israel is selecting its targets is shrouded in secrecy, making it extremely hard for experts to judge their legality. U.S. officials say they do not know exactly how IDF commanders are assessing the threshold for civilian casualties — even as they publicly urge Israel to minimize the death of innocents.
That Israel is not sharing its targeting strategy is hardly shocking. It would be strange to expect otherwise. While we might expect them to be more transparent about their rules of engagement the nature of the adversary makes that more problematic: "Oh, they won't bomb if we hide among civilians at a 10-to-1 ratio? Well, then . . . ."
The Israelis have significantly reduced the number of airstrikes in recent days, a possible sign that the U.S. message is getting through, one senior State Department official told The Washington Post, speaking on the condition of anonymity to discuss sensitive talks. The official added that strikes were still causing dramatic casualties.
Maybe! Or maybe they've hit their preliminary targets and are now down to more precision targets. Or, now that the ground invasion is on, they don't want to blow up their own soldiers.
In the Jabalya attack, which took out an entire residential block, the Israeli military suggested it was carefully planned to target a senior Hamas figure in the tunnels below the refugee camp.

"And we struck it and it was taken out and dozens of Hamas operatives were killed with him," Conricus said. "Of course, it's sad and regrettable that civilians are killed, but it is a legitimate military target."

In calculating the risk to civilians, military planners could reasonably have assessed that the number of casualties would be in the hundreds, experts say.

"The Jabalya strike, because it was a planned attack, shows that Israel must have a tolerance for civilian casualties which is orders of magnitude greater than that that was used by, say, the U.S. Air Force in the war against ISIS," said Mark Lattimer, executive director of the Ceasefire Centre for Civilian Rights.
Well . . . yes? While ISIS killed some American citizens in the Middle East, they weren't based in, say, Mexico and launching missile attacks on Texas. That surely influenced our calculus.
On Oct. 14, just a week into the war, the Israeli air force said it had dropped 6,000 bombs on Hamas targets in Gaza. By contrast, a little more than 7,300 bombs were dropped on Afghanistan by the U.S.-led coalition in all of 2019, the heaviest year of aerial bombardment there.
I'm honestly surprised there were 7300 bombable targets left in Afghanistan in 2019. But, presumably, forces entrenched in hardened bunkers require more bombs. I'm just not sure how useful a metric it is for assessing discrimination.
The IDF has since provided only sporadic updates on the number of strikes conducted.
I can't imagine why.
Another U.S. administration official told The Post the Israeli calculus about acceptable levels of civilian casualties was clearly different from that of the United States, but insisted there was a robust process in place to assess each strike. They spoke on the condition of anonymity to talk about sensitive conversations.

"U.S. interlocutors who are professionals on this issue of deconfliction and conduct of campaigns have had these discussions" with their Israeli counterparts, the senior State Department official said.

The United States provides the Israeli army with military and intelligence support, and is therefore required by the Geneva Conventions to ensure that bombing raids in Gaza do not breach international law.
I must confess not being familiar with that aspect of the laws of armed conflict. But it's not at all obvious to me how much control we have over IDF targeting decisions.
On Sunday, IDF spokesman Daniel Hagari appeared to foreshadow the possibility of targeting major hospitals, citing their alleged use by militants to fire on Israeli forces. He described medical facilities as a "key part of [Hamas's] war machine" and urged that they be evacuated.

Medical relief organizations and doctors inside the hospitals have repeatedly emphasized that they cannot comply. The facilities are packed with hundreds of people, some of them on life support, as well as newborns in incubators. Thousands of displaced residents are also sleeping on hospital grounds, believing them to be safer than the ruined neighborhoods they fled.
This is obviously quite fraught. But, again, Hamas is guilty of perfidy, using the fact that hospitals are protected under LOAC to their military advantage. Whether that gives Israel the right to target the hospitals really depends on the degree to which this is taking place.
Israeli Prime Minister Benjamin Netanyahu has framed the fight against militants in existential terms. The group and its infrastructure — spread among Gaza's population of more than 2 million civilians — can and will be destroyed, he has said.

Baruch said the savagery of Hamas's Oct. 7 assault on Israel, which killed more than 1,400 people, gives Israel greater latitude under international law to act in self-defense: "Those standards say, we understand that you might be attacked so viciously that the only way to defend yourself is to use a lot of force and unfortunately harm civilians because there is no other way."

But the principle of proportionality remains unchanged, experts say.

Hagari laid out on Sunday the number of warnings that Israeli forces have issued to Palestinian civilians to evacuate areas under bombardment: 1,524,000 fliers dropped from the sky, almost 6 million messages sent to cellphones and 20,000 phone calls.

But Gaza is one of the most densely populated areas in the world. With the exits sealed to all but foreign nationals and a small number of wounded Palestinians — and bombs falling across the enclave — there is no meaningful place for civilians to escape.
IHL/LOAC evolved over centuries, almost entirely in the context of Christian scholars and Western great powers negotiating mutually acceptable rules, usually in the aftermath of horrific state-on-state conflicts. They're simply harder to apply outside that context. If one or more parties to the conflict are non-state actors or otherwise don't hold themselves, at least in spirit, to the rules it becomes difficult, indeed, for the other actors to balance these realities.
The United States, for example, hewed closer to LOAC when fighting the Northern Vietnamese Army and the Iraqi Army than it did the Viet Cong and Al Qaeda in Iraq. While, as a technical matter, the same rules applied, as a practical matter, no country, regardless of its theoretical commitment to IHL, is going to subject its forces to exponentially greater risk fighting fair when the other side wantonly disregards the rules.
Caught in the middle, of course, are innocent women and children who are not party to the conflict but merely trapped by geography. Israel is making considerable effort to at least warn them—which is being taken advantage of by Hamas fighters—but, as we've noted all along, there's really no place for them to go. Egypt has very limited interest in taking in more refugees and even the ostensible safe zones in the south of Gaza aren't all that safe—and getting there is fraught with danger as well.
As Israel's list of pre-vetted strike locations is depleted, the emphasis of its air campaign is shifting to so-called dynamic targeting, where decisions are made relatively quickly — an approach that has led to higher civilian casualties in other air wars, including those by the U.S.-led coalition against ISIS in Iraq and Syria.

That change would have "stark implications for civilian harm," said Marc Garlasco, a former defense intelligence analyst. "When you switch to dynamic targeting you are doing a much more rapid collateral damage assessment and you are not able to take as many precautions."
That's absolutely right. Our various drone and special operations missions in Iraq, Afghanistan, and the counter-ISIL fight demonstrated this repeatedly. Innocents will be killed in these operations, pretty much without fail. And whether taking out the number 7 guy on the Hamas organizational chart is militarily proportionate to that is highly debatable. This isn't a wargame with pre-scripted matrixes.
Israel may also be blinder than in previous periods, experts say, as hundreds of thousands of civilians shelter in new locations, sometimes moving several times a week in search of safety.

"In the first days of the war, the Israelis will know a lot. They'll know about patterns of life, they can do good collateral damage estimates," said Michael Schmitt, a professor of international law at the University of Reading who served 20 years in the U.S. Air Force as a judge advocate.

"At this point in the war room, those thresholds would be necessarily a bit lower than they were on day one."

There are also questions about the strength of the intelligence being used to choose targets inside Gaza, less than a month after thousands of Hamas militants launched a devastating surprise attack on Israeli soil.

"It calls into question how good the IDF's intelligence is, and that bears on both targeting implementation on the front end but also on assessments of incidental harm to civilians and civilian objects," said Brian Finucane, a Crisis Group senior adviser who has advised the U.S. government on counterterrorism and the use of military force.
Again, this was true for the United States during much of the GWOT era. While the notion we would simply kill "military-aged males" on sight was grossly exaggerated, the targeting was necessarily imperfect for the same reasons.
With unrest gripping the occupied West Bank and missiles flying along its border with Lebanon, Israel's monitoring assets may also be stretched thin, said Schmitt. "The calculation goes: I've got to watch the north. I've got to watch all these other areas. So I can't allocate all my resources to Gaza."
For the most part, the United States did not have to deal with this worry during GWOT. While Israel may well be acting more aggressively and harshly than IHL/LOAC requires, they're doing it against the backdrop of an active war against its homeland. That a massive campaign against Hamas very much comes across as collective punishment—lumping all Palestinians into one bucket—it's not at all obvious to me that we wouldn't do much the same under those conditions.