Israel, Hamas, and the Laws of War
It's . . . complicated.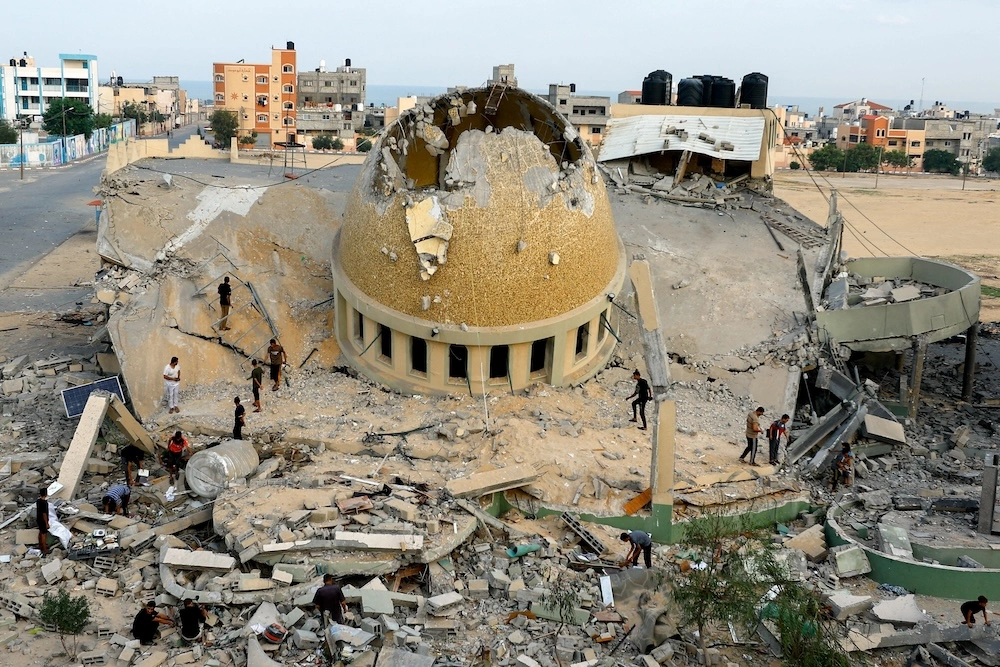 There has been a lot of discussion of war crimes by both myself and commentators since the latest round of the Israel-Palestinian conflict turned violent a week ago. A comment Friday by @Andy, highlighted yesterday by Dave Schuler at his place, gets to the crux of the matter:
The asymmetry between the standard for Israli conduct and Hamas' conduct is very revealing – Israel is held to an impossible standard where any killed civilians are immediately counted as war crimes and condemned. Hamas is held to no standard at all despite it being one long string of continuous and intentional war crimes and having an explicit goal is to murder Jews. Somehow that is spun as "resistance" when Hamas is largely indistinguishable from Nazi's in terms of answering "The Jewish Question."
A related point has been made multiple times by Michael Reynolds:
Not that long ago it was US policy to respond to a nuclear attack by condemning the entire human race to extermination. The USSR tried to move missiles into Cuba and we responded by threatening to annihilate the USSR and if a billion or so people died, well, better dead than red, amiright? We're very good at telling others to turn the other cheek. The country that perpetrated the Trail of Tears is upset that Gazans have to walk south to avoid being caught in the crossfire.
At first blush, these aren't hard questions. We hold Israel to a higher standard than Hamas because one is a modern nation-state and signatory to the treaties that make up international humanitarian law and the latter is a terrorist group. We hold 2020s Israel to a higher standard than 1830s America because humanity has evolved substantially over that period of time, both in terms of the ability to kill one another and in terms of our legal structures.
But making practical decisions in the face of the realities the Israeli government is facing is not easy in the slightest. The fact that their enemies don't feel even the slightest compunction about violating the rules doesn't alter their obligation to follow them but it nonetheless makes doing so much harder.
Two articles I've found this weekend are useful in helping sort out the details. Even excepting the highlights, though, makes for long reads.
The Economist, "Is Israel acting within the laws of war in Gaza?"
Israel's initial actions have prompted a wave of criticism. B'tselem, an Israeli human-rights group, has accused Israel of "a criminal policy of revenge", arguing that the scale of its air strikes and blockade constitute "war crimes openly ordered by top Israeli officials". Médecins Sans Frontières, a humanitarian organisation, has accused Israel of unlawful "collective punishment" of Gaza "in the form of total siege, indiscriminate bombing, and the pending threat of a ground battle."

In practice, though, international law and the specific rules that govern warfare—the law of armed conflict (loac), also known as international humanitarian law (ihl)—give Israel considerable latitude to attack Hamas, according to legal experts. Article 51 of the United Nations charter gives states the right of self-defence against armed attack, provided that, according to customary international law, the force they use is necessary and proportionate. Proportionality does not mean symmetry in the type of weapons used or the number of casualties caused. It means that the defending state can use as much force as is needed to address the threat—and no more.

Drawing that line is a subjective and contentious process. But Israel's campaign so far would meet those criteria, argues Aurel Sari, a law professor at the University of Exeter who lectures to nato armed forces. The scale of Hamas's attack, its demonstrated intent and proven capability means that invading Gaza or even occupying it temporarily to destroy the group "will be relatively easy to justify" legally, he says.

Nonetheless, some measures are particularly contentious. Israel, helped by Egypt, which controls a southern crossing, has maintained a ground, air and naval blockade of Gaza for years, with only some goods and people permitted to cross. Sieges and blockades are not in themselves illegal. But on October 9th Yoav Gallant, Israel's defence minister, said that would turn into a "complete siege", with "no electricity, no food, no fuel, everything is closed". Three days later Israel Katz, the energy minister, warned that no "electrical switch will be turned on, no water hydrant will be opened and no fuel truck will enter" until Hamas freed hostages.

Israeli officials justify this move on the basis that Hamas diverts civilian goods for military use. "Clearly" says Amichai Cohen, a law professor at the Israel Democracy Institute in Jerusalem, "there is some level of supply that Israel should allow. The question is whether Israel should provide electricity to areas which are clearly controlled by Hamas, and where Hamas will use the electricity in order to attack Israel." Others, such as Tom Dannenbaum, a law professor at Tufts University in Boston, argue that Mr Gallant's order plainly violates a prohibition on starving civilians—even if the goal is to squeeze Hamas. That may be one reason why, despite Mr Gallant's combative rhetoric, Israeli officials are privately working with Egypt to ensure that some supplies can come in from the south.

A second source of legal dispute is the idf's decision, late in the evening of October 12th, to tell 1.1m civilians living in the northern part of Gaza to move south. (Hamas called on civilians to ignore the call.) The grave humanitarian consequences of this decision are not in doubt. Gaza's infrastructure is in ruins and there are few places for so many people to go. But the legal aspects are more complicated.

Lawyers distinguish between temporary evacuation of civilians in warzones, which can be lawful, and permanent displacement, where the intent is to prevent them from returning, which is not. However the International Committee of the Red Cross (icrc), a humanitarian group, says that the evacuation instructions, combined with the siege, "are not compatible with international humanitarian law". It is also not always safe to move while the bombardment continues. Video footage verified by the Washington Post showed a number of people including several children who had been killed, apparently by an Israeli strike while they were fleeing to the south on Friday.

The question of evacuation is tangled up with the specific conditions of Gaza, where Hamas is deeply intermingled with the civilian population. ihl, which governs the conduct of armies once they are waging a war, demands that soldiers distinguish between combatants and military objects on the one hand, and civilians and civilian objects on the other. Targeting the latter on purpose is always illegal. But an attack that kills civilians—even lots of them—can be legal if it is necessary for some military purpose and proportional "in relation to the concrete and direct military advantage anticipated".

Israel's targeting is "broadly within the mainstream of contemporary state practice" and in line with American doctrine, argued Michael Schmitt of the University of Reading and Lieutenant-Colonel John Merriam, a us Army Judge Advocate, in papers published after they visited the idf's headquarters and studied its procedures shortly after Operation Protective Edge, Israel's 50-day war on Hamas in 2014.

But the same legal principles, even interpreted in broadly the same way, can result in different and sometimes jarring outcomes because of local circumstances. Hamas's large rocket force, capable of striking most of Israel, means that the anticipated "military advantage" of attacks is seen to be high, note Mr Schmitt and Lt-Col Merriam. That can justify, in the idf's view, high levels of collateral damage that would appear excessive to an army whose civilian population did not face a comparable threat—though, conversely, the effectiveness of the country's Iron Dome missile-defence system can have the opposite legal effect. Similarly, Israel's conscript-heavy armed forces are casualty averse and sensitive to soldiers being taken prisoner. That can result in a greater reliance on firepower.

Hamas's way of war also plays a role in Gaza. "It's not a regular city," argues Avichai Mandelblit, who served as Israel's chief military advocate general (mag) from 2004 to 2011 and attorney-general from 2016 to 2022. "It's a military city. There are thousands of legal military targets inside the neighbourhoods of Gaza. You cannot distinguish them." Israel's war aim is to destroy Hamas. "If you want to do it," says Mr Mandelblit, "then you have to destroy Gaza, because everything in Gaza, almost every building there, is a stronghold of Hamas." Evacuation of civilians is thus unavoidable, he says. "There is no other way—the other way is they're going to be killed."

The law nonetheless demands discrimination. Each target must be judged individually. But the scale of Israel's bombardment—6,000 bombs dropped in six days, compared with 2,000 to 5,000 per month across Iraq and Syria during the American-led air campaign against Islamic State from 2014 to 2019—has given rise to concern that the definition of military targets is being stretched to breaking-point. "It is very hard to see a legal basis for many of these strikes," argues Adil Haque of Rutgers Law School in New Jersey. "It's hard to believe that all of these buildings were in active use by Hamas when they were levelled, or that their military value would outweigh the foreseeable harm to civilians in or near them."

Mr Sari says that the idf, in his experience, is "world-class" in its legal expertise and professional ethics. "I have a lot of faith in the Israeli military, lawyers and their system. It is very robust." Military lawyers are present at Israeli military headquarters from the brigade-level up to advise on targeting. "Every target is legally examined," insists Mr Mandelblit. Legal policy is set by the mag and civilian attorney general together, with the latter getting the last word.

But this system is likely to face its greatest test in the weeks ahead. On October 10th an Israeli official told a television station: "Gaza will eventually turn into a city of tents. There will be no buildings." Daniel Hagari, an idf spokesperson, boasted that "hundreds of tons of bombs" had been dropped on Gaza. Then, he added: "the emphasis is on damage and not on accuracy." Neither statement can be squared with the law.
Via his Facebook page, Donald Sensing points me to a Spring 2010 essay by a retired Marine colonel and philosophy professor.
Keith Pavlischek, The New Atlantis, "Proportionality in Warfare"
The last two times Israel went to war, international commentators criticized the country's use of force as "disproportionate." During the Israel-Hezbollah war in 2006, officials from the United Nations, the European Union, and several countries used that word to describe Israel's military actions in Lebanon. Coverage in the press was similar — one newspaper columnist, for example, criticized the "utterly disproportionate … carnage." Two and a half years later, during the Gaza War of 2008-09, the same charge was leveled against Israel by some of the same institutions and individuals; it also appeared throughout the controversial U.N. report about the conflict (the "Goldstone Report").

This criticism reveals an important moral misunderstanding. In everyday usage, the word "proportional" implies numerical comparability, and that seems to be what most of Israel's critics have in mind: the ethics of war, they suggest, requires something like a tit-for-tat response. So if the number of losses suffered by Hezbollah or Hamas greatly exceeds the number of casualties among the Israel Defense Forces (IDF), then Israel is morally and perhaps legally culpable for the "disproportionate" casualties.

But these critics seemed largely unaware that "proportionality" has a technical meaning connected to the ethics of war. The long tradition of just war theory distinguishes between the principles governing the justice of going to war (jus ad bellum) and those governing just conduct in warfare (jus in bello). There are two main jus in bello criteria. The criterion of discrimination prohibits direct and intentional attacks on noncombatants, although neither international law nor the just war tradition that has morally informed it requires that a legitimate military target must be spared from attack simply because its destruction may unintentionally injure or kill noncombatants or damage civilian property and infrastructure. International law and just war theory only insist that the anticipated collateral damage — the "merely foreseen" secondary effects — must be "proportionate" to the military advantage sought in attacking the legitimate military target. This sense of proportionality is the second jus in bello criterion; it has to do almost entirely with the foreseen but unintended harm done to noncombatants and to noncombatant infrastructure.

[…]

All the loose talk about proportionality during the last two Israeli wars provoked the prominent just war theorist and political philosopher Michael Walzer to jump into the fray. In an essay in Parameters, the professional journal of the U.S. Army, he noted the "anger over the ratio of deaths in the recent Gaza war — 100 to one, Gazan to Israeli, according to figures accepted by the New York Times." If those deaths "were all soldiers (fighters or militants) on either side," Walzer wrote, "a ratio like that would simply be a sign of military victory, the deaths regrettable but probably not immoral."

Walzer was perhaps being too charitable. The notion that a lopsided casualty ratio between the IDF and Hezbollah or Hamas militants is sufficient evidence of some moral failing on the part of the IDF so radically departs from any recognizable understanding of the requirements of proportionality and so evidences a lack of moral seriousness that one cannot help but wonder whether something even more pernicious was involved. Even some liberal political pundits were led to question the critics' motivations. In the Washington Post, for example, columnist Richard Cohen argued that the critics' appeals to proportionality were little more than "a fig leaf for anti-Israel sentiment in general." Lanny Davis, the liberal lawyer and pro-Israel activist, called the appeal to proportionality a "double standard that is hypocritically applied to Israel."

[…]

While anti-Israel sentiment surely accounts for some of the criticism, the abuse of the concept of proportionality has deeper intellectual roots. Walzer notes that when we argue about aggression, military intervention, and the conduct of battle, we now regularly use the language of just war; in 2002, he called this the "triumph of just war theory." His critics responded by insisting that this did nothing more than provide new ways to justify war, to which Walzer now replies (in his Parameters article) that just war theory has more often than not been used the way it should be used: "to call for military action in a particular case and to reject military action in other cases." Those who have followed the debate over just war and pacifism for the past several decades will recognize the pattern. But then Walzer gets to the crux of the matter:

Many clerics, journalists, and professors, however, have invented a wholly different interpretation and use, making the theory more and more stringent, particularly with regard to civilian deaths. In fact, they have reinterpreted it to a point where it is pretty much impossible to find a war or conflict that can be justified. Historically, just war theory was meant to be an alternative to Christian pacifism; now, for some of its advocates, it is pacifism's functional equivalent — a kind of cover for people who are not prepared to admit that there are no wars they will support.

Walzer is not the first to notice what has variously been called a "crypto-pacifist" or "functional pacifist" reinterpretation of just war theory. As early as the 1960s, Paul Ramsey identified the problem, labeling it a bellum contra bellum justum (war against just war). Its fundamental line of reasoning is that all modern warfare — supposedly unlike pre-modern warfare — is inherently both indiscriminate and disproportionate. Therefore, since no war can meet the jus in bello tests of discrimination and proportionality, no war can be fought justly. And if no war can be fought justly, then the only moral option for a vast cohort of "clerics, journalists, and professors" has been pacifism — less the principled theological pacifism of the so-called "peace churches" than a modern "functional" pacifism. Among the most important and influential contemporary critics of this revisionist view of the just war tradition are James Turner Johnson of Rutgers University, who has conclusively demonstrated that such functional pacifism and moral confusion have no place within the just war tradition, and George Weigel of the Ethics and Public Policy Center, who for the past two decades has challenged such revisionist interpretations of the tradition among American Roman Catholics in particular.

While Walzer's remarks on the tendency toward functional pacifism are not particularly novel, it is nonetheless important for two reasons. For one thing, Walzer is arguably the most influential public intellectual in the fields of military ethics and just war theory. His Just and Unjust Wars (1977) is rightly considered a classic not merely in academia, but also throughout the U.S. military's formal education system, including the military academies, the command and staff colleges, and the war colleges. Second, Walzer is most decidedly a man of the left, so his reflections on this particular point cannot be dismissed as special pleading for conservative or neoconservative ends. He is an editor of the political quarterly Dissent, he is a contributing editor to The New Republic, and he regularly writes for that magazine as well as the New York Review of Books and other prominent outlets. It is not insignificant that Walzer, as an eminent left-wing academic, has acknowledged this fundamental distortion of the just war tradition and that he explicitly locates the recent charges of Israeli "disproportionality" within the context of that more fundamental controversy over how to understand the just war tradition. Indeed, Walzer acknowledges that the tendency toward thinking of the just war tradition as functional pacifism "is especially strong on the left," adding that this is why "it is stronger in Europe than in the United States."

[…]

Walzer is right to suggest that before discussing issues of proportionality we should ask questions about responsibility; the matter of just who put noncombatants at risk in the first place is logically and morally prior to questions of proportionality. That is just another way of saying that any morally informed discussion of the jus in bello proportionality criterion must first be considered in proper relation to the principle of discrimination. Walzer notes, for instance, that when Hamas or Hezbollah fighters choose to fire rockets from heavily populated areas, when they deliberately choose to make a response to their rocket attacks morally difficult by hiding among civilians, or seek to ensure that a response will be condemned throughout the world, or decide to use civilians as human shields, "the primary responsibility for [civilian] deaths then falls on the Hezbollah or Hamas militants who were using them."

Yet in any discussion of civilian deaths in warfare — not just in Lebanon and Gaza, but also in the U.S. operations in Afghanistan and elsewhere — the argument from proportionality is nowadays given priority over the argument from discrimination and responsibility. As Walzer puts it, "given our natural aversion to civilian deaths, it makes for an easy critique." 

[…]

But at least since the publication of Just and Unjust Wars, Walzer has proposed a modification to the traditional understanding of discrimination and proportionality. Traditionally, the two jus in bello principles of discrimination and proportionality are understood to be related through the doctrine of double effect: An attack that harms civilians can be morally licit so long as, first, harming civilians is neither the goal nor the means of the attack but a side effect (that is, a "double effect"), and second, the harm done is not disproportionate to the good sought through the attack. The proportionality principle governs the extent to which collateral damage is permissible.

But Walzer argued in 1977 and he continues to maintain that the traditional doctrine of double effect is too lenient. The traditional doctrine of proportionality "makes things too easy for the attackers," he writes in his Parameters article. "For the most part," proportionality has been a "darkly permissive principle."

As a corrective, Walzer has proposed a revision that has been called the doctrine of double intention. It is not enough, he argues, for a belligerent to merely not intend to strike noncombatants; the belligerent must also positively intend to reduce the risk of harm to noncombatants. There must be, as Walzer writes in Just and Unjust Wars, "a positive commitment to save civilian lives," reducing the foreseeable evil "as far as possible." To put it another way, not only should combatants not attempt to harm civilians; combatants should attempt not to harm them. An attacker has a moral obligation to "take positive measures to avoid or minimize injury to civilians in the target area," he argues in Parameters, "even if it appears likely that the number of deaths caused by the attack would not be 'disproportionate to' whatever the relevant measure might be." It is not enough to warn noncombatants in a combat zone that an attack is imminent, or to plead with them to leave. In Walzer's view, soldiers have a moral obligation to place themselves at an increased risk of harm even for the sake of enemy noncombatants.

Walzer's proposed doctrine of double intention has been criticized by adherents of the more traditional understanding of double effect. Cohen, for instance, in Arms and Judgment defends the traditional view as reflected in the moral reasoning behind the 1907 Hague Conventions. "The law of war implies that soldiers are not obligated to raise their already high stakes to even higher levels in order to lower further the risk to innocents in combat zones. This seems particularly reasonable in tactical combat, where civilians are usually free to leave the combat zone." Cohen suggested that a simple moral guideline was the basis for the traditional understanding, namely "that the attacker may, given the presence of innocents in a combat zone, do anything that it would be permissible to do if there were no innocents there — subject to the restrictions entailed by the principle of proportionality."

J. G. Fleury, a colonel in the Canadian military, also defended the traditional understanding in a 1998 research paper written for the Canadian Forces College. Fleury argues that Walzer's conviction that combatants should assume greater risk "conflicts with military logic and the psychology of command." The traditional principle of double effect, Fleury writes, "provides the moral guidance necessary in such circumstances." What's more, "soldiers do not have the same positive duty to protect innocents among the enemy population, as they have to protect their own population, although they have an obligation not to harm innocents intentionally regardless of their nationality."

Rising to defend Walzer's revised doctrine, Steven Lee, a professor at Hobart and William Smith Colleges, claims that Fleury's arguments wrongly assume "that the moral status of civilians results from their being enemy civilians. Rather, their moral status, their right not to be attacked, results from their status as human beings, irrespective of their nationality." Lee here cites Walzer's own justification from Just and Unjust Wars: "The structure of rights stands independently of political allegiance; it establishes obligations that are owed, so to speak, to humanity itself and to particular human beings and not merely to one's fellow citizens."

[…]

The radicalism of Walzer and Margalit's proposed guideline is evident in their insistence that it should apply even when noncombatants voluntarily intermingle with the terrorists. For the sake of argument, let us concede that the IDF (or any other military in an analogous situation) has a moral obligation to behave in the same way in the first three scenarios. But what about the fourth scenario? Are we really to say that whatever personal risks Israeli soldiers assume in the first scenario, they must also assume in the fourth scenario — even if the noncombatants voluntarily intermingle with the Hezbollah combatants, and even if other positive measures short of increased risk to the lives of IDF soldiers have been pursued? 

[…]

Walzer and Margalit's intentions are admirable. They rightly insist that "the crucial means for limiting the scope of warfare is to draw a sharp line between combatants and noncombatants." They rightly observe that terrorism is "a concerted effort to blur this distinction so as to turn civilians into legitimate targets." And they rightly say that "when fighting against terrorism, we should not imitate it."

But Walzer and Margalit are plainly wrong to claim that the only way to demonstrate opposition to terrorist tactics is "through the risks the soldiers themselves accept in order to reduce the risks to civilians." Israel or any other country's opposition to terrorist tactics can be vindicated by not engaging in terrorism. It can be vindicated by condemning without equivocation those who do. It can be vindicated by not using civilians as shields.

Moreover, Israel's intentions not to harm civilians can be manifest by other efforts to minimize collateral damage. As Kasher and Yadlin mention in their New York Review reply, Israel's military actions in Gaza were preceded by "widely distributed warning leaflets, more than 150,000 warning phone calls to terrorists' neighbors, and nonlethal warning fire — unprecedented efforts in every respect."

Walzer and Margalit, in their final rejoinder, complain that these efforts are morally insufficient. It is not enough, they say, to warn civilians; an army must "try to find out whether civilians have in fact left — and any effort to collect that kind of information will probably put soldiers at risk." But it is radical, indeed morally perverse, to claim that an army that strives to forewarn civilians fails, like terrorists hiding behind civilians, to behave morally.

There is an obvious practical downside to the Walzer position. Kasher and Yadlin mistakenly impute to Walzer and Margalit the claim that collateral damage is "never morally acceptable." They don't quite go that far: their actual claim is that responsibility for collateral damage is transferred from regular combatants to irregular combatants only when the regulars significantly put themselves at risk to decrease the collateral damage. Still, Kasher and Yadlin are correct to assert that by supplanting the doctrine of double effect with the doctrine of double intention, Walzer "encourages and enhances terrorism" in a practical sense by insisting that moral state actors assume new operational obligations to protect civilians, by providing a greater incentive for terrorists and insurgents to hide among civilians, and by even providing an incentive for terrorist sympathizers to offer themselves up as hostage shields.

All this is not to suggest that counterinsurgency and counterterrorist military forces should not put their soldiers at greater risk in order to minimize collateral damage. In many counterinsurgency efforts, such risk-taking and heightened standards of civilian protection will be an essential part of a larger strategy to win the trust of the local population and to separate civilians from insurgents. But that increased risk stems from strategic calculation — from the fact that counterinsurgency operations require boots on the ground instead of just precision-guided munitions — not from a moral or legal obligation. Pace Michael Walzer, the moral and legal obligation to enemy civilians, including those who willingly offer themselves to terrorists and insurgents as human shields, remains exactly where the traditional doctrine of double effect locates it: Never attack them directly. Never attack them as means to get at the enemy. And limit the unintended harm likely to fall upon them to that which is proportional to the just tactical and strategic objective. For the law of war to seek more than this is to incentivize what Paul Ramsey called the "wickedness" of using noncombatants as shields — and even the wickedness of terrorism itself.
Perhaps because I was assigned Walzer's book as an 18-year-old cadet*, I'm closer to his view on the matter than Pavlischek's. I take it as a given that it's the duty of the professional soldier to take great pains—and increased risk to both force and mission—to protect noncombatants. But Pavlischek is certainly right that not only is that notion not universally accepted, where one draws that line is murky, indeed.
___________
*That this was 39 years ago is not lost on me. Just and Unjust Wars was already a classic but only seven years old at the time.