Kavanaugh Musings
Several days after detailed sexual assault allegations against the Supreme Court nominee, I'm not fully sure what to believe.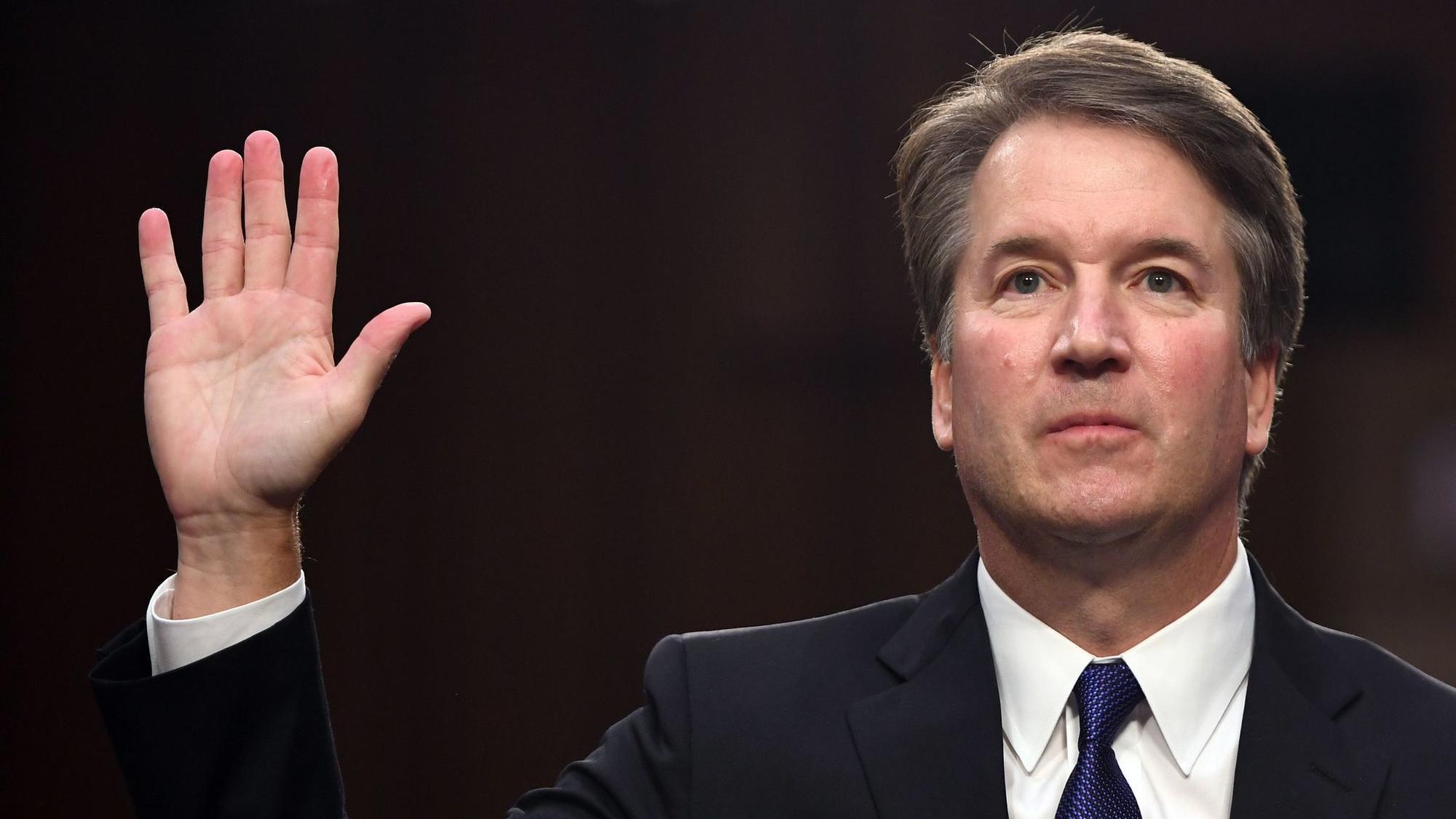 Several days after detailed sexual assault allegations against Supreme Court nominee Brett Kavanaugh emerged, I'm not fully sure what to believe.
The charges are extremely serious. Despite allegedly happening when Kavanaugh, now 53, was a 17-year-old high schooler, they'd be disqualifying if proven. Neither being intoxicated nor being 17 excuses an attempted rape. And, certainly, drunken 17-year-olds have suffered far more serious penalties than being denied one of the nine seats on the Supreme Court for lesser crimes.
WaPo columnist Alexandra Petri's widely-circulated satirical column includes this passage:
If, apparently, a single alleged assault at a single party decades ago is to be frowned upon, then no man is safe, right?

What's next? You can't harass a colleague and serve on the Supreme Court? You can't pick up high schoolers outside custody hearings and serve in the Senate? You can't have a meat locker full of female femurs and expect to breeze through your confirmation as interior secretary?

How are we going to fill our offices if this is the new rule? I bet you will say I cannot shout at women as they pass on the street before dragging them to a concrete bunker and then still expect to become governor! What next? I'm supposed to make sure everyone I have sex with is willing?
Even granting that our societal mores have evolved considerably since Kavanaugh's high school days (the notion that a wife could deny her husband sex was still controversial and "date rape" was an emerging concept), the behavior Ford accuses him of would have shocked the conscience even then. Even in what one imagines was a rather misogynistic culture of an all-boys prep school, holding down a girl and attempting to rip her bathing suit off would have been a barbaric act.
While we don't know—and likely will never know—what happened at that party, I'm inclined to believe Christine Ford's accusation. Or, at least, to think Ford is telling the truth as she knows it.
Former federal prosecutors Mimi Rocah, Barbara McQuade, Jill Wine-Banks, Joyce White Vance and Maya Wiley argue persuasively that this is not a simple case of "he said, she said."
Prosecutors and investigators are confronted with these scenarios frequently and don't just throw up their hands and say, "We can't decide." Instead, prosecutors look for corroborating evidence — and there are strong indications already that Ford is telling the truth about her attack. Here are some of those indicators:

First, there is corroboration. Ford's therapist's notes in 2012, provided to The Washington Post, generally record her account of the attack. To believe that this is a made-up tale to prevent Kavanaugh's confirmation, Ford would have had to plant the seeds of this story in 2012. That makes no sense.

Second, while not determinative, the fact that Ford passed a polygraph administered by a former FBI agent lends credence to her claims. Polygraph exams are inadmissible in court because they are not always reliable, but the FBI and other law enforcement agencies frequently use polygraph tests to assess the credibility of witnesses and defendants.

In addition, consider the motives of Ford, who by all accounts is not a particularly politically active person, to go public with allegations of sexual assault. It appears that she did not want to speak publicly at all, but that reporters discovered her identity and pursued her. Ford knew that she would be personally attacked in front of her children, colleagues, students and friends. There is no reasonable explanation for why she would subject herself to such humiliation other than the reason she has given: that she felt she had a duty as a citizen to speak up.

Many people have pointed to Ford's delay in going public as evidence that she is lying. As prosecutors, we have learned that victims of sexual assault do not always come forward immediately — and often never do — because they are shamed by society, fear not being believed, worry that they will be blamed for the attack or just want to move on with their lives. Delay in reporting — particularly in the area of sexual assault — does not mean a report is false. And difficult as it is to come forward now, it would likely have been even more daunting for a 15-year-old girl in the 1980s, when Ford says she had this experience.

If you are still inclined to believe that Ford is lying, ask yourself: Why would she create a defense witness by identifying Mark Judge, who was and still is indisputably a friend of Kavanaugh's, as being present and participating in this attack? Why would she place at the scene an individual who could, because of loyalties to his friend, contradict her account if she were making this up? She wouldn't.
Further, while false accusations of rape happen quite often (as many as 10 percent of all rape accusations), Ford doesn't fit the profile. Sandra Newman, writing last May, well before the Kavanaugh nomination, aggregated several studies on the topic. While her piece is far too long to excerpt here, this is key:
When one looks at a series of fabricated sexual assaults, on the other hand, patterns immediately begin to emerge. The most striking of these is that, almost invariably, adult false accusers who persist in pursuing charges have a previous history of bizarre fabrications or criminal fraud. Indeed, they're often criminals whose family and friends are also criminals; broken people trapped in chaotic lives.

Crystal Mangum, the accuser in the Duke lacrosse case, was the archetypal false accuser. She had previously reported another brutal rape/kidnapping in which no one was ever charged. She had a previous felony conviction, and she ultimately went to prison for an unrelated crime (in her case, murdering her boyfriend). She had trouble keeping her stripping job because the combination of drugs she was on—including both anti-depressants and methadone—made her keep falling asleep at work. Tragically, she seems to have genuinely suffered sexual abuse as a child—another feature that often appears in adult false accusers.

But while false accusers often have similar histories, they have various motives. These can be divided into roughly four categories: personal gain, mental illness, revenge, and the need for an alibi.
Ford is, by all accounts, a successful professional. She has no history of false accusations. The revenge motive makes no sense at all some three decades hence. Ditto the alibi. It's virtually inconceivable that she'd subject herself to the firestorm she's under to derail a Supreme Court nomination if she didn't honestly believe Kavanaugh did what she's accusing him of. Even if she successfully derails him, President Trump will simply nominate another Roe v. Wade skeptic; they're not hard to come by.
That said, while I disagree with some of his analysis, I share Noah Rothman's fears here:
Given the dearth of hard evidence, it is understandable that observers have begun to look to their own experiences to evaluate the veracity of Ford's allegations. The Atlantic contributor Caitlin Flanagan is the author of a powerful and compelling example of this kind of work. Her essay, entitled "I Believe Her," is important for a variety of reasons. Maybe foremost among them is how she all but invalidates defenses of Kavanaugh that are based on the positive character references he's assembled from former female acquaintances and ex-girlfriends. Flanagan was assaulted as a young woman, and her abuser—a man she says drove her to a suicidal depression similar to what Ford has described to her therapist—was not interested in a romantic relationship. CNN political commenter Symone Sanders, too, confessed that "there is no debate" in her mind as to Kavanaugh's guilt, in part, because she was the victim of a sexual assault in college. The similarities between what she endured and what Ford says occurred are too hard for her to ignore.

These are harrowing stories, but they also reveal how little any of this has to do with Brett Kavanaugh anymore. For some, this has become a proxy battle in the broader cultural reckoning that began with the #MeToo moment. Quite unlike the many abusive men who were outed by this movement, though, the evidentiary standard being applied to Kavanaugh's case is remarkably low. His innocence has not been presumed, and a preponderance of evidence has not been marshaled against him. It is not even clear as of this writing that Kavanaugh will be allowed to confront his accuser. At a certain point, honest observers must concede that getting to the truth has not been a defining feature of this process.
Absent other witnesses coming forward—and one would think they would have by now—we'll never know for sure what happened in that room three-and-a-half decades ago. But the nature of the debate makes clear that it doesn't much matter. Sexual assault is incredibly common. Far more women than we realized before the #MeToo movement have been victimized by it and almost all women are in fear of being victimized. And, because women making accusations are often subjected to horrific treatment when they come forward, most don't.
In the wake of #MeToo, the burden has shifted. We're expected to simply #BelieveWomen making allegations of sexual harassment or worse.
Statistically, that's almost certainly the right thing to do. While women make false allegations, it's exceedingly rare. And placing a high burden on legitimate accusers not only doubles down on the harm they suffer but it makes it very likely that the perpetrator will victimize others, probably a lot of others.
At the same time, due process is a core value of our society. Those accused of wrong-doing are entitled to a presumption of innocence. We simply can't allow careers and reputations to be ruined based on mere allegation. Ironically, that's especially true in the wake of #MeToo, since the stigma of sexual misconduct has been heightened.
The Kavanaugh case if further complicated by the public-political nature of the nomination fight and the age of the charges.
Kavanaugh's Republican supporters have strong incentive to get him on the bench quickly and get the controversy out of the national spotlight before the November midterms. His Democratic detractors have the opposite incentives.
The fact that the alleged assault took place so long ago is highly problematic. While it by no means renders Ford's testimony suspect, given what we know of how women tend to deal with that sort of trauma, it makes investigating the incident much more difficult. Any physical evidence of the alleged crime is long since gone and eyewitness testimony, always suspect, is next to worthless this long after the fact.
Indeed, contra Flanagan and Sanders, our memories of even "flashbulb" events is unreliable. And that's especially true for extremely stressful events like the one in question here. We constantly reconstruct events in our minds over time and wind up "remembering" the reconstruction.
In many if not most of the #MeToo cases involving famous men, the women made near-simultaneous accusations to friends and colleagues. As far as we can tell from the public record, Ford told some version of the story to her husband decades after her fact and a more detailed account to her therapist only recently, in 2012. That makes it clear she didn't make up the accusation to derail Kavanaugh's nomination. But it doesn't corroborate her story, either. And, for what it's worth, the men in Ford's accounting of the story, including one alleged witness, deny it.
Additionally, in almost every case, including relatively mild examples like that of former Senator Al Franken, the initial allegation was followed by several additional women coming forward and saying, well, "Me, too." One would think the sort of person who would attempt to rape a 15-year-old girl at a party and get away with it would have committed a pattern of heinous behavior since then. It's wouldn't seem the sort of thing one would mature out of. Thus far, however, no one else have come forward.
Presuming Kavanaugh doesn't withdraw his nomination, which would permanently stain his reputation by creating a presumption of guilt, we're likely to have a farce of a hearing. Both Ford and Kavanaugh's public images will be forever changed. And we still won't know what happened at that party when they were teenagers.