L.A. Traffic Meets Presidential Motorcade Gridlock
President Obama's motorcade caused gridlock in the Los Angeles area last night, although one wonders how people could distinguish it form the average Monday.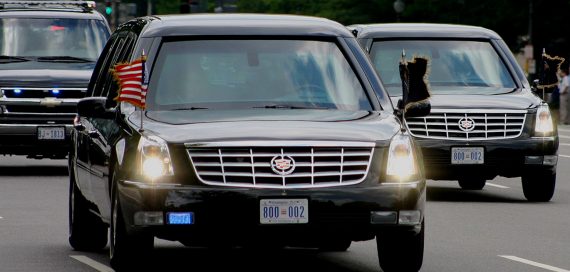 President Obama was out in Los Angeles last night for a fundraiser, and his presence didn't go over too well with Southern California commuters:
With a quick visit to Los Angeles at rush hour, President Obama raised $1 million Monday for the Democratic Congressional Campaign Committee.

He also alienated some Angelenos, at least temporarily, as his motorcade mangled evening traffic en route from the Beverly Hilton to the Hancock Park home of producer John Wells, whose credits include "West Wing," "ER" and "Southland."

Onlookers lined Olympic Boulevard, snapping cellphone photos. One person held a small sign declaring, "We need jobs."

Although it was a friendly crowd, the street closures snared not just vehicles but pedestrians — if calls, e-mails and posts to The Times' website were any guide.

"I was an Obama supporter, but … was stopped by police from crossing Olympic to get home … during my daily dog walk," Amy Christine said on the website. "I've lost all belief in his judgment. Can he really think he's more important than the tens of thousands of people trying to get home to their families?"

The Los Angeles Police Department said that it had received several calls from people about the traffic and that the Secret Service had not shared street-closure information with the department.

Immigration rights supporters demonstrated in Hancock Park dressed in costumes from "The Wizard of Oz." Their signs asked, "Obama, where is the reform?"
As some of the comments at the L.A. Times web site show, people weren't happy about the traffic:
I just want to know what moron scheduled this so that all major e/w streets were closed for 7-10 miles and for about 3 miles n/s. Total and absolute gridlock. NO ONE is that important, especially when no offical business is being conducted. As usual, Democrats have absolutely no common sense. Then again, when you have a tenant in the White House whose never had a real job, and who has never been an "average" person, common sense doesn't factor in too often. I will NEVER vote for a Democrat again if this is how they are represented.

Posted by: Michael, MPA | August 16, 2010 at 07:59 PM

I was stuck in this traffic and missed a doctor's appointment. I have never seen anything like this in Los Angeles. Complete gridlock – no one knew where to go. I know this is petty, but it infuriates me that thousands of us are inconvenienced, with NO warning, so that Obama can have dinner with a rich Hollywood producer. Couldn't they do Sunday Brunch? I support the Prez, but he owes LA an apology. Here's a tip: DO NOT COME TO LA DURING RUSH HOUR AND CLOSE OUR MAJOR ARTERIES. YOU WILL LOSE FRIENDS VERY QUICKLY.

Posted by: Sam | August 16, 2010 at 08:07 PM

That's it, I'm done. I even voted for him, but now I'm convinced that I'll vote for anyone but him in the next election. If this is how he handles something as mundane as a visit to Los Angeles, I have zero confidence in his and his team's ability to navigate the complex issues facing the country today. Who's the incompetent who figured it was OK to shut down Santa Monica and Olympic during rush hour? And how about the radio traffic reporters who said that they couldn't tell listeners which streets were closed because of "security." Someone should lose their job over this…in addition to Obama in 2012.

Posted by: Steve | August 16, 2010 at 08:27 PM
But, this one made me laugh:
Posted by: Malby | August 16, 2010 at 09:10 PM
On some level I can't help but find this all just a little funny.
For one thing, hearing Angelinos complaint about traffic due to one Presidential visit is, as the last comment above notes, a bit ironic considering what the average rush hour in L.A. is actually like.
For another, after living in the Metro Washington, D.C. area for twenty years, I've gotten used to the occasional traffic jam due to some security detail passing through. Is it a hassle ? Yea, especially when you're caught up in it when you have to get somewhere or you just want to get home. But, it's just something you deal with. So, you know, grow up Angelinos.
That said, I will agree that the Secret Service does seem to overdue security at times to a point that unnecessarily inconveniences ordinary citizens and, as someone said, if you're going to schedule a Presidential Motorcade trip, rush hour in the second largest metropolitan area in the United States probably isn't the smartest time to do it.