Larry Speakes, Former Reagan Spokesman, Dead At 74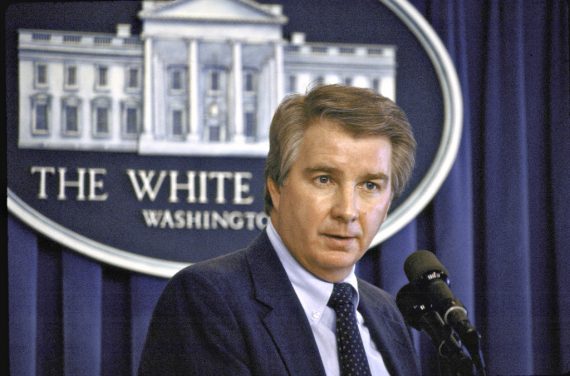 Larry Speakes, who became the face of the Reagan Administration in the wake of James Brady's near-fatal wounding during the attempting assassination of President Reagan in 1981, has died at the age of 74:
WASHINGTON — Larry Speakes, who became the public face of Ronald Reagan's presidency when a would-be assassin's bullet gravely wounded his boss, press secretary James Brady, died Friday in his native Mississippi. He was 74.

Dr. Nate Brown, the coroner for Bolivar County, Miss., said Mr. Speakes, who had Alzheimer's disease, died at his home in Cleveland, Miss.

A Southerner who started many days in his White House office by listening to Mozart for what he said was its calming influence, Mr. Speakes served as acting White House press secretary from 1981 to 1987, parrying the increasingly adversarial queries from the press along the way. His nickname among friends was "the Mississippi catfish," a fish that stings when mishandled.

He worked in the West Wing in a pre-Internet era, when the tense exchanges with reporters took place twice a day and deadlines were geared toward the morning papers and the networks' nightly news programs. He was regarded as having a straightforward but sometimes acerbic style by journalists who bristled at the administration's attempts to manage the news.

Mr. Speakes made news himself in 1988, after he left the White House, when he published a memoir in which he said that as spokesman he had attributed two quotations to Reagan that the president did not say, and later told him about it. The revelations infuriated members of the administration, and Reagan said he did not know of the quotations until Mr. Speakes' book, "Speaking Out," was published.

During the ensuing furor, Mr. Speakes resigned from his job as senior vice president for communications at Merrill Lynch. He later told The Washington Post that he had been "overzealous" and that he had "wronged President Reagan."

But he did not apologize. "The truth never requires apology," he told The Post.

When he was in the White House, some journalists questioned whether Mr. Speakes had the access necessary to give him credibility. At times, his job seemed less about communicating policy than handling television personalities like Sam Donaldson of ABC News, who became famous for the questions he shouted at the president from the airport tarmac or White House rope line.

Mr. Speakes also fought battles inside the White House with presidential advisers as they all struggled for influence and access to Reagan.

(….)

Larry Melvin Speakes was born on Sept. 13, 1939, at a hospital in Cleveland, Miss., that, he wrote in "Speaking Out," was the closest to his parents' home in Merigold, Miss.

He was the son of Harry Earl Speakes and the former Ethlyn Frances Fincher. His father was a banker in Merigold, and Mr. Speakes called himself "as middle class as you could get," marrying his high-school sweetheart before attending the University of Mississippi in Oxford.

Mr. Speakes is survived by a daughter, Sandy Speakes Huerta of Cleveland, Miss.; two sons, Scott Speakes of Cleveland and Jeremy Speakes of Clifton, Va.; six grandchildren; and one great-grandchild.

He worked for small-town newspapers in Mississippi before starting his political career in the late 1960s as press secretary for Senator James O. Eastland of Mississippi. That led to jobs at the White House and then as a spokesman for President Richard M. Nixon's Watergate lawyer. He later worked for President Gerald R. Ford and Senator Bob Dole before getting the call from Mr. Brady to be his deputy after Mr. Reagan's victory.

After the shooting, Mr. Speakes took over Mr. Brady's duties, though he never got the title of press secretary, out of respect for his wounded colleague. "As long as it's important to Jim, the title is his," he told a reporter for The New York Times in 1985.

As Reagan increasingly ran into political trouble — including an arms-for-hostages deal with Iran — it was Mr. Speakes who was often called upon to deflect the attacks.

Once, when a reporter asked him whether the United States would seek to invade the island nation of Grenada, Mr. Speakes said — on the advice of an official at the National Security Council — that the idea was "preposterous." The invasion took place the next day, and Mr. Speakes later acknowledged that he had learned about the assault after it had begun.
Speakes was replaced by Marlin Fitzwater, who also did not take the formal title "Press Secretary" out of deference to Jim Brady although he did take on that title when President George H.W. Bush asked him to stay in his position after the 1988. Fitzwater remained Bush's Press Secretary for all four years of his time in office.