Late Night Breakfast Coming To McDonald's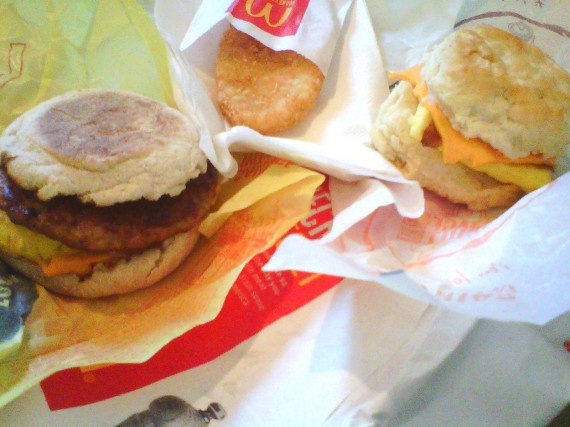 Rumors that McDonald's would begin offering its breakfast menu all day began surfacing earlier this year, now it appears that they are at least going part of the way there:
McDonald's is taking a small step toward offering breakfast items outside of its usual breakfast hours — at least if you're a night owl.

Starting this month, the fast-food chain says participating 24-hour restaurants in select locations will offer an "After Midnight" menu that includes its Egg McMuffin, Big Mac and Chicken McNuggets. Customers will be able to create "Midnight Value Meals," with either fries or hash browns as their side items, McDonald's says.

A mockup of the menu provided by the company showed an Egg McMuffin paired with French fries, next to the heading, "Dinner or Breakfast? Yes"

The rollout of the menu, which is available from midnight to 4 a.m., builds on a "Breakfast After Midnight" menu the company has been testing. McDonald's notes that local franchisees may adapt their offerings based on local preferences.

McDonald's CEO Don Thompson had said in a CNBC interview earlier this year that the company was open to expanding its breakfast hours. Fans of McDonald's breakfast have long wanted the chain to make its Egg McMuffins and biscuits available later in the day. But a hurdle for the company is that operations behind the counter would get too complicated, with workers having to juggle such a wide array of items in a limited space.
One logistical problem I've read about is the fact that the grill temperature needed to safely cook the meat used in the burgers that are the mainstay of the McDonald's menu needs to be higher than the temperature used to cook the breakfast items, which makes it difficult to cook both at the same time without slowing down operations significantly. Absent adding additional grills, there may not be an easy solution to this logistical problem. But, hey, if you're hungry for an EggMcMuffin at 12:30 in the morning, it appears your prayers are about to be answered.