Latest Fox News GOP Debate Garners 16.8 Million Viewers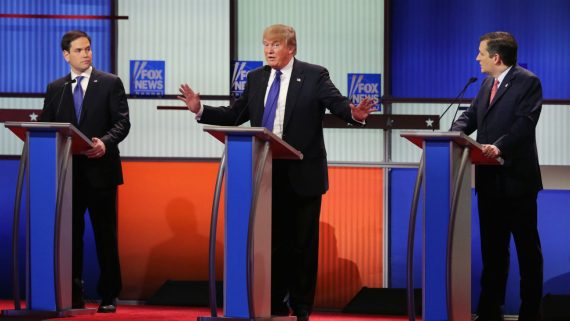 Thursday's Republican debate on Fox News Channel proved that the American public remains keenly interested in the 2016 Presidential race:
Thursday's GOP debate on Fox News was the highest-rated debate of 2016 and the fourth-highest-rated primary debate on record.

The two-hour debate averaged 16.8 million total viewers — a bigger audience than practically everything else on television this week.

The Donald Trump ratings bump was in full effect.

For perspective: Fox's January 28 debate — the one Trump snubbed — had 12.5 million viewers.

Several GOP match-ups have been held since, and each of them has been higher rated than the one before.

Last week's Republican debate on CNN and Telemundo had a combined 14.5 million viewers.

This season's debates, fueled by Trump, have smashed prior viewership records, resetting expectations for how well debates will rate.

Fox's very first debate of the season, featuring Trump's now-famous clash with co-moderator Megyn Kelly on August 6, 2015, attracted 24 million viewers, an astonishingly high total. It remains No. 1 on the overall debate ratings ranker.

The No. 2 debate of the season remains CNN's September 16 debate (which had 23 million viewers) and No. 3 remains CNN's December 15 debate (which had 18 million).

So Thursday's highly-anticipated face-off between Trump, Ted Cruz, Marco Rubio, and John Kasich ranks No. 4 overall.

For Fox, it is the second highest rated night of the channel's 20-year history, behind last August's debate night.
The Democratic debates have also had high numbers, although generally not nearly as high as the Republican debates in no small part because many of the Democratic debates have taken place on weekends rather than weekdays. There have been other signs of high voter interest and engagement this primary season, including higher than usual voter turnout in states such as Iowa, South Carolina, and in many of the Super Tuesday states. Whether this will translate to the General Election, of course, remains to be seen.