Legendary Steelers Coach Chuck Noll Dies At 82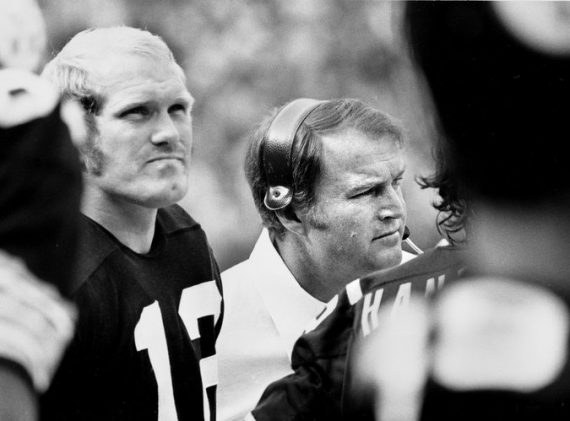 Chuck Noll, who coached the Pittsburgh Steelers from 1969 to 1991 and led the team to four Super Bowl Championships, has died at the age of 82:
Chuck Noll, who built the "Steel Curtain"Pittsburgh Steelers of the 1970s into one of the most dominant teams in pro football history, becoming the only N.F.L. coach to win four Super Bowl championships, died Friday night in Pittsburgh. He was 82.

Noll died of natural causes, the Allegheny County Medical Examiner said.

When Noll was named the Steelers' head coach in 1969, they had never reached a league championship game since their founding in 1933 and they were coming off a 2-11-1 season. Noll had played at guard and linebacker on powerful Cleveland Browns teams of the 1950s, but he had never been a head coach.

The Steelers won only one game in Noll's first season. But he went on to coach four Super Bowl champions in a span of six seasons with a host of brilliant draft picks that helped create the memorable Steel Curtain defense and a high-powered offense.

Noll's Steelers won the Super Bowl in 1975, '76, '79 and '80 and captured nine American Football Conference Central championships in his 23 years as coach. They became one of the N.F.L.'s most dominant franchises, echoing George Halas's Chicago Bears of the 1940s, Paul Brown's Cleveland Browns of the 1950s and Vince Lombardi's Green Bay Packers of the 1960s.

Noll was inducted into the Pro Football Hall of Fame in 1993.

His last Super Bowl victory came in January 1980, when the Steelers defeated the Los Angeles Rams.

"I think winning this last Super Bowl should put us in a special category," Mel Blount, the Steelers' star defensive back, told The New York Times. "This is probably the best team ever assembled. They talk about the Vince Lombardi era, but I think the Chuck Noll era is even greater."

Tony Dungy, who played for Noll and later joined his staff before becoming head coach of the Tampa Bay Buccaneers and the Indianapolis Colts, credited him with instilling confidence in even his youngest players.

"I can remember the first meeting I was ever in as a rookie player, and after 20 minutes feeling like I know what it takes to win a Super Bowl," Dungy told USA Today in 2012.

(…)

Charles Henry Noll, the son of a butcher, was born on Jan. 5, 1932, in Cleveland. He was a lineman at the University of Dayton, then joined the Browns in 1953.

Noll was one of the "messenger guards" for Paul Brown, the franchise's founder and coach, shuttling his plays in to quarterback Otto Graham on pro football's leading team in the decade after World War II.

After retiring as a player following seven seasons in Cleveland, Noll was a defensive coach under Sid Gillman for the Los Angeles (and later San Diego) Chargers of the American Football League from 1960 to '65 and an assistant to Don Shula on the Baltimore Colts from 1966 to 1968.

Noll selected defensive tackle Mean Joe Greene as his first N.F.L. draft pick. He drafted quarterback Terry Bradshaw and Blount in 1970, linebacker Jack Ham in 1971, running back Franco Harris in 1972 and wide receivers Lynn Swann and John Stallworth, middle linebacker Jack Lambert and center Mike Webster in 1974.

All became Hall of Famers.

Green joined with L. C. Greenwood, Ernie Holmes and Dwight White on the Steel Curtain line that teamed with linebackers Lambert, Ham and Andy Russell, and defensive backs Blount, J. T. Thomas, Glen Edwards, Donnie Shell and Mike Wagner in one of the N.F.L.'s greatest defensive alignments, which eventually was known collectively as the Steel Curtain.

Noll's teams defeated the Minnesota Vikings (1975), the Dallas Cowboys (1976 and '79) and the Rams for their four Super Bowl championships. Only three other coaches — Joe Gibbs (the Washington Redskins), Bill Walsh (the San Francisco 49ers) and Bill Belichick (the New England Patriots) — have had as many as three Super Bowl winners.

Noll generally stayed away from controversy. But when George Atkinson of the Oakland Raiders hit Swann from behind during a 1976 game, giving him a concussion, Noll said that Atkinson had attempted to injure Swann and that he was part of a "criminal element" in the N.F.L. Atkinson filed a $2 million slander suit against Noll and the Steelers, but a federal court jury found in their favor.

Noll retired after the 1991 season with a record of 209-156-1.
Along with Tom Landry and Don Schula, Noll was one of the legendary coaches of the 1970s, an era when the NFL actually played football instead of, well, the spectacle that it has become now.