Let me Help Senator Graham out
Let's look at the Mueller Report, shall we?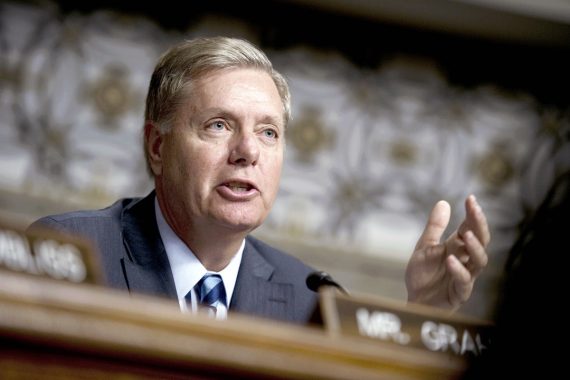 Senator Lindsey Graham on Fox News Sunday yesterday. During the interview, Chris Wallace rightly pointed out that the Senator's views on congressional subpoenas had shifted between the time he was calling for President Clinton to be removed from office to now, where we find him to be a fierce defender of the current occupant of the White House.
Said the Senator in response:
 "[Special Counsel Robert] Mueller's investigation was a special counsel appointed to find out if the president committed a crime; if he colluded with the Russians; if he obstructed justice. The president gave 1.4 million documents to Muller. Everybody around the president was allowed to testify. He never claimed executive privilege. He complied, no cover-up, worked with Mueller. Mueller's the final word on this for me."
Emphasis mine.
Let me help the Senator out.
First, if you read the letter that Rod Rosenstein wrote that authorized the Mueller investigation you find that it was not simply "appointed to find out if the president committed a crime." I point this out because it creates an utterly false framing insofar as it suggests that the matter is, in fact, closed if Mueller did not find a crime committed by the President.
In fact, given both the Office of Legal Counsel's opinion on indicting a sitting president, and the political nature of the impeachment process, it is highly problematic to cast a presidential investigation as solely focused on whether a president committed crime. Moreover, in our system (whether it be in the courts or via impeachment), there is a charging phase, a trial, and a decision on guilt or innocence. No report should ever be the final word on whether a crime was committed or not.
Second, if the Mueller Report is Graham's lodestone, let's consider this rather key, and oft-quoted (so if the Senator hasn't read the report, his has surely heard the following) passage:
if we had confidence after a thorough investigation of the facts that the President clearly did not commit obstruction of justice, we would so state. Based on the facts and the applicable legal standards, we are unable to reach that judgment. Accordingly, while this report does not conclude that the President committed a crime, it also does not exonerate him.

Vol. 2, p. 8 of the Mueller Report
This alone demonstrates that anyone who claims that the Mueller Report exonerates Trump on the question of obstruction is either ignorant of the content of the report or is a liar (or both).
Third, as to the notion that the report sees itself as the end of the line, I will note the following:
A) The report clearly sees the potential for post-presidency legal action against Trump.
The report notes:
while the OLC opinion concludes that a sitting President may not be prosecuted, it recognizes that a criminal investigation during the President's term is permissible. The OLC opinion also recognizes that a President does not have immunity after he leaves office.

Vol 2, p. 1.

And goes on to note in a footnote:
 OLC Op. at 255 ("Recognizing an immunity from prosecution for a sitting President would not preclude such prosecution once the President's term is over or he is otherwise removed from office by resignation or impeachment").

Vol 2, p. 1, fn4
There is also footnote 1091, which further expands on the fact that even after impeachment, a president could face criminal prosecution. We also see a repeat of the line quotes above in footnote 4.
A possible remedy through impeachment for abuses of power would not substitute for potential criminal liability after a President leaves office. Impeachment would remove a President from office, but would not address the underlying culpability of the conduct or serve the usual purposes of the criminal law. Indeed, the Impeachment Judgment Clause recognizes that criminal law plays an independent role in addressing an official's conduct, distinct from the political remedy of impeachment. See U.S. CONST. ART. I, § 3, cl. 7. Impeachment is also a drastic and rarely invoked remedy, and Congress is not restricted to relying only on impeachment, rather than making criminal law applicable to a former President, as OLC has recognized. A Sitting President's Amenability to Indictment and Criminal Prosecution, 24 Op. O.L.C. at 255 ("Recognizing an immunity from prosecution for a sitting President would not preclude such prosecution once the President's term is over or he is otherwise removed from office by resignation or impeachment.").

Vol 2., p. 178, fn1091
B) The report clearly sees impeachment as a possible follow-on from the report. Footnote 1091, quoted above, foresees this, for example.
There is also this from the executive summary of Volume II:
And apart from OLC's constitutional view, we recognized that a federal criminal accusation against a sitting President would place burdens on the President's capacity to govern and potentially preempt constitutional processes for addressing presidential misconduct.

Vol 2., p. 1
Emphasis mine.
Of course, the "constitutional process for addressing presidential misconduct" is the impeachment process.
Clearly, Mueller Report sees both impeachment and post-office criminal prosecution of Trump as legitimate possibilities all while clearly stating that the investigation did not exonerate Trump of obstruction. As such, if the Mueller Report is to guide Senator Graham, it cannot reasonably lead him now to inaction and proclamations of Trump's innocence.
But, of course, we know that Graham (and all the other defenders of Trump) are hoping that no one reads the Mueller Report so that they can pretend, as Trump has done from the beginning, that it clears him. It is a rhetorical and political tactic and has precious little to do with the truth.