Liz Cheney To Drop Out Of Wyoming Senate Race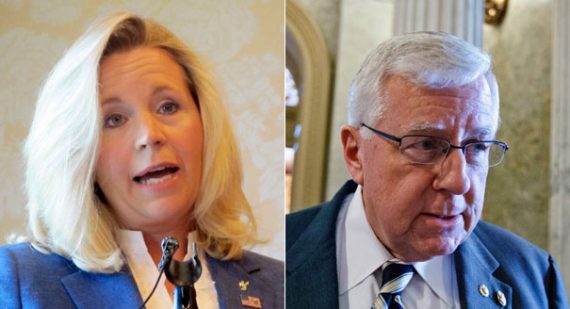 Multiple news outlets are reporting that Liz Cheney will be dropping out of the race for the GOP nomination for the Senate in Wyoming, apparently due to family health issues.
CNN was first with the story:
NEW YORK (CNN) - Liz Cheney, whose upstart bid to unseat Wyoming Sen. Mike Enzi sparked a round of warfare in the Republican Party and even within her own family, is dropping out of the Senate primary, sources told CNN late Sunday.

Cheney, the eldest daughter of former Vice President Dick Cheney, began telling associates of her decision over the weekend and could make an official nnouncement about the race as early as Monday.

Cheney's surprising decision to jump into the race, an announcement made in a YouTube video last summer, roiled Republican politics in the Wyoming, a state Dick Cheney represented in Congress for five terms before moving up the Republican food chain in Washington.

Enzi was a low-key presence in Washington who was elected in 1996 and, with few blemishes, amassed a conservative voting record in the Senate. He expressed public annoyance at Cheney's decision to mount a primary challenge. A number of his Senate colleagues quickly rallied to his side and pledged support for his re-election bid.

There was little public polling of the race, but two partisan polls released last year showed Enzi with a wide lead, an assessment mostly shared by GOP insiders watching the race.
Here's how Buzzfeed put it:
Although the Wyoming primary is not until August, the neoconservative Cheney trailed Enzi by large margins in polling commissioned by a PAC that ran ads attacking Cheney from the right on marriage equality.

That issue became central to coverage of the campaign, after Cheney announced her opposition to marriage equality — despite previously attending the marriage of her sister, Mary, to her wife, Heather Poe. Her stated position ignited a bitter family dispute that spilled into public view last fall.

"To have her say she doesn't support our right to marry is offensive to say the least," Poe wrote of Liz Cheney in a widely shared Facebook post. Mary Cheney was likewise critical of her sister and her candidacy. "I'm not supporting Liz's candidacy," she told Politico in November.

Dick and Lynn Cheney weighed in publicly as well, releasing a statement on the matter.
And Politico reports on a statement issued early this morning by the campaign hinting at "serious health issues" in Cheney's family that are prompting the decision:
Liz Cheney is ending her campaign for Senate in Wyoming, the Republican announced in a statement early Monday morning.

Citing health concerns in her family, Cheney said the issues arising prompted her to end her GOP primary challenge to Sen. Mike Enzy (R-Wyo.).

"Serious health issues have recently arisen in our family, and under the circumstances, I have decided to discontinue my campaign. My children and their futures were the motivation for our campaign and their health and well-being will always be my overriding priority," Cheney said in the statement.

"Phil and I want to thank the thousands of people in Wyoming and all across the country who have supported my campaign. As a mother and a patriot, I know that the work of defending freedom and protecting liberty must continue for each generation. Though this campaign stops today, my commitment to keep fighting with you and your families for the fundamental values that have made this nation and Wyoming great will never stop."

Late Sunday night, as news that Cheney was likely to drop out of the race swirled, two GOP sources said that a recent incident involving a member of Cheney's immediate family prompted her to reconsider the race, among other factors.
Given his own health history, the natural first conclusion is that the "serious health issues" involve former Vice-President Dick Cheney, but the statement seems to indicate that the issue arises much closer to Cheney's immediate family. Whatever the reason, Cheney's decision to drop out gives Mike Enzi a clear path to re-election to a fourth term in office. Although, to be honest, it was never likely to that Cheney would have been successful her bid to unseat Enzi in a primary fight.