Macron Scores Decisive Win Over Le Pen In French Presidential Election
Centrist candidate Emmanuelle Macron scored a decisive win over the far-right Marine Le Pen in today's runoff round of the French Presidential election.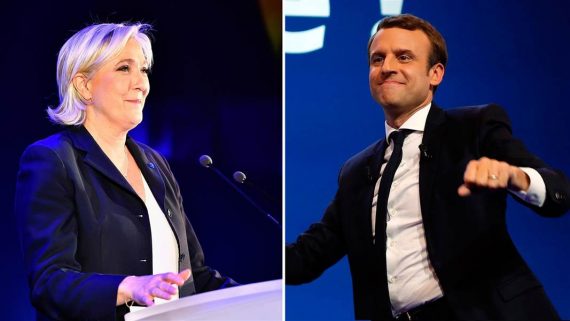 As polls had been predicting largely since the first round of the French Presidential election two weeks ago, centrist Emmanuelle Macron has decisively defeated Marine LePen, leader of the far-right National Front:
PARIS —  France on Sunday shrugged off the siren call of right-wing populism that enchanted voters in the United States and United Kingdom, rejecting anti-E.U. firebrand Marine Le Pen and choosing as its next president Emmanuel Macron, a centrist political neophyte who has pledged to revive both his struggling country and the flailing continent.

The result brought to a close a tumultuous and polarized campaign that defied prediction at nearly every turn, though not at the end. Pre-election polls had forecast a sizable Macron victory, and he appeared to have delivered, with projections issued after polls closed showing him with around 65 percent of the vote.

In a speech to the nation, Macron said the country had "turned a new page in our long history. I want it to be a page of renewed hope and trust."

The president-elect also reached out to Le Pen voters, saying he could understand their anger, while vowing to defend both France and Europe. "This is our civilization that's at stake, our way of life," he said.

Macron was expected to speak again later Sunday night in the grand courtyard of Paris's Louvre Museum, where news of his win spawned raucous cheers among thousands of flag-waving Macron backers.

"I feel relieved," said Valentin Coutouly, a 23-year-old student who described himself as "European to the core" and who was celebrating on a chilly May night. "I think we were all afraid that Le Pen could actually win. We realized in the end that it was possible."

At her own gathering at a Paris restaurant, a downcast Le Pen conceded defeat, telling her demoralized supporters that the country had "chosen continuity" and said the election had drawn clear lines between "the patriots and the globalists."

The outcome — the latest blow in 2017 for far-right movements that had seemed to be on the march last year — will soothe Europe's anxious political establishment. Across the continent, mainstream politicians had feared that a Le Pen victory would throw in reverse decades of efforts to forge continental integration.

But the outcome instantly puts pressure on Macron to deliver on promises made to an unhappy French electorate, including reform of two institutions notoriously resistant to change: the European Union and the French bureaucracy.

At 39, the trim, blue-eyed and square-jawed Macron will become France's youngest leader since Napoleon when he is inaugurated this weekend, and his election caps an astonishing  rise.

With a background in investment banking and a turn as economy minister under a historically unpopular president, he may have seemed an ill fit for the anti-establishment anger coursing through Western politics.

But by bucking France's traditional parties and launching his own movement – En Marche, or Onward — Macron managed to cast himself as the outsider the country needs. And by unapologetically embracing the European Union, immigration and the multicultural tableau of modern France, he positioned himself as the optimistic and progressive antidote to the dark and reactionary vision of Le Pen's National Front.

(…)

No matter whom French voters picked, the choice was bound to be historic.

The dominant two parties of France's Fifth Republic were both eliminated in the first round. The center-left Socialists were decimated, brought low by the failure of current President Francois Hollandeto turn around the economy or to prevent a succession of mass-casualty terrorist attacks.

The center-right Republicans, meanwhile, missed what was once seen as a sure-fire bet at returning to power after their candidate, former prime minister Francois Fillon, was hobbled by a series of corruption allegations.

The two candidates who remained, Le Pen and Macron, both traced an outsider's path as they sought residence at the Élysée Palace.

Of the two, Macron had the more direct route. But his campaign still had to overcome all the usual challenges of a start-up, plus some extraordinary ones — including the publication online Friday night of thousands of hacked campaign documents in a cyber-attack that aroused suspicions of Russian meddling.

The outcome of Sunday's vote will have profound implications not only for France's 67 million citizens, but also for the future of Europe and for the political trajectory across the Western world.

After a pair of  dramatic triumphs for the populist right in 2016 – with Brexit in the U.K., and Donald Trump in the U.S. – France's vote was viewed as a test of whether the political mainstream could beat back a rising tide.

Many of Europe's mainstream leaders — both center-right and center-left – lined up to cheer Macron on after he punched his ticket to the second round in a vote last month. The endorsements were a break from protocol for presidents and prime ministers who normally stay out of each other's domestic elections.

But they reflected the gravity of the choice that France faced. A victory by Le Pen was seen as a possible market-rattling death blow to decades of efforts to draw Europe more closely together, with the country's new president expected to lead campaigns to take the country out of both the E.U. and the euro
Final numbers won't be available until later tonight or tomorrow, but it appears that Macron actually slightly out-performed the final polls that showed him getting roughly 61% of the vote with Le Pen garnering around 39% support. Instead, current returns seem to show that Macron will end up with roughly 65% of the vote to Le Pen's 35%. While this is substantially better than Le Pen's father did in the 2002 election when he ran in a runoff against Jacques Chirac in 2002, it is still fairly decisive repudiation of Le Pen and her far-right agenda on the part of French voters. Going into this election, of course, there was plenty of concern over whether or not the populist wave that appeared to be hitting the world as evidenced by such things as the Brexit vote in the United Kingdom last year and the election of Donald Trump last November was going to give rise to similar sentiment and outcomes in other parts of Europe in 2017, with the possibility of Le Pen actually winning the election or simply making a better showing in the polls than she apparently has been the primary concern coming out of France. Instead, what we've seen on the continent has largely been a repudiation of the far-right, anti-Europe policies that people like Le Pen represent. In national elections in March in The Netherlands, for example, Dutch voters handed a defeat to Geert Wilders and his far-right party's bid to strengthen their party's position in Dutch politics. The same thing happened in Austria, where the far-right party failed in its bid to capture the nation's Presidency despite some initial polling that seemed to show them as being favored. Great Britain's General Election in June will largely be a contest between the center-right Tories and center-left Labour, while anti-Europe parties such as UKIP poised to once again go down to defeat and become even less relevant going forward. In Germany, meanwhile, which will conduct its Federal Elections in September, the strongest parties in the race consist of Chancellor Angela Merkel and her coalition of center-right parties and the center-left Social Democrats, with the German equivalent of parties similar to Le Pen's in Germany largely looking in from far outside the mainstream of German politics and unlikely to be a factor in the election.
One thing all of this means, of course, is that notwithstanding the impending exit of the United Kingdom from the European Union thanks to the results of last year's Brexit vote, the immediate threat to the E.U. is largely behind it. Had Le Pen won and managed to follow that up with a win in legislative elections in June, it likely would have meant at least a push for a French exit from the European Union, a move that could have been a potentially fatal blow to the organization since it likely would have set off similar moves all over Europe. Instead, we have a situation in the coming year where British voters will essentially be affirming the results of the Brexit vote no matter which of the two major parties wins while, in Germany, both of the contenders for power continue to support a strong E.U. This doesn't mean that the problems facing the union thanks to ongoing issues regarding Greece and other nations won't still persist, of course, but the likelihood of an E.U. breakup, to the extent it ever existed, is now pretty much zero for the foreseeable future. .
As I noted last week, today's results are only the first step for Emmanuelle Macron as he begins work on putting together a government and governing as President of France for the next five years. Among his most immediate tasks will be the effort to turn his election win into some kind of a national movement that will garner him enough of a supporting majority in the French legislative elections that will take place in June. Whether that will consist of attempting to form a party of his own or joining in a coalition with centrist and conservative parties is unclear at this point, but unless he is able to do so he will have some difficulty enacting several parts of the agenda he campaigned on and could face significant opposition depending on who ends up being the Prime Minister of France after the June elections. In addition to the hurdle of the legislative elections, there is likely to be a lot of pressure on Macron to deal with issues such as long-term unemployment that have plagued the French economy for several years now, especially among the nation's large population of immigrants from North Africa and the Middle East.
All of that lies in the future, though. For the time being, the focus will be on the fact that, as we've seen in the past, the French electorate has soundly rejected the siren song of the far-right National Front and its appeal to nationalism and racism. Of course, this hardly means that Le Pen or her party will be going away. Garnering more than 20% of the vote in the first round of the election and more than one-third of the vote in the runoff pretty much guarantees that, and the National Front is likely to score at least some wins in the legislative elections in June given these numbers. Additionally, Le Pen will likely continue the effort to 'normalize' the National Front that she began when she took the party over from her father in what was essentially a coup that pushed him to the side rather than a succession. If there are further terrorist attacks in the nation, she will no doubt attempt to exploit them to spread the anti-immigrant, anti-Europe message that her party thrives on. And, she'll likely to still be around in 2022 when the Presidency comes up again for election. For now, though, the voters of France have quite wisely dodged a bullet and proven themselves smarter and more discerning than American voters were in 2016. As a result, we've probably seen the high water mark of the right-wing populist movement in Europe for the time being. Like cockroaches, though, they'll remain in the dark corners waiting to emerge again if and when the time is right.