Majority Disapprove Of Decision Not To Charge In Clinton Email Case
A new poll suggests that the decision not to bring charges related to her use of a private email server will likely have only a minimal impact on Hillary Clinton's campaign.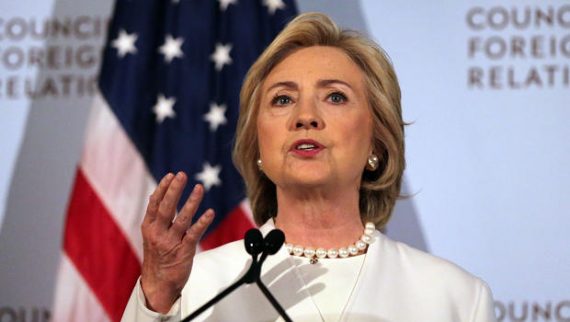 One of the first polls released in the wake of what was effectively the end of the investigation into Hillary Clinton's private email server finds that a majority disapprove of the decision not to charge Clinton or anyone else in the matter, but that it is unlikely to have much of an impact on the race:
A majority of Americans reject the FBI's recommendation against charging Hillary Clinton with a crime for her State Department e-mail practices and say the issue raises concerns about how she might perform her presidential duties, according to a new Washington Post-ABC News poll.

Six in 10 voters say the outcome will have no impact on their vote this November, even as those who do largely say it discourages them from backing the presumptive Democratic nominee.

Last week's decision by FBI Director James B. Comey resulted in the Justice Department's decision that Clinton would not face criminal prosecution which could have derailed her presidential bid. But Comey's sharp critique of Clinton's email practices and systematic dismantling of her public defenses stocked critics with fresh ammunition for the general election campaign.

The Post-ABC poll found 56 percent disapprove of Comey's recommendation against charging Clinton while 35 percent approve. The survey mentioned Comey's reasoning that Clinton did not have criminal intent but that he found her actions were extremely careless handling e-mails.

Roughly 6 in 10 independents disapprove of the recommendation against charges (59 percent), rising to nearly 9 in 10 Republicans (88 percent) and falling to 31 percent of Democrats.

While Clinton has defended her practice as a matter of personal convenience similar to her predecessors, 57 percent in the poll say the issue worries them about how she might handle responsibilities if elected president, while 39 percent say it's not related to how she would perform as president. Over 4 in 10 say they are "very worried" about the issue's implications for Clinton's performance as president.

The results resemble public opinion throughout the past year showing a majority of the public criticizing her answers to questions about the issue — a Post-ABC poll before the federal probe ended found 56 percent disapproving of her response.

One key factor behind the negative ratings is a substantial level of criticism for Clinton among fellow partisans and Democratic-leaning groups.

Over 3 in 10 Democrats disapprove of Director Comey's recommendation against charges for Clinton (31 percent), and the same percentage says the issue makes them worry about Clinton's presidential responsibility. Over 4 in 10 liberals say the issue raises concerns about how Clinton might handle responsibilities as president, as do 36 percent of non-white Americans and 56 percent of those under age 40.

Registered voters who oppose the decision to forego criminal charges are nonetheless split on whether the outcome makes them less likely to vote Clinton in November — 47 percent say it makes no difference in their vote while 45 percent say they're less likely to support her (8 percent say they're more likely to do so).

Among all voters, 60 percent say the outcome makes no difference in their vote choice, including an identical share of political independents. Republican voters are the most likely to say the outcome discourages them to support Clinton — 49 percent — though the vast majority of this group was already strongly opposed to her candidacy before the FBI's announcement
There are several caveats to keep in mind in connection with this poll that may indicate it means far less than meets the eye. First of all, the fact that the vast majority of Republicans disapprove of the F.B.I.'s decision is hardly surprising. Anti-Clinton sentiment has long been an article of faith among the GOP, and especially among the hard-core base of the party. Even with the controversy surrounding the likely GOP nominee, it has always been unlikely that a substantial portion of Republicans would vote for Hillary Clinton in November in any case. Similarly, the fact that some 30% of Democrats say they disapprove of the decision does not mean that Clinton is in significant danger of losing as much as one-third of the Democratic vote, something that would be near-fatal to her campaign if it did happen. Instead, this is likely a side effect of the fact that Clinton has yet to get the full benefit of the race for the GOP nomination due to the fact that Bernie Sanders has yet to endorse her. That seems likely to change when Clinton and Sanders appear together in New Hampshire and that should help Clinton get most of the rest of the Democratic base behind her. With Trump on the ballot on the other side of the aisle, it's unlikely most of those voters will abandon her over the email server story.
The best news for Clinton in this poll, though, is the fact that some 60% of respondents say that the decision not to charge Clinton will make no difference in their decision regarding who they will vote for. There is no partisan breakdown provided for this poll result, but it probably mirrors the results for the main question albeit in reverse. The fact that such a large number of people have essentially written off the story already is obviously good news for Clinton, especially since it's likely that this number will most likely increase as we get further away from last Tuesday's announcement. Absent any further news about the email issue, then, this suggests that its actual importance in the election is likely to be minimal at best.