Majority Of Americans Oppose 'Bathroom Bills' Aimed At Transgender Americans
Surprising results from a new poll regarding "bathroom" bills and transgender Americans.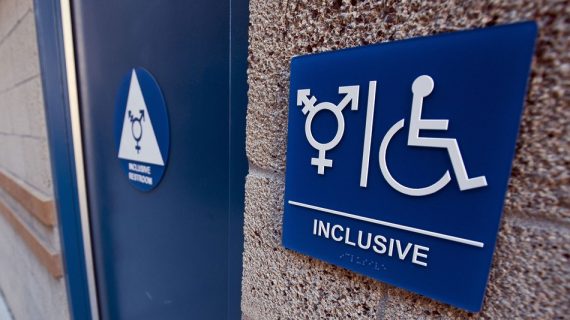 A new CNN/ORC poll shows that a majority of Americans oppose bills restricting the right of transgender Americans to use the restroom corresponding with the gender they identify with, an issue that has received renewed national attention in the light of the controversy over a new North Carolina law:
Americans broadly oppose laws that would require transgender people to use facilities that correspond with their gender at birth rather than their gender identity, according to a new CNN/ORC Poll, and three-quarters favor laws guaranteeing equal protection for transgender individuals.

Overall, 57% say they oppose laws requiring transgender individuals to use facilities that do not match their gender identity, 38% support such laws. Strong opposition (39%) outweighs strong support for these laws (25%). There's a partisan gap on the question, with Democrats and independents more apt to oppose them than Republicans.

But Republicans aren't broadly in favor of them either. The poll finds Republicans about evenly split on laws like this, with 48% in favor and 48% opposed. Republicans are divided by ideology, with moderate and liberal Republicans tilting against the laws and conservative Republicans breaking in favor. That mirrors a pattern found in surveys on support for legal gay marriage, with moderate or liberal Republicans generally more in favor of gay couples' right to marry than conservative Republicans.

The poll was conducted before the Justice Department advised North Carolina that its law requiring transgender people to use the bathroom that corresponds with their birth gender violated civil rights. The state faces a deadline Monday to respond to the letter and modify the law or the federal government could impose penalties.

Broad majorities of Americans say they would favor laws that guarantee equal protection for transgender people in jobs, housing and public accommodations, 75% say they back those, slightly fewer than favor similar laws protecting gays and lesbians (80% favor equal protections for gays and lesbians). Both have majority support across party lines, with Republicans ahttps://www.outsidethebeltway.com/transgender-rights-and-the-sudden-conservative-obsession-with-bathrooms/ bit less apt to favor them.

Demographically, support for equal protection laws and opposition to laws requiring transgender people to use facilities that correspond with birth gender are somewhat lower among older adults, men, those without college degrees and those who live in rural areas.

Although transgender people and fictional characters depicting them are becoming more common in popular culture, most Americans (85%) say they don't have a family member or close friend who is transgender. Younger Americans are more likely than others to have someone that close who is transgender (24% among those under age 35), as are urban residents (21%), non-whites (19%), Democrats (19%) and women (17%)
On some level,the results of this poll are surprising given the fact that this is still such a new issue for the public and that, at least in the past, polling has shown a broad misunderstaning among the public as a whole regarding exactly what it means when someone identifies as transgendered and the fact that social conservatives have been rather skillful in spreading fear and disnformation regarding the issue of transgendered people using the bathroom that corresponds to the gender they identify with, including spreading fears that appear to be largely unfounded that allowing such things would endanger women and young girls. This fear mongering has led to measures such as the new law in North Carolina as well as last November's rejection of a city ordinance in Houston that banned discrimination based on sexual orientation or gender identity after a campaign that was based largely on creating the fear that "perverts" would take advantage of such laws to prey on women and children. The fact that there is little evidence to support these claims of alleged danger has turned the entire "bathroom privacy" movement into what seems to be little more a parody of the decade long opposition to marriage equality, which also raised horror stories about the consequences of allowing gay couples to marry, all of which have proved to be nonsense. Another surprising result from this poll is the fact that Republicans appear to be essentially evenly divided on this issue, a result which suggests that it is really just a small segment of the public that is concerned over the issue of who is using which bathroom and whether someone who identifies as a woman and whose external appearance seems to indicate they are female should be forced to use a men's restroom because they have a Y Chromosome. The poll also suggests that most Americans support laws that allow those who identify as transgender to use the restroom that corresponds to the gender they identify with. Assuming that this is accurate rather than an outlier, it suggests that this is a social issue that the religious right may have already lost the initiative on before the fight even really began.
On the whole, poll results such as these strike me as a largely positive development when it comes to how society deals with an issue that, in many respects, is still relatively new for most Americans. In the end, trying to regulate which bathroom someone uses strikes me as something that is so utterly silly that one wonders why anyone would waste any legislative time on it at all. As I've noted, requiring a transgender person to use the restroom other than the one assigned to the gender they identify with is far more likely to put someone in danger than a law which goes the other way or even the status quo under which there generally has been no law and transgender men and women have been using public restrooms without anyone being the wiser. Of course, in that case the person being put in danger is the transgender individual themselves, a group that has often been the target of violence in the past simply because they are different. Add into all of this the fact that there is simply no evidence that allowing transgender individual to use the men's or women's restroom as they see fit, and it all suggests that, just maybe, the political and legal battle over same-sex marriage, and the corresponding broad-based acceptance of homosexuality that we've seen over the past fifteen to twenty years, have made Americans more open minded about these issues even when they may not completely understand what they are all about. That's at least some good news.