Man Bemoans Selfish Women Not Having Enough Kids
Ross Douthat says American women should stop being decadent and have more babies, explaining that raising children is easier than it used to be, so there's really no excuse for women to be so selfish.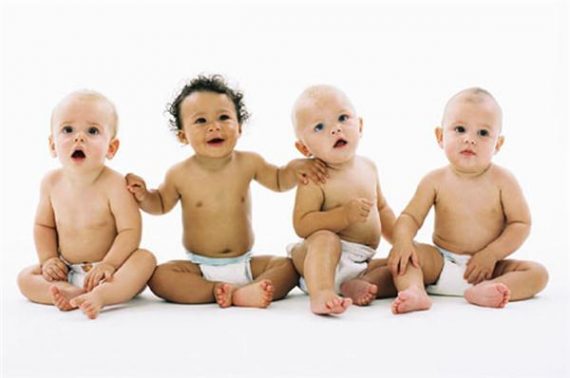 Ross Douthat set off a firestorm with a column urging American women to stop being decadent and have more babies. In a follow-up blog post, he explains that raising children is easier than it used to be, so there's really no excuse for women to be so selfish.
The initial column is cleverly titled, "More Babies, Please," he correctly notes that our high birthrate and resultant low relative age gives America a competitive edge over our Western counterparts. But several recent trends indicate that edge may not last.
Among the native-born working class, meanwhile, there was a retreat from child rearing even before the Great Recession hit. For Americans without college degrees, economic instability and a shortage of marriageable men seem to be furthering two trends in tandem: more women are having children out of wedlock, and fewer are raising families at all.

Finally, there's been a broader cultural shift away from a child-centric understanding of romance and marriage. In 1990, 65 percent of Americans told Pew that children were "very important" to a successful marriage; in 2007, just before the current baby bust, only 41 percent agreed. (That trend goes a long way toward explaining why gay marriage, which formally severs wedlock from sex differences and procreation, has gone from a nonstarter to a no-brainer for so many people.)

Government's power over fertility rates is limited, but not nonexistent. America has no real family policy to speak of at the moment, and the evidence from countries like Sweden and France suggests that reducing the ever-rising cost of having kids can help fertility rates rebound. Whether this means a more family-friendly tax code, a push for more flexible work hours, or an effort to reduce the cost of college, there's clearly room for creative policy to make some difference.

More broadly, a more secure economic foundation beneath working-class Americans would presumably help promote childbearing as well. Stable families are crucial to prosperity and mobility, but the reverse is also true, and policies that made it easier to climb the economic ladder would make it easier to raise a family as well.
That's all rather sensible. Certainly, while Americans are producing more children than our European cousins, our social policy is less supportive of raising them and preparing them for the future. From there, though, he goes from public policy to social critique:
Beneath these policy debates, though, lie cultural forces that no legislator can really hope to change. The retreat from child rearing is, at some level, a symptom of late-modern exhaustion — a decadence that first arose in the West but now haunts rich societies around the globe. It's a spirit that privileges the present over the future, chooses stagnation over innovation, prefers what already exists over what might be. It embraces the comforts and pleasures of modernity, while shrugging off the basic sacrifices that built our civilization in the first place.

Such decadence need not be permanent, but neither can it be undone by political willpower alone. It can only be reversed by the slow accumulation of individual choices, which is how all social and cultural recoveries are ultimately made.
That's one way to look at it, of course. Another is that the combination of education and the availability of reliable birth control has given women more control over their reproductive choices while the move from an agrarian to an industrial to a post-industrial society vastly reduced the incentives to have children. Additionally, a variety of cultural and economic forces have postponed marriage and children for the more affluent communities until an age where having children is biologically challenging.
Megan McArdle takes Douthat's side in the larger debate, detailing the degree to which the demographic challenges that come from an aging population have on a society, while neatly sidestepping the "decadence" debate. Matt Yglesias deems the latter "slightly nutty" while observing "It'd be a much better country if social conservatives would stop writing things like that [decadence] paragraph and focus instead on what's in the [lack of family policy] paragraph."
Douthat then followed up with "Don't Mention The Decadence," a blog post chiding his critics for not tackling the issue Yglesias offhandedly dismisses as "slightly nutty."
[Y]ou can't write honestly about the policy component of these issues without recognizing the existence of cultural forces larger than the cost of higher education or the incentive structures created by the tax code.

This means acknowledging, in this case, that while the burdens on modern parents are real and considerable and in certain ways increasing, people in developed societies enjoy a standard of living unprecedented in human history, and the sacrifices required of would-be parents in America or South Korea or Germany do not undo their immense material advantages over their parents and grandparents and great-great grandparents going back millennia upon millennia. Once you've acknowledged that (fairly obvious) point, then you're acknowledging that people in rich countries who forgo or limit their childrearing aren't all just responding in inevitable ways "to the situation that actually exists," as Yglesias puts it later in his post. Some are, yes. But others — many millions of others, in Europe and North America and Asia — are actively creating their own situations, and deciding that children (or more than one child, or more than two) don't fit with their ambitions or desires or preferred consumption patterns.
Or, as some of our fellow conservatives call it, "taking responsibility for their lives and not having more children than they can afford." Indeed, Douthat seems to acknowledge that on the part of the individual while lamenting the collective outcome.
Now on a case by case basis, those kind of decisions can be defensible, admirable, necessary, wise. Children are not the only good in life, and it's a sign of civilization's progress, almost by definition, when adults have a wider range of potential identities than mother and father available to them, and a wider range of opportunities to put their gifts to use. Almost everyone in the modern world makes the decision to place some limits on their fertility: Even among traditionalist Catholics and conservative evangelicals and Mormons, families with five or six or seven children are much more common than Michelle Duggar/Maria Theresa-style maximum fertility. (The "planning" in Natural Family Planning is there for a reason.) Up to a point, the path from poverty to plenty — from Afghanistan to America, if you will — inevitably involves smaller families. Up to a point, declining birthrates correlate with trends in health and wealth and female equality that nobody wants to see reversed.

Up to a point. But the modern path has many possible endpoints, and it seems like an abdication of moral judgment to just practice determinism and assert that wherever a given developed country's birthrate ends up — slightly above replacement level, slightly below, or in the depths plumbed by countries like Japan — must represent the best of all possible worlds.

After all, if children are not the only good in human life, they do seem like a fairly important one, no? Maybe even, dare one say, an essential one, at least in some quantity, if the pursuit of the wider array of human goods is to continue beyond our own life cycle? Or to put it another way, if we have moral obligations to future, as-yet-unborn generations, as almost everyone seems to agree, surely those duties have to include some obligation for somebody to bring those generations into existence in the first place — to imitate the sacrifices that our parents made, and give another generation the chances that we've had?
But this is an argument that we conservatives apply nowhere else that I can think of. Indeed, most American conservatives, myself included, rail against collectivism in much less significant arenas. Let government try to force us to change to a more energy efficient lightbulb or regulate the water capacity of our toilets and the calls for revolution ring out across the land. Encourage us to buy more energy efficient automobiles through tax incentives and corporate subsidies and you're a tyrant. Suggest that we turn off electronic devices that aren't in use and you're at very least a dirty hippy and probably an out-and-out commie. But suggest that women give up the advances they've made over the last half century because somebody has to have more kids, why, what could be more reasonable?
The call is slightly more irritating coming from Douthat, a precociously successful author and journalist who had a New York Times column at 29 married to a successful reporter for another major newspaper. Both are children of privilege, graduates of Harvard, and were well ensconced in their careers before getting married five years ago and starting a family.
My point isn't that Douthat is being a hypocrite. Their second child is on the way and, for all I know, they're planning to make up for lost time by having a dozen more. Nor am I invoking a parental version of the chicken hawk argument that the number of kids one has or doesn't have impacts one's standing to comment on family issues; certainly, it didn't stop me.
But the fact of the matter that raising children is an incredibly demanding endeavor that competes with other aspects of one's life–certainly including one's career–for time, energy, and attention. For those in the professional class, some of that can be mitigated by throwing money at it; but that goes only so far unless one wishes to become a parent in name only. For those without parental wealth and/or a handsome income, then, having multiple children–and, apparently, two isn't enough!–comes at a huge cost.
Essentially, then, Douthat is arguing that a whole lot of somebodies should sacrifice any semblance of the life they'd like to have because, well, they owe it to future generations. It's not at all clear where that obligation derives. And, if it exists, a whole lot of the conservative agenda should go overboard along with the right of family planning.
All, incidentally, to solve a problem with much simpler and less disruptive solutions. Before we try shaming women into having more children than they want, why not start the proverbial stapling of green cards to the diplomas of foreign graduates of our universities? Or, a saner immigration policy more generally? For that matter, while I'm inclined not to think it's a sound use of resources, I'd certainly prefer a European-style set of supports for families if sacrificing "decadence" is the alternative.
Correction: The original post incorrectly stated that Douthat has no children. While his online bios don't mention them, I'm reliably informed that he and his wife have a child with another on the way. My apologies for the error.