Douthat Misses the Point on Hungary
Hungary is part of a broader global trend, but the real issue isn't Hungary, it is the Americans who praise Hungary.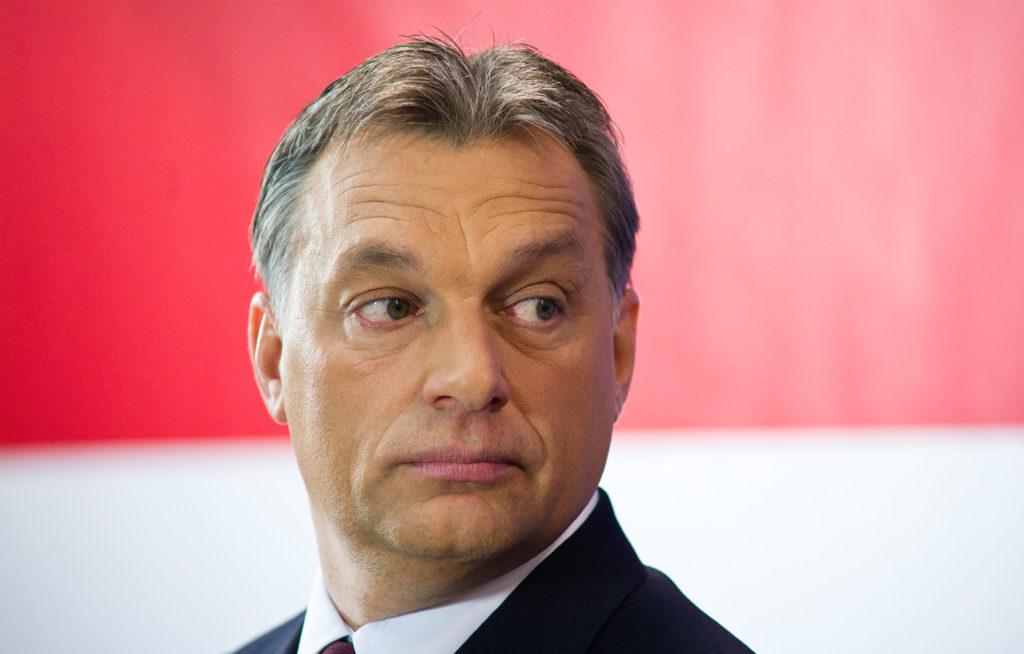 I almost resisted the temptation, but I was unable to avoid, for some reason, reading Ross Douthat's column in the NYT entitled: Why Hungary Inspires So Much Fear and Fascination. Mostly I have found myself sucked into thinking about the fascination some Americans have in the Hungarian leader and his ethno-nationalist rhetoric and policies and authoritarian means of achieving those goals. I find it problematic, to say the least, that anyone in American media and politics would find "fascination" in Orban's Hungary.
I do think that Douthat is trying too hard to create two sides to this story. Here's his opening paragraph:
For the last few years, Hungary, a country of fewer than 10 million people, has occupied an outsize place in the imagination of American liberals and conservatives. If you think the American right is sliding toward authoritarianism, you cite Viktor Orban's nationalist government as a dark model for the G.O.P. If you think an intolerant progressivism shadows American life, you invoke Orban as a figure who's fighting back.
Let me start with an overarching comment: I find the notion that the right's belief that "intolerant progressivism" is out to get them is well overblown and the notion that the remedy is to extol Orban as a model of "fighting back" is a pernicious position that is leading some on the right in the US to lift up authoritarian, plain and simple. And I think that Douthat's column utterly misses this point. This is a great example of where "both sides" is not the right frame because one side is behaving far more badly.
---
Before any more direct discussion of Douthat, let me directly state, as a commenter on contemporary politics here on this site for quite some time, and as a scholar who studies democracy globally, I don't fear Hungary (and I am not sure many Americans do). I am not sure that it is an object of fascination, for that matter, as much as it is an example of a peculiar case in the EU.
Straight up, and without any reference whatsoever to US domestic politics, Hungary has become a significant case insofar as it is the first EU country to slide back away from democracy and toward authoritarian governance. This is, academically speaking, noteworthy (regardless of normative considerations). Further, it appears to be part of a trend toward increase nationalism globally, especially in the wake of the Great Recession. We are seeing a series of examples of countries being influenced by increased nationalism (often ethno-nationalism), both in democratic and non-democratic settings. Brexit is part of this wave, as is Trumpism. We further see it in political movements in various democratic states, such as in Germany, France, and Poland. We are seeing it in places like Erdogan's Turkey as well.
This shift was significant enough that I altered the syllabus in my graduate seminar, "Theory and Ideology in International Relations" back in 2017 to add additional readings on nationalism and populism. I added some similar themes to my Comparative Government course at the time. I have not taught in the last couple of years but had I been doing so I would likely have altered my syllabi further.
So, just in terms of the empirical study of politics, changes in Hungary have significance. And, further, from a normative (i.e., values-based) point of view, if one values democratic government as being better than authoritarianism, one would also find its backslide into illiberal democracy, if not straight-up authoritarianism, to be troubling.
The point being, there is a broader context here beyond what Tucker Carlson may be doing or this weekend's interest in Hungary on Twitter. Indeed, what Hungarians are dealing with and what Hungary's path more portends for other eastern European states is far more important than what Hungary may or may not mean to American domestic political discourse.
But to directly address Douthat's paragraph above: this should not be some simplistic bothsiderism issue. Let me be clear: no one in American politics ought to be looking towards an authoritarian regime or ruler as a model.
Period.
End of story.
Full stop.
So, if some on the American left are concerned about some of the American right praising Victor Orban and Fidesz, that should be seen as a problem if one values democracy.
If, however, one values elevating one's personal preferences about, say, sexual mores, even if it means oppressing those you disagree with, then at least understand what is being embraced.
---
Douthat's piece, quite frankly, is a bit of a mess (this seems to be a running critique of mine of his work), and I don't think it is my job to figure out what he is trying to say save to note that like a lot of pieces on this general topic (i.e., why some on the American right like Orban) it seems to be asserting that since things are too woke around here these days and this leads to worry about cancel culture, then, of course, people are going to look to a foreign strong man for guidance!
Or, something.
A lot of it (like many other pieces on Hungary I have read) seems to assert that since American conservatives fear cancel culture and wokeness in the US, especially over issues of gender and LGBTQ+ rights, then it stands to reason that they like Orban for being more than a bit authoritarian on such topics (he also has asserted a lot of power over universities, so that's nice, too). Somehow, as often seems to be the case in these narratives, it is really the American left's fault, because they made people in the US feel uncomfortable.
Or, something.
You can document this fear of sharing strong opinions, especially ones that conflict with progressive orthodoxy, by looking at opinion polls. For example, a 2020 survey conducted by the Cato Institute found that 62 percent of Americans felt uncomfortable sharing their views because of the political climate, and "strong liberals" were the only ideological group where the majority felt free to speak their minds. To the question, "Are you worried about losing your job or missing out on job opportunities if your political opinions became known?" highly educated Americans were the most anxious, with 44 percent of respondents with a postgraduate degree and 60 percent of Republicans with a post-grad degree saying yes.
A lot of that, I expect, is a direct result of highly polarized times. And, yes, there are real examples of real people facing real consequences for things they have said in public. It is also true, I hate to tell him, that not all anxiety about the effects of political utterances are about rightward types fearing the lefties. It can go the other direction.
When Douthat needs an example of leftward-oriented cancel culture, it isn't exactly a slam-dunk (the links):
you can document this fear by just keeping up with the ever-lengthening list of people who have had careers derailed for offenses against progressive norms.
The first link is to an Axios story that details a conflict at Apple:
Apple has severed ties with recent hire Antonio García Martínez, a former Facebook employee and author of the book "Chaos Monkeys," Axios has learned, following an uproar from employees upset over García Martínez' past writings demeaning women and others.

[…]

In one passage from "Chaos Monkeys," García Martínez describes women in the Bay Area as "soft and weak, cosseted and naive despite their claims of worldliness, and generally full of shit."
Gee, I wonder why some of the folks at Apple didn't want to work with García Martínez? It is such a mystery!
(The second link may, or may not, further Douthat's point, but it is a long story that requires parsing out a lawsuit and this piece is already longer than intended, so I won't delve into it).
Regardless, Douthat pretty much refutes his own position with this sentence:
This fear is different from the fear that Frum discerned in Hungary, in the sense that nobody in the United States is afraid of criticizing the government.
Let's face facts, even if woke cancel culture is as bad an Douthat (or even people like Rod Dreher) think that it is, fearing cancel culture is a far cry from fearing that the government will come down on your head for what you say.
In short: to justify cleaving to an authoritarian because one feels unable to criticize certain cultural shifts on gender and LBGTQ+ rights without potential social repercussions is quite a reach (and a dangerous one). (Plus, Douthat has a sinecure at the NYT, so hardly has been canceled, and while Dreher may feel he doesn't have the megaphone he deserves, has he happened to notice that he constantly criticizes part of American politics and culture he doesn't like, and yet he rocks on?).
Douthat ramps up the concerns the right has about speech by calling it "left-McCarthyism" but then describes it as empty:
If this is left-McCarthyism it lacks a Joe McCarthy: If you pushed your way into the inner sanctum of the Inner Party of progressivism, you would find not a cackling Kamala Harris, but an empty room.
So, let take a breath here.
He is writing a column trying to dismiss leftward fears about rightward interest in Hungarian authoritarianism and in he body of the column he admits that in Hunagry, you have to fear the government and, by the way, if thee is a "left-McCarthyism" it leads to an empty room.
So hey, no worries about admiring a strongman?
He continues:
For anyone on the wrong side of the new rules of thought and speech, though, the absence of a McCarthy figure is cold comfort. Whatever his corruptions, Viktor Orban might lose the next election, if the fractious opposition stays united. But where can you go to vote for a different ruling ideology in the interlocking American establishment, all its schools and professional guilds, its consolidated media and tech powers?
First and foremost, the scale and significance of this "left-McCarthyism" are limited and ill-defined. Again, even the examples he provides are hardly worthy of such a label.
Second, he is showing his ignorance of Hungarian politics and how their electoral system works. The polls he links to shows Orban's coalition with just under 50% support. He might lose, right? Well, what if I told you that just under 50% support is what he had at the last election and that his coalition won over 2/3rds of the National Assembly with that level of the vote? The electoral system in Hungary is highly disproportional and will help Orban continue to dominate Hungarian politics even though he does not have majority electoral support (my friend, sometimes co-authors, and world-renowned expert on electoral systems was concerned about this reform a decade ago–so, again, concern over Hungary's trajectory is not a new thing).
---
This post is already longer than I intended, so let me give Douthat credit for his conclusion, which I would criticize as being still too weak:
this impulse has swiftly led conservatives to tolerate corruption, whether in their long-distance Hungarian romance or their marriage to Donald Trump, suggests a fundamental danger for cultural outsiders. When you have demand for an alternative to an oppressive-seeming ideological establishment but relatively little capacity to build one, the easiest path often leads toward not renaissance but grift.
More on this topic is coming, I suspect.