Red Lights on the Dashboard
Some recent news items that add to concern about American democracy.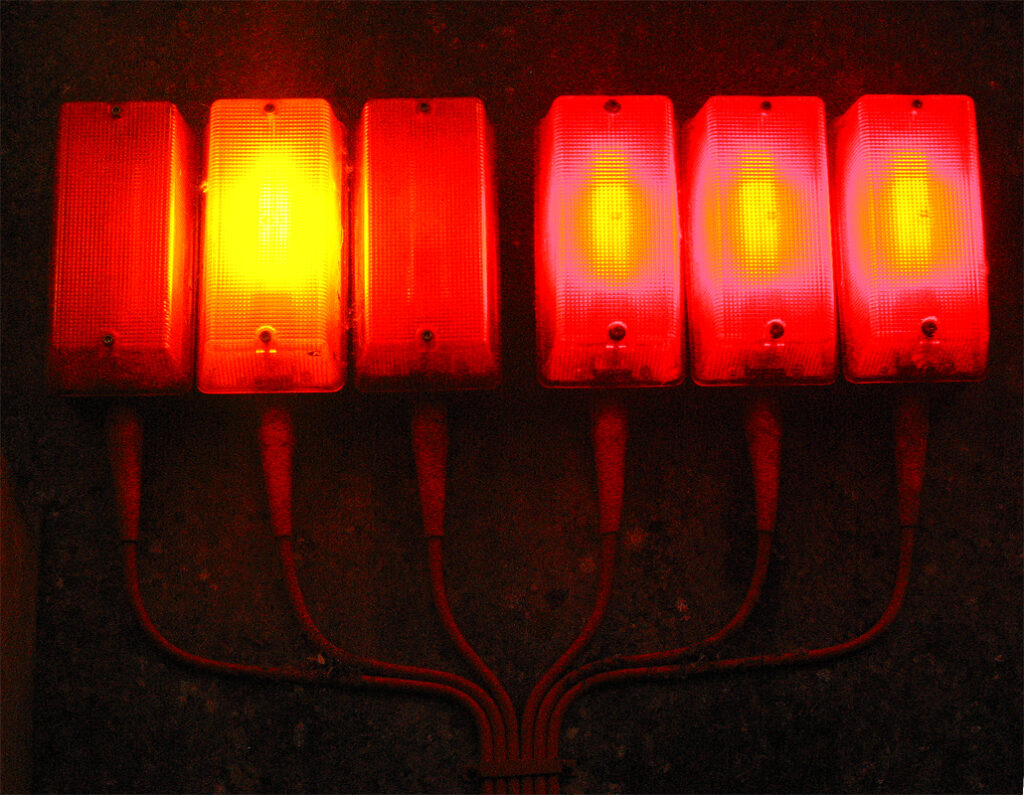 These are three stories that are disturbing to me that I have noticed this week that are indicative of disturbing trends in American politics. They could be easily dismissed as being an example of a fringe politician, a cable TV host, and an insignificant publication. But given the size of the megaphone of those two individuals, and the general trends in some parts of rightward American political, I don't think it is wise to handwave this behavior away. I will readily admit that the cable news host's behavior, which has deep connectivity in some quarters of the right, is actually more disturbing, even if it may sound less dramatic.
These stories are not directly connected save that they both illustrate destructive currents within the right–currents that the mainstream of the Republican Party either are largely ignoring and/or trying to ride these tigers to electoral victory in 2022 with the thought that surely those tigers won't eat their collective faces (or all of our faces) at some point.
First, the politician: Representative Majorie Taylor Greene, making an appearance just down the road from me in Dothan, AL. MSNBC reports, Marjorie Taylor Greene suggests Southerners could 'welcome' Biden's 'police state friends' with guns.
"You lucky people here in Alabama might get a knock on your door, because I hear Alabama might be one of the most unvaccinated states," Greene told the crowd, prompting cheers and applause over the state's low vaccination rate. "Well, Joe Biden wants to come talk to you guys. He's going to be sending one of his police state friends to your front door to knock on the door, take down your name, your address, your family members' names, your phone numbers, your cellphone numbers, probably ask for your Social Security number and whether you've taken the vaccine or not."

She continued: "What they don't know is in the South, we all love our Second Amendment rights, and we're not real big on strangers showing up on our front door, are we? They might not like the welcome they get."
Cheering low vaccination rates is its own problem, but this isn't a Covid-19 post so I will leave it alone (save to note that this is just another example of how anti-vaccination has become an issue of identity for some).
More significantly, this is straight-up suggesting that deadly violence might be an understandable response if public health officials show up at your doorstep. Further, the description of what they might ask for simply increased the already brewing tension.
There is no excuse for an elected official to be stoking this kind of fear and anger.
Second, is Tucker Carlon of Fox News who has been touting the glories of Hungarian authoritarianism this week.
This whole situation likely requires multiple posts (the last time I wrote about Hungary the title of the post was Hungary Goes Full Authoritarian), but let me start this section with the summary on Freedom House's page on Hungary:
After taking power in 2010 elections, Prime Minister Viktor Orbán's Alliance of Young Democrats-Hungarian Civic Union (Fidesz) party pushed through constitutional and legal changes that have allowed it to consolidate control over the country's independent institutions. More recently, the Fidesz-led government has moved to institute policies that hamper the operations of opposition groups, journalists, universities, and nongovernmental organizations (NGOs) whose perspectives it finds unfavorable.
Freedom House ranks Hungary as "partly free" (with a generally negative trend over the last decade).
Carlson has been singing the praises of Orban and his particular form of nationalism. He is not alone, as the NYT noted, Conservative Fellow Travelers: Tucker Carlson Drops In On Viktor Orban.
It's been a meeting of conservative fellow travelers: a jovial host — who heads an authoritarian government bent on targeting liberal institutions, including universities, the judiciary and the media — and his American guest exchanging grins.

[…]

The American author and journalist Rod Dreher, who writes for The American Conservative (for which Mr. Carlson sits on an advisory board), has been in Hungary since April, thanks to a paid fellowship at an institute funded by Mr. Orban's government.

Mr. Dreher said he had been inspired by the Hungarian leader when he first met him along with a group of visiting conservatives in 2019.

"Here was a leader who was not the thuggish strongman of media caricature, but an intelligent man who had obviously thought deeply about political and cultural issues," Mr. Dreher said.
Not to be overly cynical or anything, but financing a writer to come to hang out in Europe and pontificate, while treating him like a valued guest, is a pretty good way to secure the good feelings of that writer.
Just sayin'
Beyond that, anyone familiar with Dreher's oeuvre will recognize that one of his key issues is culture, with "culture" being defined largely as concern over homosexuality and especially transexual rights/culture acceptance. And so the dots aren't hard to connect:
Mr. Orban's party recently adopted a law restricting depictions of homosexuality; critics said it was being used to target the country's L.G.B.T.Q. community. And the government-aligned media regularly rails against the destabilizing effect that Western "woke" culture has on traditional society.
It is worth noting that early interest and acceptance, if not admiration, of Vladimir Putin by some in the American right was over Putin's condemnation of homosexuality. For example, from 2014 in WaPo, Franklin Graham: Putin is better than Obama on gay rights.
"In my opinion, Putin is right on these issues," Franklin Graham writes of Russia's controversial prohibition on gay "propaganda." "Obviously, he may be wrong about many things, but he has taken a stand to protect his nation's children from the damaging effects of any gay and lesbian agenda."
When people like Graham, Dreher, and Carlson talk about protecting the family or "the culture" they very much mean protecting their personal views on what that means. A gay couple and their children need not apply. And "culture" tends to very much be about very specific sexual mores.
And hence we get: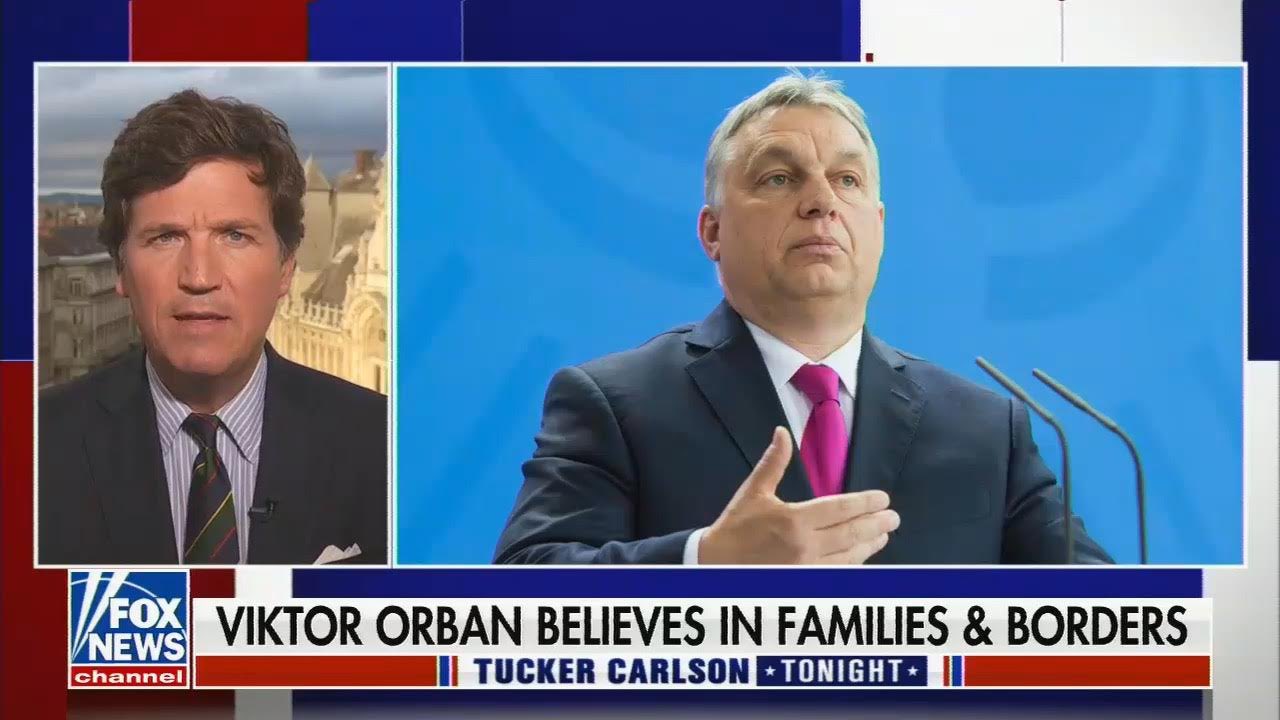 One is reminded of J.D. Vance recently arguing that people should get as many votes as they have children, and inaccurately pretending like people on the left are childless.
Not to put too fine of a point on this, but democratic pluralism requires the ability to accept multiple approaches to family. Indeed, I recall discussions in the literature on democratization from 25-to-30 years ago discussing acceptance of homosexual rights as a key indicator of democratic maturation. After all, how can you have democracy if some people are treated as second- or third-class citizens? Or, worse, be forced to deny who they are entirely?
Back to the NYT piece about Carlson and Orban we can add to the parade of the American right interested in Hungary:
Hungary was also a focus for another American conservative, Stephen K. Bannon, President Donald J. Trump's former adviser, who traveled to Europe to work with Mr. Orban and other nationalist populist parties ahead of the 2019 elections for the European Parliament. Mr. Bannon's efforts fizzled, partly because of the difficulty reconciling competing national priorities among the continent's different nationalist parties.
Bannon's connection and promotion to white nationalism are well known and should give others pause about his involvement with Orban and his ilk unless of course, they are not especially concerned about white nationalism.
Jonathan Chait doesn't mince words: Tucker Carlson Has Seen the Future, and It Is Fascist Orban's Hungary is the road map for American authoritarianism.
Third, along these lines are essays like The Salazar Option in American Greatness.
This is already a too-long post, but let me note that Salazar was an authoritarian dictator.
We can mince words over exactly how fascistic any of this is, but that both Orban and Salazar are examples of authoritarian governance is indisputable. That anyone of prominence on the right is embracing such figures is truly disturbing. And to bring Greene back into this: calls for violence over basic public health policy are not democratic.
Many on the right like to pretend that the mainstream Democratic Party and its allies are embracing people like Nicolas Maduro in Venezuela (or that they want the Cuban system in the United States), but all of that is mostly caricatures of what is actually argued for. Here, however, we have with Tucker Carlson, one of the most prominent mainstream rightwing media personalities literally putting forth an authoritarian state up as a model for the US because it will protect "the culture." And we have others who are considered respected on the right, like Dreher (and Dennis Prager, whom I have not yet mentioned) doing the same.
All of this very much qualifies as flashing red warning lights.
(See, also David French, as a conservative writing that Hungary Is No Model for the American Right).