Democratic Backsliding and the American Right
The only way to save our freedom is to destroy it.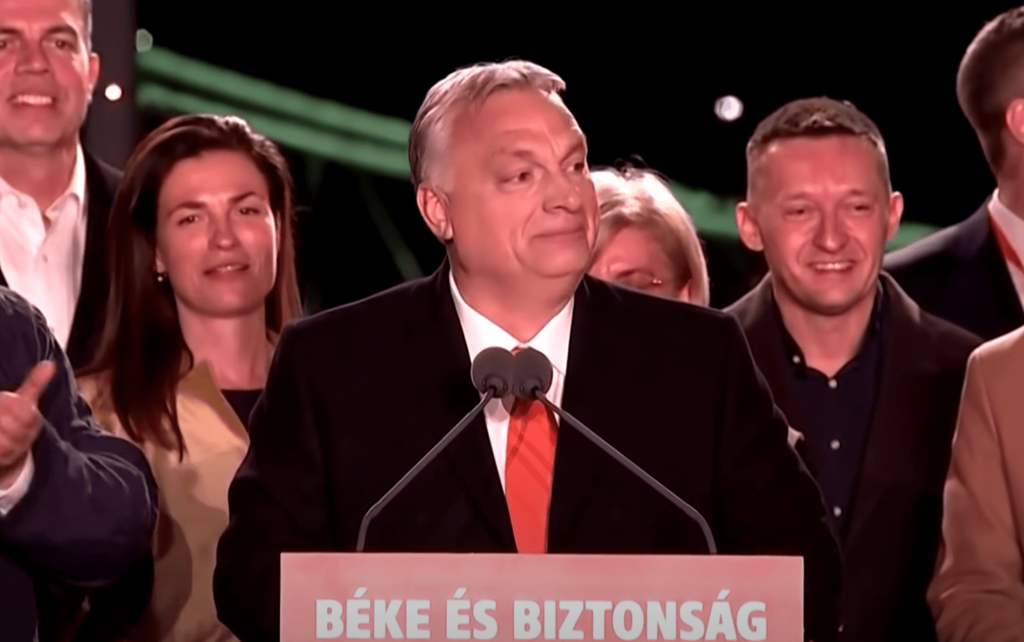 The six weeks thus far of Russia's brutality against the people of Ukraine have had a silver lining: a reigniting of the Western alliance. The most powerful economies on both sides of the Atlantic have stepped up to supply military aid to Ukraine and combined forces to impose crippling sanctions against Putin and his cronies. NATO is as strong as it's been in decades, with even the long-lagging Germans showing resolve and pledging to radically increase its investment in collective defense.
Alas, it hasn't all been peaches and cream, however. There has been a shocking amount of pro-Putin sentiment from right-wing elements in America and Europe. And democratic backsliding is quite possible.
The NYT reports that French President Emmanuel Macron's efforts to negotiate a peace deal may actually cost him his job.
The diplomatic attempt to end the war in Ukraine has been time-consuming for Mr. Macron, so much so that he has had little time for the French election, only to awaken to the growing danger that France could lurch to the anti-immigrant right, with its Moscow-friendly politics and its skepticism of NATO.

Marine Le Pen, the hard-right leader making her third attempt to gain power, has surged over the past couple of weeks, as her patient focus on cost-of-living issues has resonated with the millions of French people struggling to make ends meet after an increase of more than 35 percent in gas prices over the past year.

The most recent poll from the respected Ifop-Fiducial group showed Ms. Le Pen gaining 21.5 percent of the vote in the first round of voting next Sunday, almost double the vote share of the fading extreme-right upstart Éric Zemmour, with 11 percent, and closing the gap on Mr. Macron with 28 percent. The two leading candidates go through to a runoff on April 24.

More worrying for Mr. Macron, the poll suggested he would edge Ms. Le Pen by just 53.5 percent to 46.5 percent in the second round. In the last presidential election, in 2017, Mr. Macron trounced Ms. Le Pen by 66.1 percent to 33.9 percent in the runoff.

"It's an illusion that this election is won for Mr. Macron," said Nicolas Tenzer, an author who teaches political science at Sciences Po university. "With a high abstention rate, which is possible, and the level of hatred toward the president among some people, there could be a real surprise. The idea that Le Pen wins is not impossible."

Édouard Philippe, a former prime minister in Mr. Macron's government, warned this past week that "of course Ms. Le Pen can win."

This notion would have seemed ridiculous a month ago. Ms. Le Pen looked like a has-been after trying and failing in 2012 and 2017. Mr. Zemmour, a glib anti-immigrant TV pundit turned politician with more than a touch of Donald Trump about him, had upstaged her on the right of the political spectrum by suggesting that Islam and France were incompatible.

Now, however, Mr. Zemmour's campaign appears to be sinking in a welter of bombast, as Ms. Le Pen, who said last year that "Ukraine belongs to Russia's sphere of influence," reaps the benefits of her milquetoast makeover.

Mr. Zemmour may in the end have done Ms. Le Pen a service. By outflanking her on the right, by becoming the go-to candidate for outright xenophobia, he has helped the candidate of the National Rally (formerly the National Front) in her "banalization" quest — the attempt to gain legitimacy and look more "presidential" by becoming part of the French political mainstream.
Granted, the far-right has come close many times over the years at taking power in France and has always fallen short. But the notion that Putin's aggression is actually helping their cause is a stunning thing, indeed.
Meanwhile, Hungarian autocrat Viktor Orban looks to have cruised to another term precisely by running against "Europe." AP:
"We won a victory so big that you can see it from the moon, and you can certainly see it from Brussels," said Orban, who has often been condemned by the European Union for democratic backsliding and alleged corruption.

"The whole world has seen tonight in Budapest that Christian democratic politics, conservative civic politics and patriotic politics have won. We are telling Europe that this is not the past, this is the future," Orban said.
To be sure, Orban's opposition was hampered by voting rules rigged in his favor and the fact that he controls state media. Still, Putin's invasion clearly played a role in his win.
While Orban had earlier campaigned on divisive social and cultural issues, he dramatically shifted the tone of his campaign after Russia's invasion of Ukraine in February, and has portrayed the election since then as a choice between peace and stability or war and chaos.

While the opposition called for Hungary to support its embattled neighbor and act in lockstep with its EU and NATO partners, Orban, a longtime ally of Russian President Vladimir Putin, has insisted that Hungary remain neutral and maintain its close economic ties with Moscow, including continuing to import Russian gas and oil on favorable terms.

At his final campaign rally Friday, Orban claimed that supplying Ukraine with weapons — something that Hungary, alone among Ukraine's EU neighbors, has refused to do — would make the country a military target, and that sanctioning Russian energy imports would cripple Hungary's own economy.

"This isn't our war, we have to stay out of it," Orban said.

The president of Ukraine, Volodymyr Zelenskyy, on Saturday depicted the Hungarian leader as out of touch with the rest of Europe, which has united to condemn Putin, support sanctions against Russia and send aid including weapons to Ukraine.

"He is virtually the only one in Europe to openly support Mr. Putin," Zelenskyy said.
It wasn't just the literal war in Ukraine though but also the culture war:
Orban — a fierce critic of immigration, LGBTQ rights and "EU bureaucrats" — has garnered the admiration of right-wing nationalists across Europe and North America. He has taken many of Hungary's democratic institutions under his control and depicted himself as a defender of European Christendom against Muslim migrants, progressives and the "LGBTQ lobby."

Along with the election to parliament, a referendum on LGBTQ issues was being held Sunday. The questions pertained to sex education programs in schools and the availability to children of information about sex reassignment.
Ultimately, as much as I lament democratic backsliding in Europe, what most distresses me is the fact that there are a significant number of Americans who seem positively giddy over it.
Steven Taylor noted this from American Conservative columnist Rod Dreher last night:
Aside from being completely bonkers as an assessment of the state of play, it's simply a bizarre stance by someone whose Twitter profile declares themself a "conservative" and "Europhile." But, apparently, owning the libs is the highest value now.
And, apparently, something about the gays:
In a column published early this morning, Dreher is more measured, arguing that Orban was against the invasion but simply trying to keep Hungary out of the fight, a politically popular position.
It is not often that the head of a right-wing party gets to run for re-election as a peace candidate, but that's what Orban did, and it paid off. Over and over, talking to people in the streets, in pubs, in taxi cabs, I heard the same thing from people: however ready they might be for a change in government after twelve years of Fidesz, this opposition is incompetent, and besides, nobody wants to change leadership in a time of national crisis.

And then there was the LGBT media law referendum. Last summer, the Fidesz-controlled Parliament passed a law prohibiting certain expressions of pro-LGBT information aimed at minors. It caused a huge uproar among European leaders, who called it rank bigotry. Orban decided to put the questions to voters in a referendum yesterday. Hungarians were asked to approve or disapprove of the following questions:

1. Do you support the promotion of gender reassignment treatments for minor children?"

2. Do you support the display of media content showing gender reassignment to minors?

3. Do you support the unrestricted depiction of sexual-themed media content to minors that affect their development?

4. Do you support holding sessions on sexual orientation for minor children in public education institutions without parental consent?

It was a smart political move, because it meant that those who agree with the government would be more likely to turn out to vote. The opposition, knowing that they would lose the referendum, called on its voters to spoil their ballots, knowing that the referendum would be non-binding if fewer than 50 percent of eligible voters cast ballots.

In one sense, the opposition strategy paid off. Though 90 percent of those who voted in the referendum sided with the government, just under half voted for the referendum, making its result invalid. Practically speaking, it doesn't matter, because the law remains in effect. Now, though, European leaders know that the government's policy has strong popular support. And, for an opposition that loves to claim that Orban undermines democracy, urging people to void a national referendum via spoiled ballots was not a good look.
That the questions were ridiculously stilted, such that not even the staunchest believer in LGBTQ rights, could say Yes to any of them, is beside the point, I guess. And, naturally, Orban has drawn a roadmap for American Republicans.
What does this mean for American conservatism? You have to be careful not to overdraw the lessons. Hungary is a small, ethnically homogeneous country, with a particular history that sets the boundaries on politics here.

[…]

Nevertheless, there are some lessons to be drawn. The first one is already underway in the US. Orban does not shy away from fighting the culture war. In Hungary, gay couples have the legal right to form civil partnerships, and there is broad tolerance of gays and lesbians. But most people here reject transgenderism, and they especially reject the gender ideology propaganda liberal elites and their supporters in schools and media direct towards children. In my six months here in Budapest over the past year, whenever I talk to Hungarians about what has become routine in the United States regarding media, educational, and woke-capitalist indoctrination aimed at kids regarding transgenderism, they visibly struggle to believe that what I'm saying is true. But of course it is true. As we know from Christopher Rufo's publication of videos from an internal Walt Disney Company session, Disney has been inserting pro-LGBT messaging into its children's programming for years, and plans to double down on it.

Florida Gov. Ron DeSantis's new law forbidding propagandizing children aged nine and under in schools with this stuff is a pale shadow of Hungary's law, but it's similar — and it is very popular nationally, even among Biden voters. Last week the Biden administration released new federal health guidelines on transgender "care" for children — and in them, openly laid the groundwork for the possibility of the state seizing children from their families to submit them to hormones and surgeries.

Orban has shown now that going against elites in the media, corporations, and foreign governments to protect children is a big winner. It is time for Republicans to be more faithful to the people they claim to represent than to the donor class on this issue.
This is just a loony-toon characterization of the state of play. While I'm not a religious man, I'm pretty conservative socially. I'm broadly supportive of trans rights but more than a little squeamish about how far we should go in affirming the confusion about very young children about their sex and sexuality. And, beyond that, generally think the public schools shouldn't proselytize on controversial social issues. But the notion that there's some broad conspiracy to turn our kids gay and trans is absurd.
But Dreher actually thinks it's worse than that!
I have been saying for the past year that US conservatives should come to Hungary to learn from Orban and Fidesz. Orban is not a small-government Anglo-Saxon conservative. He believes in using the power of the state to strengthen families, the basis of any health society. But the most important thing US conservatives can learn is how to use political power to fight the culture war — and not in the most obvious ways, such as with the referendum. Orban is a country boy who knows very well how the Left dominates culture here in Hungary, especially cultural institutions. And he understands, in ways that elude American conservative politicians, how the soft power wielded by the Left in those institutions changes society in progressive ways. This is why for all the political victories the GOP has racked up over the past few decades, the broader society and culture has continued its accelerating drift leftward.

As I wrote last month, quoting the political scientist Eric Kaufmann and his research on American society, conservatives absolutely cannot afford to be complacent here, and mindlessly observe the old liberal habits of keeping the government's hands off of non-political matters. As Kaufmann pointed out, the younger generation in the US is so far to the Left, and so hostile to old-fashioned liberal values like free speech and tolerance of diverse opinions, that if conservatives don't find a way to stop or reverse these trends, there will be no place for us to exist in the America of the near future.

The call now among some Republican commentators for the state to take action against Disney, to revoke its special privileges on copyright to retaliate for its indoctrination of American children, is a pure Orban move. We need to see more of it. Republicans have been so prostrate before Big Business that they have sat there like idiots while Woke Capitalism organizes to turn conservative values of faith and the traditional family into pariahs among the young. Either we on the Right will learn from Viktor Orban how to use politics to fight this, or we will be defeated.
That's right, folks. The left is so hostile to free speech and tolerance of diverse opinions that the only recourse is to use the power of the state to squash their speech and steal their property. Because America.