Manchin 2024? Hogan 2024?
The market for competent centrists.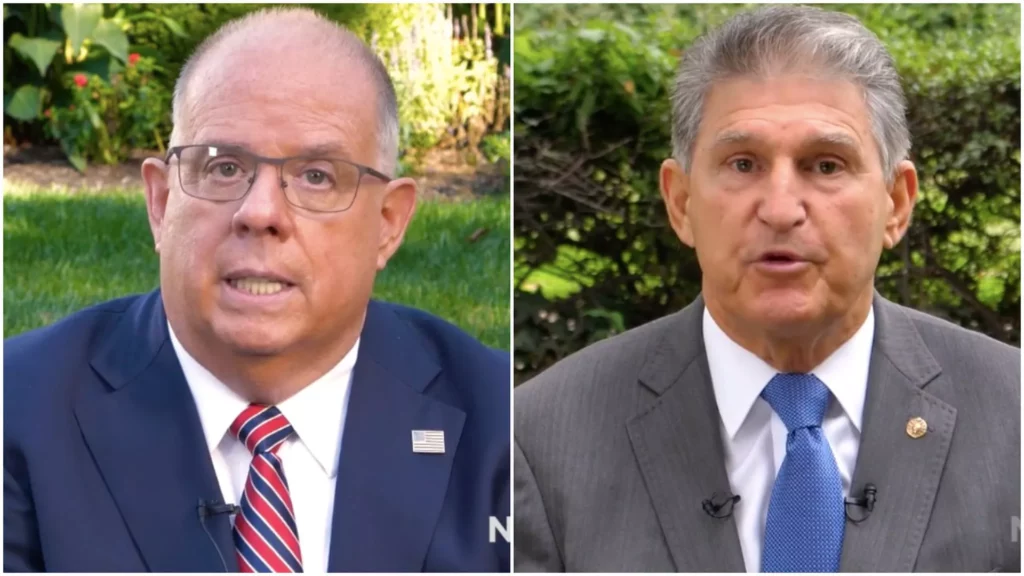 WaPo ("Larry Hogan won over Democrats in Maryland. Could he do it nationwide?"):
As he left office Wednesday, it remained an open question whether the skills that catapulted Hogan to unusual popularity as the Republican governor of a Democratic state could be sold to a fractured Republican Party.

Any presidential bid would be built on his tenure in Maryland, where he forged rapport with the electorate through his handling of crises and a skilled public relations operation, deploying populist policies such as cutting tolls and putting air conditioning in schools.

Pragmatism drove him to embrace issues many other Republicans did not — early and widespread mask mandates, new taxes on insurance companies to keep down the cost of Obamacare policies, gun-control laws and a ban on conversion therapy for gay teens, all while staring down cancer and clashing with his own party as a leading voice during the pandemic. He delivered tax relief for retirees in his final year in office and presided as federal pandemic aid bloated the state's balance sheets with multibillion-dollar surpluses.

Hogan used that popularity as a weapon and a shield.

It insulated him from the fringes of his party, allowing him to largely sidestep culture-war issues that marked the GOP, instead appealing to the ideological middle. He both cajoled Democrats to his side and shrugged it off when he alienated others, particularly in Baltimore.

State Comptroller Peter Franchot (D), who built a friendship with Hogan, described the governor as an executive who "put the interests of Marylanders over his own party's interests."

Hogan's strategy also elevated his own interests, raising his national profile as an early and sharp anti-Trump voice willing to criticize the party's embrace of Trump's rhetoric. Hogan's approach politically benefited just himself, and did not build up the Republican Party in Maryland. But he nonetheless opened a narrow lane in the national conversation about a future direction for the GOP, one that appeals to conservative Democrats and independents.
Business Insider ("Sen. Joe Manchin says he hasn't ruled out a presidential bid in 2024: 'Everything is on the table'"):
Sen. Joe Manchin has not ruled out a presidential run in 2024, nor has he committed to remaining a Democrat.

The senator from West Virginia remained noncommittal on his future plans while speaking with NBC's Chuck Todd on "Meet the Press" on Sunday morning.

"I haven't made a decision what I'm going to do in 2024. I've got two years ahead of me now to do the best I can for the state and for my country," Manchin said. "Everything's on the table."

Manchin, a moderate who has at times been labeled an obstructionist by his party, specified that a bid for governor of West Virginia is not on his horizon, leaving only the presidency, as Todd noted on Sunday.

"So everything on the table," Todd said. "There's basically only one other thing, the presidency. Is that something you would do outside the Democratic party if you did?"

"The only thing I can tell you is what I will do is whatever I can when I make my decision what I think is the best that I can support and represent the people of West Virginia but also be true to this country and the constitution of this country," Manchin replied. "I'm going to do everything I can to make sure that, when I make my decision, I make it based on what's best, what I think I can do to support and best for my country and my state."

Todd noted that Manchin wasn't denying the possibility of a presidential future, but he pivoted to asking whether the senator would support a reelection bid from President Joe Biden, who turned 80 years old in November.

"He'll have to make that decision," Manchin said, withholding his immediate endorsement. "I haven't decided on anything I'm going to do until I see what the lay of the land is going to be at that time because this country needs to unite. We need to come back together. We're not coming together. And it needs to be somebody that can bring this country together."
Let's leave aside Manchin's multiple conflicts of interest and the degree to which Federal cash made Hogan's job easier. Those are the sorts of obstacles that most candidates would have to deal with.
Fundamentally, there's an appeal to these guys as Presidential candidates. Both are relatively centrist figures who have run states where the opposite party is dominant. That means they have developed the ability to work across the aisle, forge coalitions, and get things done.
But that very thing makes it hard to envision either of them getting their respective parties' nominations for President, given that the path to doing so is to win over primary voters, who are extreme partisans.
Indeed, I see no path whatsoever to either of them getting the nomination of either party.
Hogan is popular in Maryland and might well have won a third term as governor were he not term-limited. Even the state's Democratic leaders seem to like him. And he's forged a strong relationship with his own party's governors from across the country, who elected him vice chair and chair of the Republican Governor's Association. But his strong anti-Trump credentials make it impossible for him to win his own party's nomination and yet he's too conservative to win a Democratic primary.
Manchin's path is even more unlikely. Even leaving aside that the incumbent Democratic President is quite likely to get the 2024 nomination, the West Virginia Senator has alienated just about everyone in the Democratic Party with his leveraging of just about every key vote to strong-arm concessions favorable to his constituents or his financial backers. He's more popular with Republicans but not enough so to win Republican presidential primaries. (He'll also be 77 on Election Day in 2024; to the extent Biden has been pushed aside for a younger model, Manchin would barely qualify.)
Arguably, either a President Hogan or a President Manchin would be better than what the primary process is likely to give us as options.