Marco Rubio Panders To The 'Religious Right' On Same-Sex Marriage, Obergefell
Marco Rubio is telling conservative Christians in Iowa and elsewhere what they want to hear on same-sex marriage. It just happens to be complete and utter nonsense.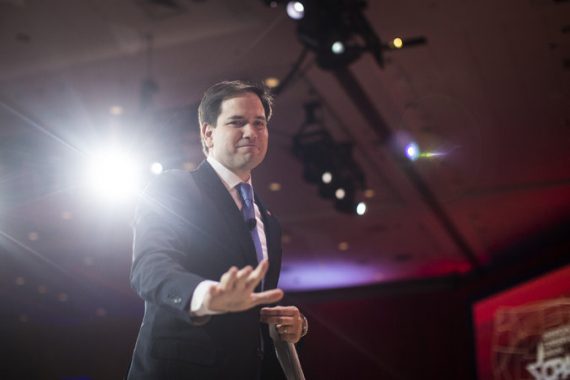 In the wake of June's decision in Obergefell v. Hodges, Florida Senator Marco Rubio departed slightly from the reaction of many of the Republican candidates for President in the wake of the decision that struck down the nation's remaining state laws barring same-sex couple from marrying. Unlike candidates like Ted Cruz and Mike Huckabee who decried the ruling as wrong and have gone on to assert that states and individual public officials should feel free to ignore it, Rubio said in a statement immediately after the ruling that while he still believed that the definition of marriage was something that should be left to the states, the Court's ruling was the law of the land and must be respected. Rubio wasn't the only candidate who took this position, of course. We also saw Jeb Bush, Chris Christie, and John Kasich issue statements that, while in disagreement with the outcome of the case, stressed that the Court's decision should be respected as the law of the land.
Recent comments from the junior Senator from Florida, though, who has been moving up in the Presidential polls but still struggles to gain attention from conservative Republicans are causing confusion about where Rubio actually stands when it comes to what was arguably the most significant decision of the Supreme Court's last term:
Republican presidential candidate Marco Rubio has left voters confused after saying citizens must obey civil authorities but that "God's rules always win," leaving some Christian conservatives unsure whether he believes laws concerning issues such as same-sex marriage should be ignored or upheld.

"We are clearly called in the Bible to adhere to our civil authorities. But that conflicts with also our requirement to adhere to God's rules," Rubio told the Christian Broadcasting Network's David Brody in an interview published Tuesday. "So when those two come in conflict, God's rules always win."

Rubio said during the interview that "we cannot abide by" a government that "is compelling us to sin." He specifically cited laws that would prevent preaching the Gospel or that require officials to perform same-sex marriages.  While making his point, the Florida senator drew a distinction between "current law" and "settled law," saying that Christians are called to participate in legal processes to change laws that do not adhere to their religious principles.

"No law is settled — Roe v. Wade is current law, but it doesn't mean that we don't continue to aspire to fix it because we think it's wrong," he told Brody. "[U]ntil we can get a Supreme Court to overturn Roe versus Wade, we do everything possible within the constraints that it's placed upon us to confront it and certainly limit the number of abortions and save as many lives as possible."

He added: "Not ignoring it, but trying to change the law."

But the Des Moines Register reported Wednesday that Christian conservatives in Iowa were left unsure how exactly Rubio would address the Supreme Court ruling that earlier this year codified same-sex marriage after he delivered a speech Tuesday night.

Iowa pastor Brad Sherman reported a terse exchange with the Rubio campaign's faith outreach director following the event.

"I asked if Rubio might actually be somewhat aligned with the view that the court's decision is not really 'law' but opinion, and could be ignored, much like Lincoln ignored the Dred Scott decision, a position Mike Huckabee has taken," Sherman said. "He said Huckabee would be impeached if he was president and did that, and that Huckabee was pandering, just saying that to get votes."
This isn't the first time that Rubio has seemed to stir confusion about his position on the Obergefell case and how Republicans should react to it going forward. Back in early September, the Senator appeared to be supportive of Kim Davis, the Kentucky Clerk who went to jail rather than issue marriage licenses to same-sex couples:
Senator Marco Rubio of Florida said on Wednesday that the government should respect the beliefs of the Kentucky county clerk who has denied marriage licenses to same-sex couples, arguing that society needs to accommodate public officials who object to carrying out duties they say violate their religious beliefs.

"We should seek a balance between government's responsibility to abide by the laws of our republic and allowing people to stand by their religious convictions," Mr. Rubio said in a statement to The New York Times, his first public remarks on the case.

"While the clerk's office has a governmental duty to carry out the law," he added, "there should be a way to protect the religious freedom and conscience rights of individuals working in the office."

(…)

Mr. Rubio favors broad religious exemptions. "Marriage is the most important institution in our society, and I believe it should be between one man and one woman," he said in his statement. "Our nation was founded on the human right of religious freedom, and our elected leaders have a duty to protect that right by ensuring that no one is forced by the government to violate their conscience and deeply held religious beliefs about traditional marriage."
As far as the substance of what Rubio is saying in these new comments, he is, of course, spewing absolute nonsense. While Rubio is correct that no law is ever "settled" in the sense that it is not at least theoretically possible that it could be overturned or change in the future. Indeed, the very nature of our Constitution largely precludes that possibility even when it makes the method of changing the law difficult by requiring supermajorities to amend the Constitution or the consent of all states to change the equal representation nature of the Senate. That does not mean, however, that the law in question is somehow lesser because it could be changed at some point. Rubio's rhetoric is also similar to comments that conservatives make about judicial rulings in general, or at least the one's they disagree with, when they argue that such rulings, even when the coming from the Supreme Court of the United States. As a matter of law, of course, it is utter nonsense as the Court itself has made clear on numerous occasions over the years, most notably in Cooper v. Aaron, a case dealing with efforts by southern states to ignore the Court's rulings on school desegregation. Beyond the legal implications, though, an attitude like the one Rubio is quoted as making here is dangerous because of the manner in which it seeks to subtly reinforce what seems to be a general belief on the right that Court rulings that they disagree with can simply be ignored as illegimate. Add into this the completely nonsensical notion that there's anything called "God's Law" that has any legal authority in the United States and the whole thing just makes people on the right look completely insane.
These subsequent statement certainly seem to contradict what Rubio said in the statement that his Senate office released to the press back in June, but it's worth keeping in mind what's really going on here. The debate on same-sex marriage in this country is over at least as it concerns the question of whether or not the Constitution permits states to bar people of the same sex from being legally married. The Supreme Court has spoken, and although that Court was sharply divided it is simply fantasy to believe that this ruling is going to be overturned, either in the short term or the long term, or that a Constitutional Amendment overturning it is going to be ratified or even seriously considered by Congress or the states at any point in the future. To the extent that candidates like Rubio, or Cruz, Huckabee, Santorum or others, are taking this position they are doing nothing but pandering to the far-right religious conservative wing of their party.
Given the fact that Rubio is currently locked in a battle for his party's nomination that sees him apparently headed toward a showdown with Texas Senator Ted Cruz in states such as Iowa and South Carolina where evangelical and other religious conservatives are a powerful political force, it's not surprising to see Rubio pander like this. Just as has been the case when it comes to other issues, these people seem to live in a fantasy world where their views on issues like homosexuality in general and same-sex marriage in particular are increasingly becoming ones that are held by a smaller and smaller minority of the public, even if it is still a substantial and unfortunately powerful part of the Republican Party. Does Rubio actually believe what he's saying? I can't read minds so I can't say for sure, but given the way he initially reacted to the decision and the fact that he's never really been a knee-jerk social conservative I suspect that he doesn't. Unfortunately for him, the true believers probably think that as well so this latest effort at pandering to these people probably isn't going to help very much.