Marine Corps Major Arrested for Capitol Riot
A serving officer was arrested for his part in events of 6 January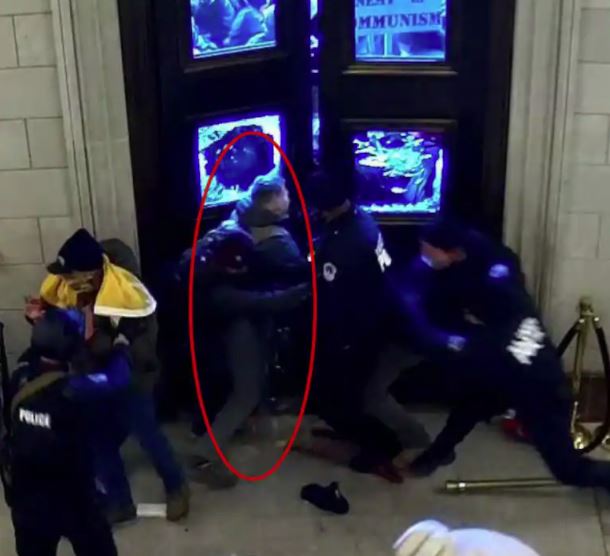 WaPo ("Marine Corps officer is first known active-duty service member charged in Capitol riot"):
A Marine Corps officer was arrested Thursday for alleged crimes during the U.S. Capitol riot on Jan. 6, becoming the first known active-duty service member charged in the violent attempt to thwart the certification of Joe Biden's election as president.

Maj. Christopher Warnagiris, 40, stationed at Marine Corps Base Quantico, was charged with five counts, including assaulting and obstructing police during a civil disorder and obstructing an official proceeding of Congress, federal prosecutors said. He made his first appearance in federal court in Alexandria on Wednesday afternoon.

The attack on the Capitol prompted the Pentagon to refocus efforts on weeding possible extremists out of the active-duty ranks, with a recent military-wide "stand-down" for service members to discuss the issue.

Warnagiris joined the Marine Corps in 2002 and serves as a field artillery officer, officials said. He served on four deployments, including in Iraq and Afghanistan. His current assignment includes training to "improve the warfighting skills" of senior commanders.

"There is no place for racial hatred or extremism in the Marine Corps," said Maj. J.A. Hernandez, a Marine Corps spokesman. "Our strength is derived from the individual excellence of every Marine regardless of background. Bigotry and racial extremism run contrary to our core values."

Four other people who have military ties and were charged in the riot serve part-time in the National Guard or Army Reserve. At least 42 others are military veterans, according to service records obtained by The Washington Post, of more than 400 arrested on federal charges.
Obviously, this is disturbing news, indeed.
Warnagiris is a recent (2019) graduate of my institution and, while I never taught him (aside from two one-over-220 lectures to the whole class) his name and face are familiar. I have a few relevant insights into his character, disposition, and nature of service that I only know because of my work and don't believe it would be proper to share them in a public forum.
One hopes this was the only officer, indeed only active duty servicemember, involved in the events of 6 January. But make no mistake: this is not the only officer or servicemember sympathetic to the movement that led to those events or who otherwise hold extremist views.
President Biden, Secretary of Defense Austin, and other senior and lower-level Defense Department leaders take the problem seriously and are taking reasonable measures to reinforce the oath of office and spread the message that these views are incompatible with that oath and service in the armed forces. Alas, I have little confidence that it will do much to weed out the bad actors.
To be clear: I don't think there's a widespread problem with violent white supremacists in the armed forces. The screening procedures are likely to weed out the worst of the worst and the percentages are almost certainly far lower in the military than in the larger society from which it's drawn. And the percentages are lower still in the officer corps. But that's not the same as nonexistent.