Marjorie Taylor Greene Stripped of Committee Assignments
House Democrats have done what their Republican colleagues refused to do.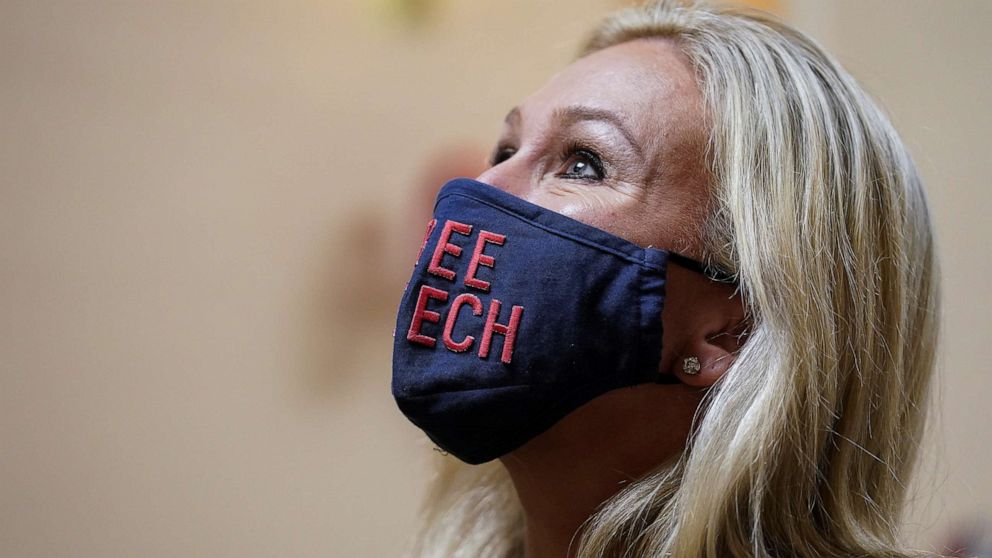 Wednesday evening, the House Republican Conference met to deal with a rebellion against a party leader who had voted to impeach former President Trump and with a newly-elected backbencher who made death threats against fellow Members while still a candidate.
As POLITICO Playbook reported, they send a rather mixed message.
If you're trying to figure out the direction of the Republican Party after Wednesday's circus of a five-hour (!) House GOP Conference meeting, good luck. One hour, Republicans were rallying around — and literally standing to applaud — the QAnon congresswoman. The next, they voted to protect the avatar of the Republican establishment from DONALD TRUMP cronies itching to boot her from leadership.

A day that was supposed to be clarifying was anything but. Yet many House Republicans emerged feeling more confident about their political fortunes — a bit of a mystery to us. Here are our takeaways from Wednesday's soap opera:

1) Trump allies stumbled on Capitol Hill; LIZ CHENEY got her swagger back. All that talk about kicking the third-ranking House Republican out of leadership was, it turns out, just that: talk. House Republicans voted overwhelmingly to allow Cheney to keep her position — despite weeks of attacks from Trump backers who were determined to punish her for voting to impeach the ex-president.

That doesn't mean Cheney's in the clear. Despite their rather embarrassing defeat, Trump's enforcers said they're not done with her. "Tonight Liz Cheney was fighting on her home turf — Washington D.C. And if Washington won't hold her accountable for her failed leadership, Wyoming will," Rep. MATT GAETZ (R-Fla.), who trolled Cheney in her home state last week, said in a statement.

2) Republican lawmakers are more anti-Trump than you think. For years, they've talked smack behind Trump's back as they praised him publicly in order to appease the base. Wednesday night put those private versus public sentiments in particularly stark relief: 145 Republicans backed Cheney for her job, while only 61 did not — even as most refused to defend her. What gives? The vote was by secret ballot, so lawmakers could bash Cheney in public but support her in private — i.e. when it actually mattered — without fear of repercussion.

3) KEVIN MCCARTHY gambles on GOP unity. The minority leader started the day floating a peace accord with Democrats that would remove MARJORIE TAYLOR GREENE from one of her two committees. He was, unsurprisingly, rebuffed — then went all in for Greene. After a bit of throat clearing denouncing some of Greene's past rhetoric, McCarthy effectively rallied his conference to her defense. "Never before in the history of Congress have we allowed the other party to dictate our committees," he said, a reference to Democrats vowing to remove Greene from her committee posts if Republicans refused to. "If they come after her, they'll come after someone else next."
Thursday night, House Democrats rallied to oust Greene themselves:
The House approved a resolution Thursday that removes embattled GOP Rep. Marjorie Taylor Greene from her assigned committees.

The final vote tally was 230-199 and 11 Republicans voted in support of the resolution: Reps. Adam Kinzinger of Illinois, Brian Fitzpatrick of Pennsylvania, John Katko of New York, Nicole Malliotakis of New York, Fred Upton of Michigan, Carlos Gimenez of Florida, Chris Jacobs of New York, Young Kim of California, Maria Salazar of Florida, Chris Smith of New Jersey and Mario Diaz Balart of Florida.

Greene, a vocal supporter of Trump's unsubstantiated claims of election fraud, has been condemned by Democrats and many Republicans for embracing numerous conspiracy theories in videos and social media activity before she took office this year.

In posts and videos from 2018 and 2019 reviewed by CNN, Greene appeared to endorse violence against prominent Democrats, including House Speaker Nancy Pelosi, and suggested that the Sandy Hook and Parkland shootings were staged "false flag" operations. They have since been taken down.
It's extraordinary, if not unprecedented, to punish a Member for conduct committed as a private citizen before election. It's actually rather problematic, especially since there is no supermajority requirement for this as there is for a formal censure. The longstanding tradition is that they are elected by the people of their districts to represent them and those people are entitled to make that choice.
But, of course, the people don't often send dangerous lunatics who have threatened violence against the Speaker of the House, either. Greene has not helped herself since being sworn in, antagonizing other Members, such that at least one requested and was granted permission to switch to an office further away from Green for her own safety.
And this is just silly:
Greene defended herself in a speech ahead of the vote and expressed regret over some of her past remarks — which some viewed as doing too little, too late.

"These were words of the past and these things do not represent me, they do not represent my district and they do not represent my values," Greene said of her past posts and interactions on social media.
Green is a 46-year-old woman referring to remarks she made, publicly, within the past two years, some of which while she was running for election to Congress. Further, while she seems quite deranged, she's a 1996 graduate of the University of Georgia, the flagship institution of a well-funded system. We should expect her to know better.
And, frankly, this is just nonsense:
"This is something I absolutely rejoice in today to tell you all. I think it's important for all of us to remember, none of us are perfect. None of us are," she said.

Greene also said that she believes "9/11 absolutely happened" and "school shootings are absolutely real and every child that is lost, those families mourn it."

But she also attempted to blame "cancel culture" for her troubles and the media for how she's come across, saying, "big media companies can take teeny, tiny pieces of words that I said, that you have said, any of us, and can portray us into someone that we're not."
I have no idea what her actual beliefs are vis-à-vis 9/11 or Sandy Hook. But she was either lying to the public during her campaign or lying to her colleagues now. There's simply been no new evidence made public that would change a sane person's views on either.