Mayberry and White America II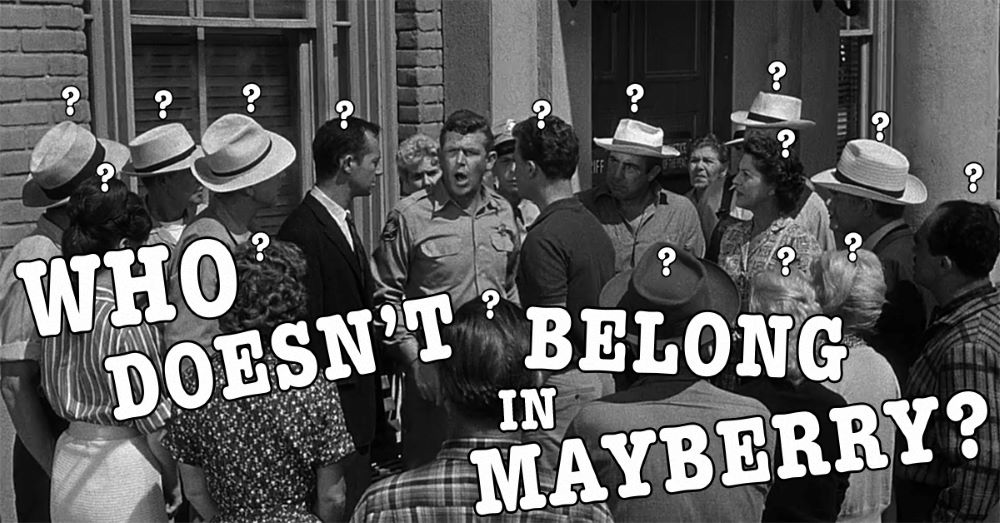 The discussion in reaction to yesterday morning's post "Mayberry and White America" was mostly thoughtful, highlighting in a way most of the day-to-day political discussions seldom do the diversity in life experience among the OTB community.
Longtime OTB commenter Jay L Gischer described his own experiences growing up in a town not all that dissimilar to the fictional Mayberry while the show was on the air:
The way things were" is quite possibly something that many of these people remember about how their lives were. I grew up in a small town, and I watched the show when it came out, and in early syndication. I can even name the County Sherriff's Deputy that we might consider as an analogue to Andy. We knew him by name. I'm pretty sure I recall another peace officer being referred to as "Barney Fife", or just "Barney" as a sign of disrespect.

I can still talk to the other kids I grew up with, regardless of social class or standing. We had a connection. Yes, racial issues did not touch us much (though there were some issues with Native Americans, and exactly one Japanese-American family in town. I'm sure they can say things about the racism they experienced). The Vietnam War claimed the lives of a few young men, but not a lot of them. (It was less of a killer than covid is).

One of the things they might be complaining about is atomization and alienation. I sort of walked away from that millieu on my own, but to some it was more or less taken from them in a process that isn't all that different from gentrification. Growth is desirable, and also a giant pain in the butt.

The way many, many people lived in the 60's is not possible any more, both for better and for worse. That is a loss to some. They have scapegoated liberals, atheists, and the "woke" for this, and that's a mistake. It's just a consequence of growth. Things change in a way that nobody can stop.
Another regular, EddieInCA, expressed his frustration with nostalgia over the show and what it represented:
I was born in Los Angeles. At the age of six months I moved to NYC, where my grandmas house was directly under the 7 train on Roosevelt Avenue in Queens – stop before Shea Stadium. I grew up in an area of bodegas, traveling by train and bus almost exclusively, multi-ethnic food everywhere, multiple languages spoken on my block and all over the city.

A place like Mayberry is fvcking alien to me. I, rightly, feel like a complete outsider when I visit places like El Reno, Oklahoma, or Waco, Texas, or Shreveport, Louisiana. The idea that "real America" is rural and white is antithetical to my understanding on the ideals on which this country was founded.

I have no sympathy for people who want to go back to a time where blacks were lynched and Japanese citizens were held in relocation camps; their possessions and land stolen.
Gischer countered,
I don't want to see blacks lynched. I don't want to see Japanese held in camps. AND, there were other things going on in that time, things that weren't so terrible. Things that I can see someone being nostalgic for. I've experienced that. There are few people in that group who want to go back because there is lynching, because the Japanese are held in camps. They are acting out of fear and loss and humiliation. One can see the humiliation they resent played out in the comments on this blog, though not necessarily what you have said.

So, you find rural people alien. That is, in fact, one of the biggest problems we have in the US now. I guess for you, living in Queens, blacks and Puerto Ricans, etc, etc, aren't alien to you. It is very challenging to develop empathy for a group you have little contact with. Very challenging indeed. Nobody in media seems to be doing any kind of decent job helping that way.
And I added,
But I don't think very many people consciously want [a return to lynching and internment camps]. They want the good parts and not the bad, without quite realizing that some of the good was made possible by the bad.
Mu Yixiao, reacting to Gischer's first comment, added:
I grew up in "Mayberry-only in Wisconsin, not NC. I think we only had 2 police officers then, and one of them-while he carried a gun-carried only one bullet. He kept it in his shirt pocket. I am not joking. He was actually known as "bullet" because of this.

With the exception of a year or two when a Vietnamese family lived a few doors down from me*, our town had 4 non-white people. Two (a black and an Asian) were adopted children of the most white-bread family you could ever imagine. The other two were a black couple that had a horse farm at the city limits-"Old Man" Newton and his wife.

Vietnam was something happening on the other side of the world that Walter Cronkite talked about at 6:00; it didn't affect us. Race riots were something that happened in Chicago-that was a "big city" problem; why would anyone hate someone like Old Man Newton? He's really nice!

I have no doubt that there was a dark undercurrent that my young self never saw, but the "Mayberry" template isn't that far off of what I grew up in.
EddieInCA, responding to Gischer's second comment about there being things about small-town 1960s America worth being nostalgic over, asked
Like what?

Seriously. Like what?

The Boy Scouts?
The local VFW?
The local businessman who ran the town?

Tell me what was so good.
Shortly after reading this yesterday I watched the "All Madden" tribute show, which I had intended to watch for nostalgic purposes but which took on new meaning in light of Coach Madden's passing. (Poignantly, he watched it with his family on Christmas.) In it, the sportswriter Peter King referenced a 1990 cross-country bus trip he took with the late, great sportscaster on the Madden Cruiser that he wrote up for SI in a piece called "Busman's Holiday." He quoted from the article's conclusion:
When we reached the congestion of eastern New Jersey, it reminded Madden that he was closing in on his home away from home. He reflected on the trip and the country he had crossed. "I think we're in pretty good shape," he said. "The thing that's always amazed me is how it works. People who live on farms don't want to live in big cities. People who live in big cities don't want to be farmers. If everyone wanted the same thing, or wanted to live in the same place, the thing would never work. There are people who are as happy as hell living in Kearney, Nebraska, and eating at Grandpa's. There are people who are as happy as hell living in the middle of nowhere.

"Probably above that, what I've learned traveling around is this: People are nice. You go to a big city, and you hear the world is going to hell, but it's not true. Small parts of it are; the whole isn't. Hey, all we have to do is spread out a little bit, because we have a lot of space. You get out there, and it makes you feel better about America. The thing works."
Schmaltzy, to be sure. But I think basically right.
I grew up in the suburbs, that space between the small town and the big city. Even when we lived in Houston and El Paso, we lived in suburban-like communities. Well into adulthood, I thought of New York, Chicago, and LA as cesspools of crime, corruption, and filth. But it turns out that, no, they're actually pretty fantastic places that, like everywhere else, have some downside.
I worked in downtown DC for seven years and, aside from the commute, liked it. And I've been to New York, Chicago, LA and many other great American cities many times and always enjoyed the experience. The concentration of talented people brings opportunity, creativity, and all manner of wonderment that exist only here and there outside the big city.
For daily living, though, I prefer the privacy, space, yard, etc. that you can only get in the city if you're really loaded, if then. I'd love the walkability of the city but life is tradeoffs.
In most ways, the early 1960s, the glory days of "The Andy Griffith Show," were worse than today. But, of course, they never had the superior technology to miss. And, for less affluent White Americans, things were in some ways better. Most notably, it was far easier to support a lower-middle class, or even a middle-middle class, lifestyle on a single salary. That things were in most ways worse for Blacks, women and LGBTQ folks didn't register with most White people because that's just how things had always been and it was therefore "normal."
But, of course, that normality was always oppressive if, like Eddie, you weren't White. And Eddie was a star athlete who went on to great success as a Hollywood producer. The city is, almost by definition, more diverse and more welcome to heterogeneity than the suburbs, much less small towns, which are almost always insular.
For a lot of reasons, I wouldn't want to live in Mayberry. But, unlike so many Americans, I could blend right in. Another White guy, after all, wouldn't be the least bit out of place.
White Americans, even those of us who weren't alive in 1960 when the show started, can be nostalgic for the homey, friendly community that Mayberry (or "Leave it to Beaver," "Happy Days," and other idealized family sitcoms) represent. Nonwhite (and likely LGBTQ) Americans will immediately recognize not only that they can't see themselves in these shows but that they wouldn't be welcome.