Nostalgic for Nostalgia
Is the past still the past?
A Facebook friend shared this from Classic Retrovision Milestones: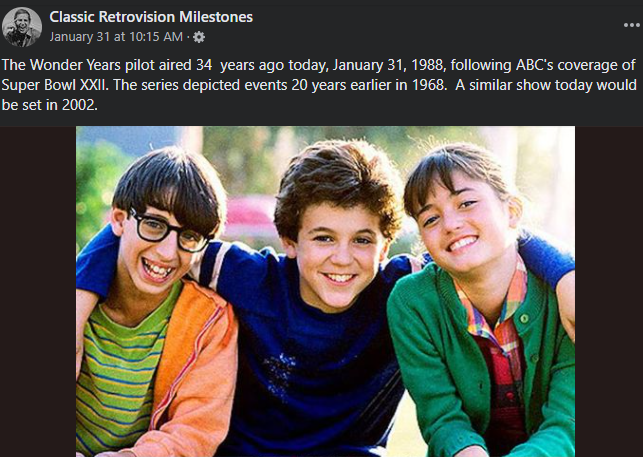 Yesterday afternoon, I tweeted this:
I got some really interesting responses, which I've grouped into categories, none of which are mutually exclusive.
1. There's no longer a monoculture
David Burbach: "Nothing since has come close to the concentrated social and political disruption of the late 60s & early 1970s. '50s nostalgia' was, and is, longing for a different world in a way that twenty or thirty years before today just is not."
Matt Stimson: "Did the Internet kill nostalgia by fragmenting our shared experiences? I wonder."
Phimosis Jones: "I've wondered if there may never be a collection of quintessential pop songs that everyone knows from the aughts and later, like how there are 70's and 80's songs that will never be forgotten. People can discover little known indie artists online and develop their taste in music that way, instead of listening to the radio and hearing the same songs that everyone else is listening to. A good thing for exposure to a variety of music, but no one song may have the same cultural relevance as the hit songs of the past. Music might just be less of a universal cultural touchstone, outside of songs that appear in other mainstream popular media maybe."
3rd Moment: "I went skiing the other day, and all the 20-something lift operators were playing music from before they were born (Beatles, ACDC, Nirvana, etc.). That kind of thing seems common now."
To which I replied, "[There has been a] spate of stories recently about how older music is almost all that anyone streams. Even the huge hits of today are a smallish portion. And granting that some of it is just being old, songs that were 25 years old in 1980 were simply from another time, whereas so much from the late 1960s forward (which were already oldies when I was in junior high) still sound contemporary."
Which leads to a second category:
2. There's less era differentiation than there used to be.
Ampzilla: "I don't feel the naughts were that different from now. In contrast the 60s were a world apart from the 80s in so many ways."
Cathy Young agrees: "Basically this. Though the woke revolution may yet change that."
Charles Cole: "Everything after 2001 feels the same. Pop music dominated by one genre, pop film dominated by one genre, etc."
Kitten: "Stuck culture"
Andrew H: "I can understand why people are nostalgic for the '90s. But since about 2000 there's been a cultural stasis we haven't seen over other periods."
Crouchback: "There's an interesting book by Robert Gordon 'Rise and Fall of American Growth' that argues we had rapid technological change from 1870 to 1970 or so and it's slowed since. So the world may just be changing less from year to year. Which weakens nostalgia."
3. The Internet means the past is no longer the past
Ted Gehring: "The internet has given us a constant connection to the past. 2005 is easily accessible on YouTube, etc. So nothing goes away, really. Even forgettable trash is there constantly. When the 50s turned into the 60s turned into the 70s turned into the 80s, the prior era was gone."
Andre Kenji de Sousa: "The thing about the aughts is that it's not difficult to find material like archived webpages from that period, Youtube has lot of material. Technology is making this sense of nostalgia obsolete by simply absorbing the nostalgia in our daily lives."
4. The aughts were a brutal decade, so nobody remembers them fondly
Daniel Larison: "Probably because they were terrible."
Based Oracle: "The aughts started with one of the worst attacks possibly wince pearl harbor and ended with the worst economic downturn since depression (both arguable but they bad). That probably contributes to the lack of nostalgia for those times."
Dr. Holly A. Bell combines the two: "There just doesn't seem to be that much difference between 2002 and now. It's been one long nightmare."
Ditto Sometimes Softly: "As a teenager in the aughts I should be the demographic most nostalgic for them but it doesn't feel like that much has changed. A nostalgic show about my high school days would be soundtracked by 'apple bottom jeans and the boots with the furrrrr.' Stirs zero emotion in me."
5. It's the goddamn Boomers
(((Sarah))): "I think this is related to how old people think they are, which probably stems from both majority privilege (Baby Boomers always outvote everyone, so if they say they're young, they are) and from actual health factors. My 75-year-old uncle looks like a 1980s 55-year-old. And Boomers have dictated what 'nostalgia' means since around 1964 (when they started turning 18). And they've been in charge of Christmas since around 1975; in both cases their parents and descendants have all nodded our heads and said 'yes, dear,' because it's easier this way."
6. I'm actually just wrong: there's plenty of comparable nostalgia and I'm just oblivious
Corvus Andronicus: "Stranger Things is 'Wonder Years' for Gen X. Except it's got monsters."
To which I replied, "And that may be the thing: Whereas pretty much everyone saw Happy Days and Wonder Years, That 70's Show was comparatively niche. And Stranger Things something altogether more narrow."
RogueWPA: "Everybody Hates Chris. Fresh Off the Boat. The Goldbergs. Stranger Things. Wandavision."
When I wondered whether they were nostalgic in the same way, Dan Drezner answered in the affirmative: "The Goldbergs and Stranger Things are 1980s. Fresh Off the Boat (and here I'd add Yellowjackets) are 1990s."
Others in the thread mentioned other shows I haven't seen: Derry Girls, The Americans, and Pen15.
Reflections
The threaded nature of Twitter conversations means I've doubtless missed some good insights but I think they're a good starting point.
I was born in late 1965, near the beginning of what came to be known as Generation X, and have pretty clear memories of the 1970s and 1980s. I remember when "Happy Days" debuted in 1974 (and probably saw the 1972 soft pilot on "Love American Style"). So, nostalgia for the 1950s has pretty much always been a thing.
By the late 1970s, when I was in junior high and starting to gravitate away from my parents' choice in music, I was listening to the album rock format that was depicted on "WKRP in Cincinnati." Music from the early rock era of the 1950s was old, even though there were ongoing revivals like "Grease" and Sha Na Na. But British invasion bands were being played right alongside Tom Petty and REO Speedwagon. I knew the older music was ten or fifteen years old but it was still part of the zeitgeist in a way that Elvis and Buddy Holly weren't. Again, I got plenty of that through nostalgia shows. I liked a lot of it. But it seemed old in a way that the Stones and Zeppelin didn't.
That speaks to both a relatively slow evolution of tastes and the existence of a monoculture. Certainly, popular music has continued to evolve. Rap and hip hop have arguably become the predominant genre and a decided break from the past, arguably more than the Beatles were from Elvis. And rap has been around a lot longer now than rock and roll had been when hip hop entered the scene. We've had punk, new wave, grunge, and all manner of other genres and subgenres of rock and pop. Still, the stations that play or stream modern adult contemporary will also play everything from Blues Traveler to Nirvana to the Who.
As hinted in the tweet that started the post, I do the "this is as old now as that was then" comparative a lot. I don't know if it's something I adopted as a college professor to help me understand the perspective of students (the annual Beloit mindset list did this, enough so that it eventually became something of a joke) or is just a quirk of my wiring.
So, for example, the songs from my sophomore year in high school, now four decades old, are as old now as the stylings of Bing Crosby, Glenn Miller, Jimmy Dorsey, Benny Goodman, and the Andrews Sisters were then. But here's the thing: while those songs, from the year before my parents were born, seemed positively ancient to me then, they also seemed that way to my parents. Conversely, while "Pac Man Fever" and a handful of other top songs from 1982 have aged extremely poorly, my kids actually like "Eye of the Tiger" and quite a number of other songs on that list. They're not their music but they're nowhere near as old as even Bill Haley or Chubby Checker were to me.
At the same time, the monoculture has been over for a very long time. It's hard to escape hip hop or Taylor Swift but, on the other hand, I'm only vaguely familiar with the artists of the day. Partly, that's simply a function of being old. Mostly, though, it's a function of having access to hundreds of television channels and more streaming content that I'd want to watch than I'll ever get around to.
I had SiriusXM for a while but got rid of it because I simply have no tolerance for commercials or the inability to skip songs I don't like. Streaming solves that problem: I get plenty of new-to-me songs and can upvote the ones I like. But, of course, it also means that I've created a music bubble for myself.
My girls, aged 13 and 10, have never known television or music in the way that I did. They really have no concept of "channels," much less schedules. With rare exceptions for hyped-up releases, they have always had video and music on demand. We still watch television together, just like I did with my parents, but it's essentially never a show that's on now. (I did endure one season of "The Masked Singer" a couple of years back but, if they're still watching it, they're doing so on demand.) Sometimes, it's a current streaming show on Disney (mostly MCU stuff like "Hawkeye" or "WandaVision") or Netflix ("Umbrella Academy"). But sometimes it's new-to-us shows that are relatively old, like "Once Upon a Time." We're now streaming "Agents of SHIELD," which ran from 2013-2020. To them, it makes no difference—they either like it or they don't. And, with rare exception, they're not talking about what they're watching with their friends at school, since everyone is watching their own thing.