Mayberry and White America
When life doesn't imitate art.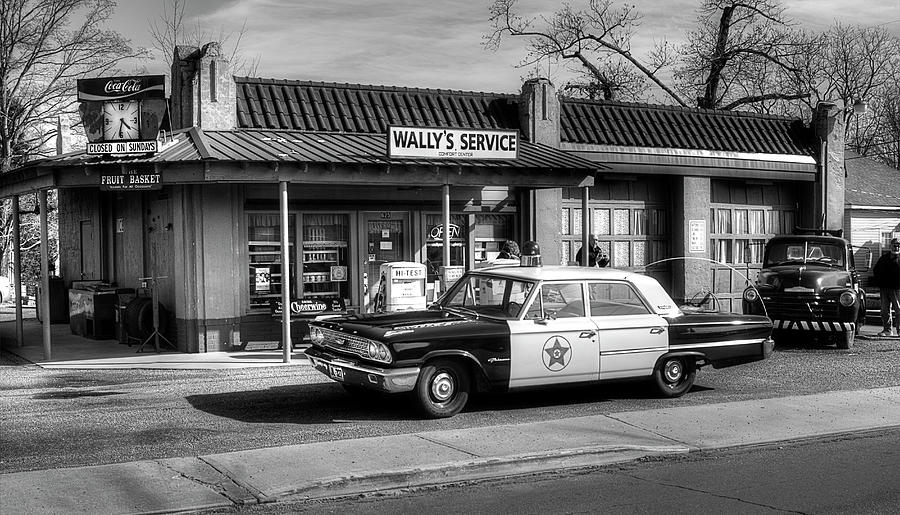 Two seemingly unrelated stories in yesterday's edition of the Washington Post intersected for me this morning.
First, columnist Jonathan Capehart's "Why I forgive Ralph Northam."
Virginia Gov. Ralph Northam (D) said something in a meeting with The Post's editorial board just before Christmas that still rings in my ears: "The eyes can't see what the brain doesn't know."

According to the pediatric neurologist turned politician, that was a lesson he used to teach medical students and residents to help them better diagnose patients. But Northam said he applied that lesson to himself in 2019 after he became embroiled in what he called "the yearbook incident."
Even if you don't live in Virginia, as I do, you're likely familiar with said incident. Certainly, OTB covered it extensively.
If "the eyes can't see what the brain doesn't know," then Northam didn't know much of anything about race or the role of race in our nation's history. He didn't know the humiliation of blackface. He was ignorant of the violence of the Ku Klux Klan. He was seemingly oblivious to the 1889 lynching of Magruder Fletcher and the 1907 race riot that took place just outside his hometown on Virginia's Eastern Shore. But he knows and sees clearly our history now.

Early on in his journey out of racial ignorance, Northam read Ta-Nehisi Coates and Alex Haley. Since then, Northam told us that Ava DuVernay's powerful documentary "13th" on how that amendment to the Constitution led to mass incarceration of African Americans had a profound impact. So did Ty Seidule's masterful book, "Robert E. Lee and Me: A Southerner's Reckoning With the Myth of the Lost Cause." But talking to Black people was the key.

"The most powerful experiences were listening to people of color talk about some of their experiences," Northam said. "We traveled around Virginia and listened to a lot of folks; we learned more. As I said, the more we know, the more we can do. And we turned a lot of what we heard into action."

Northam certainly did. The death penalty was abolished. The threshold for felony larceny prosecution was raised from $500 to $1,000. Suspension of driver's licenses over unpaid court fines and fees was abolished. Recreational marijuana use for people 21 and older was legalized. All of these reforms disproportionately (and positively) affect the lives of Black Virginians.

When Northam talked about "the yearbook incident," he did so with the refreshing humility of someone who has learned from a searing experience. Rather than mouth words of contrition and fade away — easy to do since sitting Virginia governors can't run for reelection — Northam worked on himself and his state.
As I noted shortly after the incident broke, Northam's transgressions were a forgivable sin. Even though he was a medical student from a privileged background and could have been presumed to know better, the fact that so many of his fellow med students were not only doing the same thing but willing to be photographed doing it and that neither the yearbook editors nor faculty advisors thought publishing said photos was a bad idea is rather strong proof that they didn't fully realize the implications.
Still, one can easily read Capehart's column as more about his satisfaction with Northam's liberal policies—which did indeed amount to a stunning transformation of Virginia politics—than about Northam's personal journey.
But the story "How Ted Koppel's trip to 'Mayberry' turned into one of 2021's most striking moments of TV," suggested by the sidebar, made me rethink that a bit. It's longish but here are the relevant bits:
At the height of the coronavirus pandemic lockdowns, veteran journalist Ted Koppel was working out on the treadmill when he came across an episode of "The Andy Griffith Show" — it caught his attention because of something he heard earlier that day while listening to WMAL, a Virginia-based conservative talk radio station. A listener had called in to explain that they used to live in the Washington area, but couldn't stand how "woke" it had become, so they fled to the South. They said something along the lines of, "We moved down here to the Carolinas, and boy, life is just wonderful. People are so lovely. They're so neighborly. Everything is so nice."

Koppel, 81, started thinking about how "The Andy Griffith Show" was also set in the Carolinas, in the fictional town of Mayberry, N.C. After his workout, he went online and discovered that the CBS comedy was an even bigger hit than he remembered; the series, starring Griffith as the good-natured sheriff and Ron Howard as his adorable young son, was one of the most-watched shows from its debut in 1960 until it went off the air in 1968. And, more intriguingly, while Mayberry was not real, the city of Mount Airy, N.C., claims to be the prototype on which it was based, and still draws thousands of tourists every year looking to relive their beloved show.

So Koppel, the former ABC "Nightline" host and now a senior contributor to "CBS Sunday Morning," called his producer, Dustin Stephens, and suggested that they travel down to Mount Airy. Koppel was curious: What made the show so popular? And what was it about this community that makes people want to come visit decades later?

What started with those general questions wound up evolving into one of the most striking TV segments of the year, as Koppel was visibly taken aback by the fierce nostalgia for a time and place that literally never existed — and how it connects to the misinformation that has infiltrated America's politics.

"People looking back at that program seem to confuse the program with what reality was like in those days, wishing that we could only restore some of the good feelings, some of the kindness, some of the decency," Koppel said in an interview. "But what they're really reflecting on is not what was going on in a particular North Carolina community. What they're reflecting on is what was going on in the creative minds of a bunch of scriptwriters out in Hollywood."

[…]

"The Andy Griffith Show," a viewing experience that Koppel compared to "chomping down on a marshmallow," was an antidote to everything going on in the world at the time, which never showed up on the sunny series: Tens of thousands of American troops killed in Vietnam War. Race riots throughout the country. Assassinations.

"If there's any period that matches our current period in terms of how terrible things were and how difficult things were, the 1960s were it," Koppel said.
The same is true—and more poignantly so—of the spinoff show, "Gomer Pyle, USMC." Not only were all the fictional Marines in the show White but there was also no indication that real Marines were dying in droves in Vietnam. Indeed, as star Jim Nabors would later reflect, many of the real-life Marines that Gomer is shown marching and grinning with in the opening sequence would die in that war.
Kicking off with the cheerful, whistled theme song, cameras show the Andy Griffith Museum and a vintage police car and other replica hot spots from the series, including Wally's Filling Station, the Snappy Lunch and Floyd's Barber Shop — all packed with tourists. The piece takes its first hint of a darker, more serious turn as Koppel interviews one man who says our "godless society" could use a dose of the good old days. "Back when neighbors were neighbors, and they provided for everybody else," the man explained.

"What you're saying is true of certain people," Koppel tells him."If you were Black in the '60s, things were not all that good."

"That's true," the man admits. (The segment notes that in the entirety of the show's eight-season run, only one Black actor had a speaking role.)

Koppel also interviews a Black family who had lived in Mount Airy for decades, and as of the early 1970s, were turned away from eating in certain restaurants. Yet the siblings had all returned to their hometown. "Somehow Mount Airy becomes more complex with each conversation," Koppel said, adding that the town "is a place where fantasy and reality intersect."

This segues into the segment's defining scene, on a tourist trolley: Koppel decides to "wave the political thermometer across the forehead of Mount Airy" and asks how many people there thought the 2020 presidential election was a fair one. Only two out of about a dozen people raise their hands.

"I think there was a lot of voter fraud," one tourist says. "I think it's more the mail-in ballots. You don't know how much of those were duplicated, triplicated, the whole bit."

"Look how many dead people voted for Biden," another adds, referring to a false and debunked conspiracy theory.

The discussion continues as one person claims the Jan. 6 insurrection at the U.S. Capitol was a "staged" event with "BLM people." ("I don't understand why they're focusing so much on that one issue, when there are so many cities being burned down every day by protesters.") Others chime in to call the media the enemy of the people and profess their love for Donald Trump.

Koppel and his producers just let the scene speak for itself. At one point, a tour guide jumps in: "This conversation about politics and division is what people come here to get away from. We don't care what color you are. We don't even care what your politics are. We just want to be good neighbors and treat everybody alike. And that's why they're coming here."The tourists yell "Amen!" and applaud. "That's what America should be," one says. Koppel's voice-over concludes the segment: "And when the script was written in Hollywood, that's the way it was."
I don't think the point of this is that fans of "The Andy Griffith Show," of which I count myself as one, are racists longing for the days of complete white domination of politics and the culture. But I do think there's a huge swath of white America that pines for a golden era that never really existed.
The five "real" seasons of the show, which were filmed in black and white and co-starred Don Knotts as Barney Fife, all first aired before I was born. (There were three more, filmed in color after Knotts had left to make Disney movies; they're seldom aired because the show just wasn't the same without the Griffith-Knotts chemistry.) But I watched them a lot in syndication over the years. I was likely well into adulthood before it really occurred to me that there were no Black characters on a show set in one of the Blackest states in the union, much less that there was zero mention of racial strife despite taking place at the height of the civil rights struggle. With rare exception—almost inevitably solved by episode's end—Mayberry was a place of harmony and homogeneity and it never seemed the least bit strange.
Northam is a few years older than me and came from more affluent circumstances. Schools were desegregated even in rural Virginia by the time he started. He was on the basketball and baseball teams; I would imagine there were Black players. VMI had only been integrated for a decade when he started but, again, I would imagine he had Black company mates. Certainly, he worked with Black soldiers, including fellow doctors, as an Army physician in the 1980s.
Still, White was always the default, "normal" option in his life and he viewed things through that lens. Wearing Klan robes for a photo—something it would never have dawned on him to do in real life because, after all, he wasn't a racist—was just a harmless joke. Because, after all, his White buddies thought it was funny.
I've been to Mount Airy, having stopped there on a road trip with my late first wife 13 or 14 years ago. There frankly wasn't that much to see and we didn't do any of the tours; I doubt we lasted an hour. But I strongly suspect that the people that Koppel met there honesty "just want to be good neighbors and treat everybody alike." And most of them probably voted for Donald Trump—twice—and see no contradiction.
As with the young Northam, they naturally see racism—and certainly the Klan and lynchings and all of the really bad stuff— as a thing of the distant past. Why schools were desegregated in 1954 and full civil and voting rights have been the law of the land since 1964 and 1965, for crying out loud. And all of the Black Lives Matter, Critical Race Theory, and the like coming from the lamestream media is just woke big city nonsense that has nothing to do with real life in Mayberry, USA.