McCarthy's Profile in Courage
Not.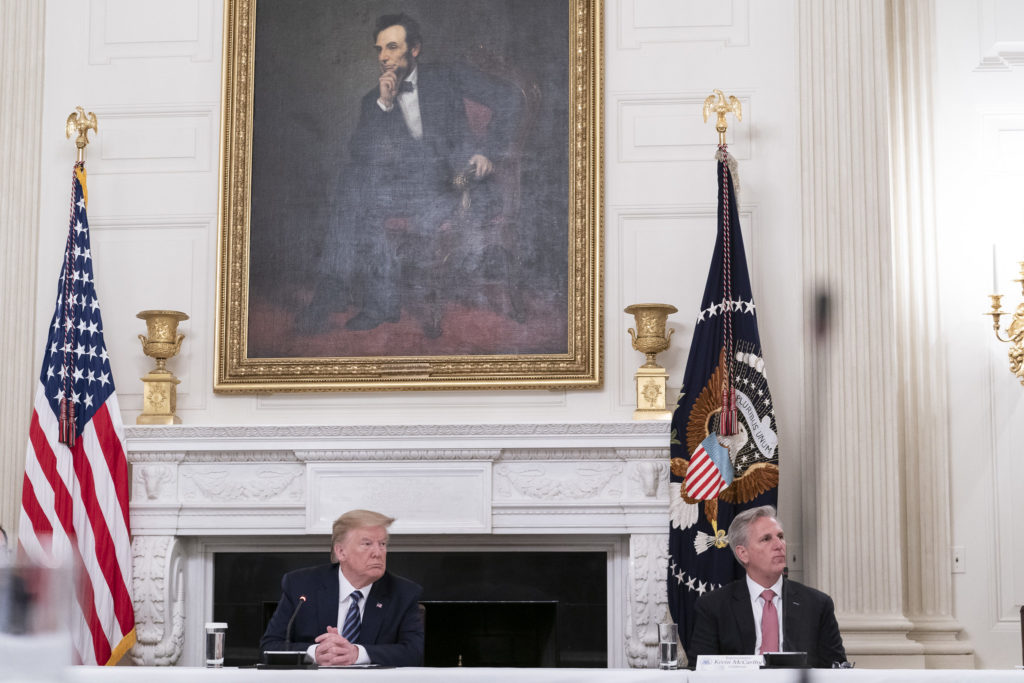 This is not an especially analytical post, but rather one that is noting a clear and profound failure of leadership within the House Republican caucus.
To wit: House Minority Leader Kevin McCarthy (R-CA) is leading his party by lying to the American people.
He full knows that it is "QAnon" and how to pronounce it.
He know what it is. Maybe he doesn't know every granular detail, but he knows was it is.
He is lying to avoid leading or is lying because he doesn't care.
He is lying and downplaying all of this because he thinks it is to his, and his caucus', advantage.
It is craven and opportunistic
In regards to "I don't even know what it is"–that is so much, dare I say malarkey, that I have to wonder who it is that he thinks he is fooling. Most human beings of his level of income walk around with a device in their pocket that allows them to access the sum of human knowledge.
Google can readily provide a myriad of answers to the question "What is QAnon?"
Maybe he really thinks there are enough idiots out there who will buy this act.
Indeed, Senator Tuberville is also in the dark, as the Business Insider reported a few days ago: GOP Sen. Tommy Tuberville says he doesn't know anything about Marjorie Taylor Greene because bad weather has prevented him from reading the news.
Well, then.
I guess lack of access to Google and the weather is why as per The Hill Greene apologizes to GOP colleagues — and gets standing ovation.
Rep. Marjorie Taylor Greene (R-Ga.) apologized for her past controversial remarks and embrace of the QAnon conspiracy theory during a heated closed-door House GOP conference meeting — and received a standing ovation at one point from a number of her colleagues.

Greene told her colleagues that she made a mistake by being curious about "Q" and said she told her children she learned a lesson about what to put on social media, according to two sources in the room.

She also denied that she knew what Jewish space lasers were and defended her comments that past school shootings were staged by stating that she had personal experience with a school shooting.
I see, she's just Q curious!
Google can fix a person right up about this stuff. There are videos of her crass behavior harassing a survivor of a school shooting, her allegations that the shootings were false flag events, and her theory about Jewish space lasers (and, for kicks, her endorsement of the notion that there is a video of Hillary Clinton eating a child's face).
Is is if she might be a liar as well.
But sure, House GOP, clap on. This is all good and normal.
See, also, Jonah Goldberg in the LAT: Where QAnon goes, so goes the Republican Party.
One thing is for sure, McCarthy's statement about all of this is not going to fix anything:
Past comments from and endorsed by Marjorie Taylor Greene on school shootings, political violence, and anti-Semitic conspiracy theories do not represent the values or beliefs of the House Republican Conference. I condemn those comments unequivocally. I condemned them in the past. I continue to condemn them today. This House condemned QAnon last Congress and continues to do so today.

I made this clear to Marjorie when we met. I also made clear that as a member of Congress we have a responsibility to hold ourselves to a higher standard than how she presented herself as a private citizen. Her past comments now have much greater meaning. Marjorie recognized this in our conversation. I hold her to her word, as well as her actions going forward. 
First, if McCarthy doesn't even know what QAnon is, how can he and the party condemn it?
Second, the whole statement sounds like "I've talked to junior and she promised to behave in the future."
Well, that always works.