Melania Trump's Odd Fashion Choice
Melania Trump visited a detention center in Texas where children are being held by the Federal Government, but it was her choice of apparel that seemed to garner the most attention.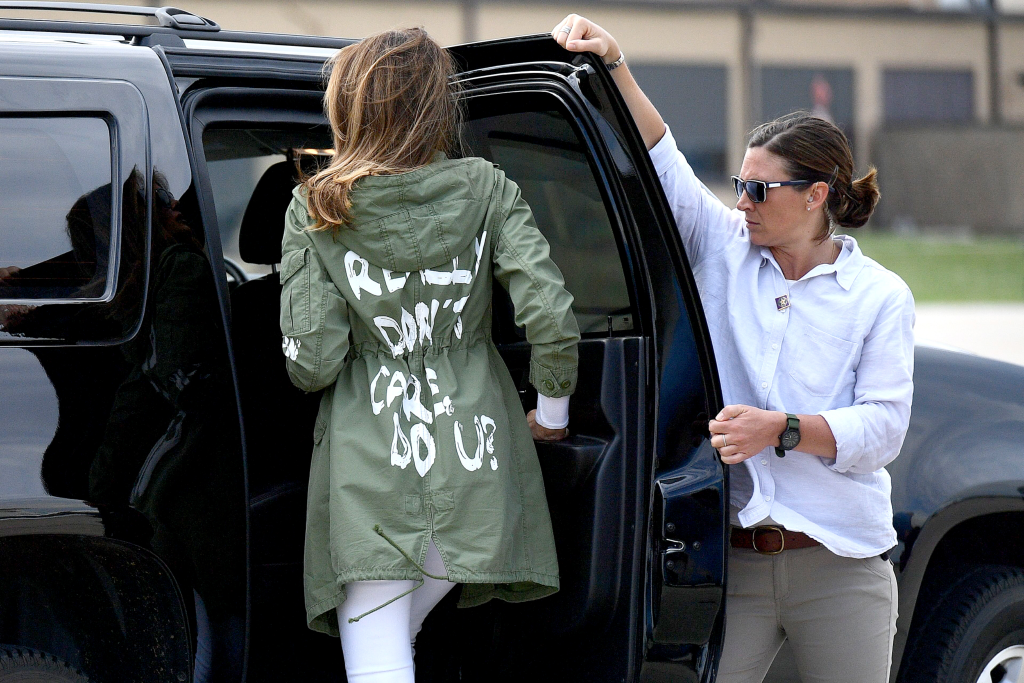 First Lady Melania Trump took a trip to the Texas-Mexico border to visit some of the detention centers where both minors who arrived at the border unaccompanied and children who were taken from their parents under the Trump Administration's "zero tolerance" policy which was modified on Wednesday to supposedly bring the practice of separating families to an end. Given that it was one of the first times since Trump became President that the First Lady reached out on her own in the middle of a high-profile news story such as this, her visit garnered significant media attention. The thing that raised many eyebrows, though, was her rather odd fashion choice:
I REALLY DON'T CARE, DO U?"

When the first lady, Melania Trump, on a surprise humanitarian visit to a children's shelter in Texas, strode onto her airplane in an olive green Zara army jacket with those words scrawled in faux white graffiti on the back, it sent the watching world into what might be called, with some understatement, a meltdown.

"Insensitive," "heartless" and "unthinking" were some of the words hurled through the digisphere about the choice.

"It's a jacket," her communications director, Stephanie Grisham, said in a statement to reporters. "There was no hidden message."

She's right, of course. It wasn't hidden. It was literally written on the first lady's back. The question is: Who was the intended audience?

The assumption implicit in the outrage is that the message was meant for those Mrs. Trump was meeting. But here's the thing: The first lady has had some experience with the attention paid when she boards planes.

She knows everyone is going to be watching. Remember back in August 2017 when she walked across the tarmac at Joint Base Andrews in sky-high Manolo stilettos during the Texas flood crisis? At that time, the shoes seemed to symbolize her enormous remove from the trauma, and she became the target of great opprobrium for the choice.

She is well aware that nothing a first lady wears is "just" an anything, especially nothing she wears to a public event in which she remains silent, but knows she will be photographed — as her experience with the high heels to Texas would have taught her (and taught her advisers).

To accept the idea she just threw the Zara jacket on in practically the same situation because — hey, it was close at hand and she was maybe a little bit cool (or something like that) is simply unbelievable.

Especially because this time around Mrs. Trump chose to wear something from the mass market brand Zara — Zara! — instead of her usual Dolce & Gabbana or Ralph Lauren. This is a first lady, after all, who decided to wear a $1,380 Balmain plaid shirt during a White House gardening initiative. She is not a high/low dresser in public — or has never been since the election. She's been all high seemingly all the time.

So how else to interpret the Zara jacket, a style in line with the signature self-protective aesthetic she has developed since entering the White House, except as an indication Mrs. Trump was thinking about what people might read into the clothes she chose to wear to visit children left with, effectively, nothing?

The jacket, after all, which is reportedly sold out and is not from the current season, retailed for $39. It may be the least expensive garment the first lady has worn while representing the administration.

And then there's the fact that Mrs. Trump has never been one to shy away from coding pointed, not necessarily, popular communications into her wardrobe. She did, after all, wear a white trouser suit — the uniform of the Hillary Clinton-led opposition — to her husband's first State of the Union address.

So who was the target of that not-so-hidden message?
I wasn't paying much attention to the news yesterday afternoon, so I didn't see any of the coverage of the First Lady's visit and I can't speak to how much of the real-time coverage focused on her choice of apparel rather than the fact of her visit alone. When I checked Twitter, though, all of the focus was on the jacket and what the First Lady was thinking when she wore that jacket on a visit to what is without question an ongoing humanitarian crisis. Ordinarily, this isn't something I'd even pay very much attention to, just as I didn't pay much attention to the activities of previous First Ladies except to the extent that they strayed into an area of public policy such as Hillary Clinton often did during her husband's Presidency. That being said, there's just something so strange about this story that it feels like one needs to at least put it out there for discussion if for no other reason than the fact that it seems to be what everyone else is talking about.
Right off the top of the bat, I have to agree with the author of the New York Times piece excerpted above. The idea that Mrs. Trump isn't aware of the fact that the things she does are going to be noticed is simply too absurd to be believed. This is, after all, a woman who has been modeling since she was a young girl and was something of a semi-celebrity in her own right as a "supermodel" before she ever met, began dating, and eventually married Donald Trump. She's also obviously an intelligent woman who, will she attended but never graduated from college when living in her native Slovenia, nonetheless is purportedly fluent in five languages. Both during her time as a model, as Trump's wife, and as First Lady, she's obviously gotten used to, if not entirely comfortable with, the fact that she's being followed around by photographers and members of the media. She has hired experienced advisers who clearly seem knowledgeable about the kind of scrutiny a First Lady can be subjected to. Finally, she's obviously fashion conscious enough to realize that people are going to pay attention to what she's wearing at a given point in time. Given all that, I think we can dismiss the idea that this jacket, which apparently hasn't been for sale since last year, just happened to be something she grabbed on the way out the door to Marine One yesterday.
Since I'm not a mindreader, I'm not going to try to posit what, if any, message the First Lady was trying to send yesterday, but it seems clear she was sending a message of some kind. However, leaving aside the easily dismissed notion that this was just some random thing that was dragged out of the back of a closet in the White House Residence, there seem to be a limited number of possibilities. One is that she really doesn't care about the children being separated at the border. This, however, would be inconsistent with the statement her office released on Sunday and inconsistent with previous actions on her part which, notwithstanding what one might think about her husband, clearly indicate that she cares about children and the ways that issues such as bullying impact them. Another possibility is that she wore the jacket as some sort of show of support to her husband and it was meant to appeal to his base, which itself has indicated that it really doesn't care about these kids and that it cares more about kicking immigrants, particularly those from Mexico and Central America, out of the country. Yet another possibility is that she chose the jacket knowing it would garner attention, detract from the image the Administration was obviously trying to send by sending her to a detention center, and that she reluctantly complied but wore the jacket knowing it would detract from the image the Administration was trying to put forward. Finally, President Trump took to Twitter last night to offer his own explanation:
"I REALLY DON'T CARE, DO U?" written on the back of Melania's jacket, refers to the Fake News Media. Melania has learned how dishonest they are, and she truly no longer cares!

— Donald J. Trump (@realDonaldTrump) June 21, 2018
I'll leave it for the reader to decide for themselves what all of this might mean.