Michele Bachmann First Candidate To Sign Pledge To Ban Porn And Same-Sex Marriage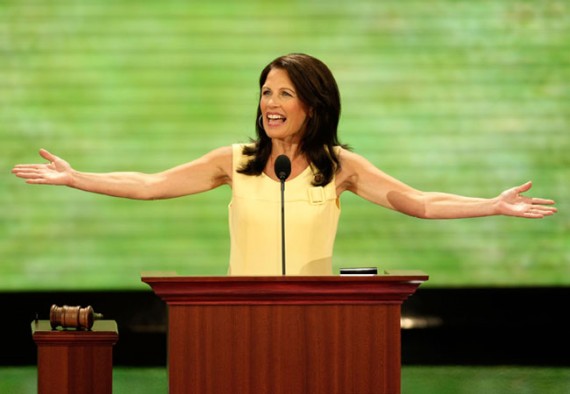 The first candidate to sign the odd "traditional marriage" pledge that I made note of yesterday is, not entirely surprisingly, Michele Bachmann:
Michele Bachmann became the first presidential candidate to sign a pledge, vowing to support a constitutional amendment that defines marriage between a man and a woman, and which calls for a ban on all pornography.

"The Marriage Vow – A Declaration of Dependence upon Marriage and Family," sponsored by the Family Leader, an Iowa-based conservative organization, equates same-sex marriage with bigamy and polygamy and calls on candidates to promise to be faithful to their spouses.

The two-page pledge includes a "Declaration of Dependence on Marriage and Family" that blames several factors for the deterioration of traditional marriage including "quickie divorce" and unmarried couples living together. The pledge also describes homosexuality as a choice and not genetic.

"This debasement [of marriage] continues as a function of adultery; 'quickie divorce;'… [and] anti-scientific bias which holds in complete absence of empirical proof that not non-heterosexual inclinations are genetically determined," reads the pledge.

Candidates, like Bachmann who sign the pledge, vow  "vigorous opposition to any redefinition of the Institution of Marriage…through statutory, bureaucratic, or court-imposed recognition of intimate unions which are bigamous, polygamous, polyandrous, same-sex."

By signing the pledge she supports the idea that homosexuality is a choice, and that being gay is a health risk. Last month, however, she told CBS' Bob Scheifer that  she was "not running to be anyone's judge."

"You know, I firmly believe that people need to make their own decisions about that," she said when asked if being gay was a choice. "But I am running for the presidency of the United States. I am not running to be anyone's judge. And that's where I'm coming from in this race."
The Pledge, which you can read in full if you wish, also contains this bizarre statement about African American families:
Slavery had a disastrous impact on African-American families, yet sadly a child born into slavery in 1860 was more likely to be raised by his mother and father in a two-parent household than was an African-American baby born after the election of the USA's first African-American President.
So, yea, they're basically saying that African-Americans were better off under slavery than under Barack Obama, an absurd comment on so many levels that I doubt I really need to point them out, but I think the best response comes from Robert George, a conservative who happens to be African-American, on Twitter:
Indeed, let's not go there. Furthermore, the statement itself ignores the fact that one of the most common events in a slaves life was to be separate from his family and sold off to another owner. The amount of historical ignorance it requires to even make the statement is, quite honestly, staggering.
Of course, it's no surprise that Bachmann would make a statement like this. It plays right to her socially conservative, evangelical base. How she cannot see that it turns off every other reasonable Republican I do not know.
Update: There appears to be some disagreement over whether the pledge actually calls for a ban on pornography, and Mediaite makes the counterargument. Here's the text in question:
Humane protection of women and the innocent fruit of conjugal intimacy – our next generation of American children – from human trafficking, sexual slavery, seduction into promiscuity, and all forms of pornography and prostitution, infanticide, abortion and other types of coercion or stolen innocence.
One could argue that what they're really talking about here is protecting women from being used in pornography, I suppose. Of course it's worth pointing out that the "subjugation of women" argument is now the favored argument of those who favor banning porn, both on the right and among feminists.  Additionally, this interpretation would lead one to believe that they have no problem with male homosexual pornography and, somehow, I don't think that's quite true.
Update #2: Over a Reason, Mike Riggs nails what the pledge is really all about in a post title Michelle Bachmann Pledges To Increase The Size And Scope Of Government:
Yet the pledge would also require signatories to provide "humane protection of women and the innocent fruit of conjugal intimacy" from "seduction into promiscuity, and all forms of pornography and prostitution, infanticide, abortion and other types of coercion or stolen innocence." This depite the fact that promiscuity, pornography, and prostitution, when done right, are engaged in by consenting adult women; that laws already exist to protect children from sex slavery; and that banning adults from engaging in mutually beneficial behavior, or from viewing other adults engaging in mutually beneficial behavior, would be impossible and impossibly expensive, and also harmful to the American adult entertainment industry, which generates tens of billions of dollars per year in taxable revenue.

The pledge also asks candidates to waste time and money on "bona fide legal advocacy for the Defense of Marriage Act at the federal and state levels," and for candidates to extend "second chance" and "cool-down" periods for "those seeking a 'quickie divorce.'"

In addition to being damn expensive, many of those proposals are not "humane" and would ultimately harm women
Not if you want women to get back into those "traditional" roles.