Presidential Candidates Being Asked To Sign "Traditional Marriage" Pledge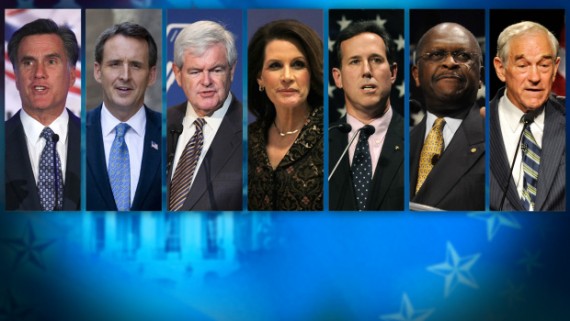 An Iowa "pro-family" group is asking all the candidates for President to sign a pledge to protect so-called "traditional marriage":
The Family Leader, a prominent Iowa group that promotes Christian conservative social values, said today it is asking all presidential candidates, including President Barack Obama, to sign a pledge relating to their personal convictions on marriage.

The pledge is entitled, "The Marriage Vow – A Declaration of Dependence upon Marriage and Family."

The organization's chief executive officer is Bob Vander Plaats, a major conservative evangelical leader in Iowa who was the state chair in 2008 of Mike Huckabee's Republican presidential campaign when he won the Iowa Caucuses. Vander Plaats said the Family Leader will not support any candidate who declines to sign the pledge.

"This is about the next generation," Vander Plaats told reporters at a news conference on the steps of the Iowa Statehouse. "It's about our economy, marriage and family and society."

Presidential candidates who sign the pledge will agree to personal fidelity to  his or her spouse, the appoint "faithful constitutionalists" as judges, opposition to any redefinition of marriage, and prompt reform of uneconomic and anti-marriage aspects of welfare policy, tax policy and divorce law.

The Marriage Vow also outlines support for the legal advocacy for the federal Defense of Marriage Act, humane efforts to protect women and children, rejection of Sharia Islam, safeguards for all married and unmarried U.S. military service members, and commitment to downsizing government and the burden upon American families.

In addition, candidates are asked to recognize that "robust childrearing and reproduction is beneficial to U.S. demographic, economic strategic and actuarial health and security.
Well, so much for that whole social issues truce idea, huh?