Michelle Obama's 1700 Calorie Meal
The First Lady is coming under fire for hypocrisy in her meal choices.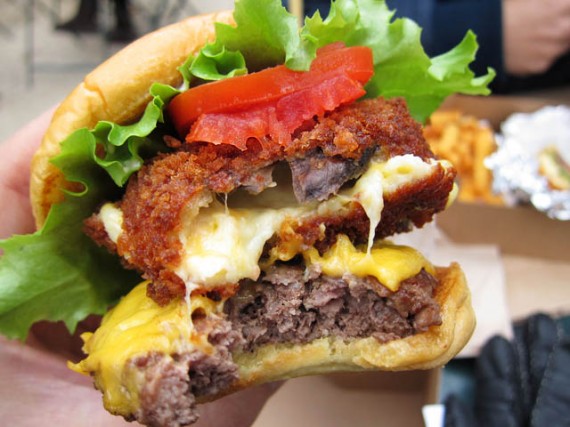 The First Lady is coming under fire for hypocrisy in her meal choices.
WaPo 44 Blog ("Michelle Obama orders 1,700-calorie meal at Shake Shack"):
First lady Michelle Obama ordered a whopper of a meal at the newly opened Washington diner Shake Shack during lunch on Monday.

A Washington Post journalist on the scene confirmed the first lady, who's made a cause out of child nutrition, ordered a ShackBurger, fries, chocolate shake and a Diet Coke while the street and sidewalk in front of the usually-packed Shake Shack were closed by security during her visit.

According to nutritional information on Shake Shack's Web site, the meal amounted to 1,700 calories.
These stories are mildly amusing and I understand why they're written. But Mrs. Obama is 47 years old and demonstrably not obese. One can simultaneously advocate physical fitness and indulge in the occasional fatty meal.
Frankly, the only part of this story that bothers me is that she was allowed to cut in line and inconvenience the ordinary citizens who were waiting in 97 degree heat for their chance to sample one of these tasty burgers. But even that's annoyance at our system of treating our politicians like royalty, not Mrs. Obama's actions. She's rather at the mercy of the Secret Service and their zeal; it would be unreasonable to expect her to stay cloistered at the White House until her husband leaves office. Although, perhaps she could have waited to visit Shake Shack until it after its DC grand opening.
via Taegan Goddard