Michigan Mayor Permits 'Prayer Stations' At City Hall, Bans Atheists, Violates Constitution
Someone needs to give the Mayor of Warren, Michigan a lesson on what the First Amendment means.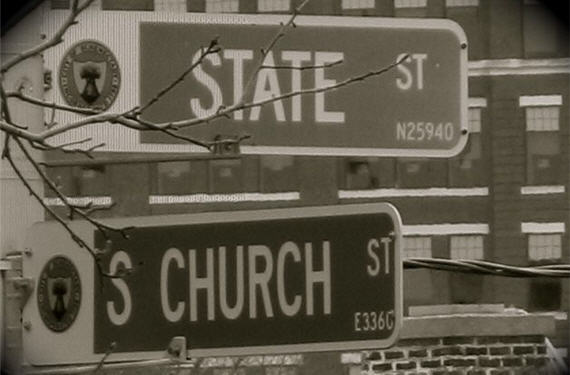 The Mayor of Warren, Michigan has apparently forgotten about something called the First Amendment to the United States Constitution:
A Michigan mayor who says that he believes in freedom of religion has refused to allow atheists to set up a so-called "Reason Station" inside City Hall, saying it could upset Christians visiting the nearby "Prayer Station."

According to the Detroit Free Press, Warren resident Douglas Marshall proposed the "Reason Station" to promote separation of church and state, and to tell people about using free thought, reason and logic.

But Warren Mayor Jim Fouts rejected the display for a period of one year because of Marshall's affiliation with a group called the Freedom From Religion Foundation. In a letter to Marshall, Fouts explained that the Freedom From Religion Foundation was not protected under the First Amendment's Establishment clause because atheism was not a religion.

"To my way of thinking, your group is strictly an anti-religion group intending to deprive all organized religions of their constitutional freedoms or at least discourage the practice of religion," Fouts wrote. "The City of Warren cannot allow this."

"Also, I believe it is group's intention to disrupt those who participate in the Prayer Station which would also be a violation of the freedom of religion amendment," he added. "For these reasons, I cannot approve of your request."
There are so many Constitutional issues implicated by this story that it could serve as a Law School or Bar Exam hypothetical.
First of all, there's the rather obvious problem of a governmental body endorsing religious faith of any kind by allowing the establishment of so-called "Prayer Stations" on public property. Courts at all levels continue to struggle with these issues on a regular basis, of course, and it isn't always easy to say exactly where the line is, but there are a handful of general principles that apply in all these situations. Governmental bodies, for example, are generally forbidden from officially endorsing a specific religious faith, whether that endorsement comes in the form of statements made or actions taken by agents of the government or by giving permission to outside groups to proselytize in favor of those beliefs on government property. The city of Warren likely believes that it is getting around this restriction by granting access to a any religious group to set up a "prayer station" at City Hall, but there is plenty of case law which clearly establishes that ecumenicism does not provide protection against a claim that the government entity has violated  Establishment Clause. The very act of endorsing religion, even if one is endorsing all religions, is often enough to be a violation.
The second issue, of course, is the clearly started decision by the Mayor to deny the Freedom From Religion Foundation equal access to the public space where these "prayer stations" are allowed to exist. This is an issue that is seemingly litigated every year in connection with Christmas displays. Generally, courts have ruled that governments cannot establish displays are are exclusively religious, meaning that a Nativity display by itself would not be acceptable, but a nativity display with a Christmas tree might be. Courts have also often required that if governments allow outside groups to utilize public spaces for such holiday displays they must give equal access to other faiths and points of view, including obviously satirical things such as the Church of the Flying Spaghetti Monster. Under these rules, the decision by the Mayor to deny access to the FFRF would clearly seem to be impermissible. If you're going to give access to one point of view on religion, then you must give access to  all points of view, otherwise you're violating both the Establishment Clause and the Free Exercise Clause.
Third, even if the Mayor's decision to exclude the FFRF were not considered a violation of the religion clause of the First Amendment, it most assuredly would be a violation of the Freedom of Speech clause. While the Supreme Court has given governments, especially on the local level, the authority to regulate the time, place, and manner of speech, it has required that those restrictions must be, above all else, content neutral. For example, a city could adopt an ordinance restricting sound trucks from broadcasting on public streets during certain hours but it could not adopt an ordinance that banned sound trucks broadcasting particular points of view. In this case, Mayor Fouts has explicitly stated that he is banning FFRF from public grounds because of the content of their speech. That is quite obviously an unconstitutional content-based restriction on speech.
In other words, no matter how you look at it, what Mayor Fouts is doing here is clearly unconstitutional. Based on what he is saying in public though, I doubt he even realizes what the Constitution says:
WJBK reported that the city of Warren has approved the "Prayer Station," a Ramadan Display, a Nativity scene and a Day of Prayer — but nothing for atheists.

"I will continue to support all groups regardless of race or religion, but I will not support a group that denigrates those groups," Fouts told the station.

"I emphasize one thing," he added. "The government cannot restrict an individual's freedom of speech, but an individual cannot restrict the government's freedom of speech."
Can anyone even explain what this last part means? Even if one could articulate such a thing as "the government's freedom of speech," it's impossible for me to understand how the FFRF would be restricting it if it were allowed to set up it's "Reason Station" in the same general area as the "Prayer Stations." Someone needs to send Mayor Fouts to a remedial Civics class, because he clearly failed it the first time around.