Mike Bloomberg Suggests We Need To Sacrifice The Constitution
The Boston Marathon bombing attacks are leading some politicians to make wildly absurd statements.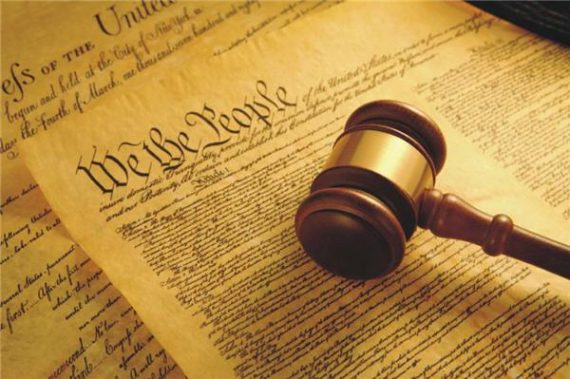 In the aftermath of the Boston Marathon bombing, New York City Mayor Michael Bloomberg suggested yesterday that perhaps we need to ignore some of our Constitutional rights in response to a crisis:
New York City Mayor Michael Bloomberg believes that the Boston Marathon bombings have created a unique scenario — one in which traditional interpretations of the U.S. Constitution must change. Rather than shying away from cameras and other security mechanisms that some view as infringements upon individual privacy, the politician claims that the most recent attack calls for a new paradigm.

As for those who fear government intrusion and express serious concerns about how these technologies and other policies could impede privacy, Bloomberg is sympathetic — but only to a point.

(…)

"The people who are worried about privacy have a legitimate worry, but we live in a complex world where you're going to have to have a level of security greater than you did back in the olden days, if you will," Bloomberg said during a press conference on Monday. "And our laws and our interpretation of the Constitution, I think, have to change."

He went on to note that we live in a dangerous world and that there are some who wish to take away Americans' freedoms, the Observer's Politicker reports. But in order to protect these sentiments, Bloomberg argued that more intensive security is necessary.

"We have to understand that in the world going forward, we're going to have more cameras and that kind of stuff. That's good in some sense, but it's different from what we are used to," he continued.

As the Observer's Politicker notes, Bloomberg also invoked gun control while making his point about the Constitution and security. In connecting what he said is the Supreme Court's recognition that there are some interpretations of the Second Amendment that give way to "reasonable gun laws," the mayor said that the nation will also need to "live with reasonable levels of security."
Bloomberg's comments remind me of the story, which may well by apocryphal but nevertheless makes an important point, about Benjamin Franklin being approached at the conclusion of the Constitutional Convention of 1787 and being asked what the result of the Convention had been. Franklin's answer, as reported by Maryland delegate  James McHenry, was "A Republic, if you can keep it." Franklin is also credited with another quote that has become a legendary part of American political dialogue, "They that can give up essential liberty to obtain a little temporary safety, deserve neither liberty nor safety."
Yes, you can dismiss these as as mere slogans, but it strikes me that they get to the heart of what's wrong with the comments that Bloomberg is saying here. As I said in my post on Monday about surveillance cameras in public, there aren't necessarily any Constitutional issues raised by the fact that here are cameras in public observing what's going on. The problems start to surface when you talk about how those cameras are going to be used and what is going to be done with the information that those cameras collected.  Based upon how he has run New York City over the past eleven years, it seems pretty clear that Bloomberg believes that Constitutional rights should take a back seat to safety, health, and a whole host of other issues. So, one can only assume that he views surveillance cameras as not only acceptable, but their unlimited use as completely justifiable.
However, Bloomberg's comments strike me as going far beyond the acceptable use of surveillance cameras. He is clearly among those class of people, usually people with political power, wealth, or both, who believe that they know what is best for the "little people." You can see that in his idiotic attempt to ban sodas larger than 16 ounces and other nanny state tactics. Here, though, he's treading into far more serious territory. He's arguing that we need to give up our Constitutional rights in the name of "safety" from some amorphous and unknowable threat. It's not a new argument, of course. We've heard it before, and we're likely to hear it again when the next crisis hits, but it's essentially the same baseless argument that it's always been. Give up just a little bit of your freedom, they tell you, and we"ll keep you safe. The truth, of course, turns out to be that they can't exactly guarantee that they'll keep you safe, and they aren't going to give you back you liberty.
Fortunately, it seems like the American people are beginning to see through this charade:
Defending the civil liberties of suspected terrorists is generally not considered a popular position. And yet, in a bit of a surprise, a new poll released today finds that a plurality worries more about government trampling constitutional rights while battling terrorism than it does about government not doing enough to fight it. From the Post:

Which worries you more: that the government will not go far enough to investigate terrorism because of concerns about constitutional rights, or that it will go too far in compromising constitutional rights in order to investigate terrorism?

Will not go far enough: 41

Will go too far: 48

Interestingly, despite the fact that the push for Tsarnaev to be held as an enemy combatant is coming from GOP officials, Republican respondents to the poll are even more strongly tilted towards worrying about government compromising constitutional rights, by 56-34. Conservatives tilt this way by 46-41. Democrats also agree by 48-43.
Once again, it seems that the American people are smarter than the people who purport to lead them.