Mike Huckabee: I'm Not Homophobic, I'm On The Side Of The Bible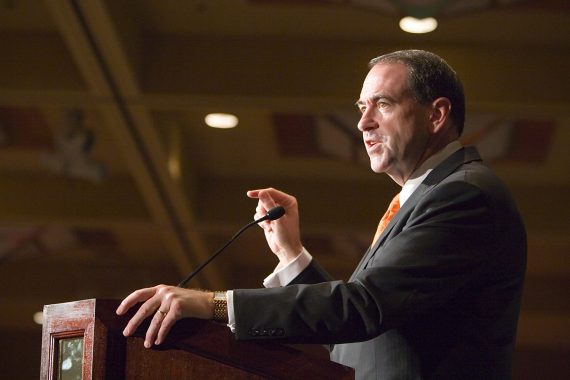 Former Arkansas Governor, and possible 2016 Presidential candidate, Mike Huckabee wants us to know that he's not homophobic:
(CNN) - Mike Huckabee told an Iowa crowd on Tuesday that he's "not homophobic," but believing marriage should be between one man and one woman is being "on the right side of the Bible."

Huckabee, who is also a pastor, told a conservative crowd, "I'm not against anybody. I'm really not. I'm not a hater. I'm not homophobic."

"I honestly don't care what people do personally in their individual lives," Huckabee said in his keynote address to the Iowa Faith and Freedom Coalition.

"But…when people say, 'Why don't you just kind of get on the right side of history?' I said, 'You've got to understand, this for me is not about the right side or the wrong side of history, this is the right side of the Bible, and unless God rewrites it, edits it, sends it down with his signature on it, it's not my book to change.' Folks, that's why I stand where I stand."
The problem with Huckabee's position, of course, as well as the position of every other opponent of marriage equality who bases their position on religion is that this isn't an issue of whether they have to accept something or not, it's a question of whether or not their fellow citizens should be denied equal rights. What Hucakbee is essentially saying is that he favors denying equal rights to people because of what's written in a book. If that's the case, then he needs to consult some other books.