Mike Huckabee Takes Another Step Toward Running For President
Over the weekend, Mike Huckabee took another step that suggests that he is indeed planning on running for President in 2016.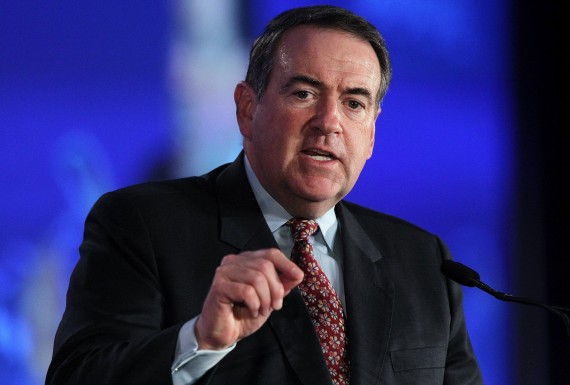 Four years ago, there was much attention focused on former Arkansas Governor Mike Huckabee as a potential candidate for the 2012 Republican nomination for President, a move that at the time seemed like a natural one for the former Arkansas Governor. After all, while Mitt Romney and his supporters had spent much time in the intervening years painting him as the candidate next in line for the party nomination, it was in fact Huckabee who finished second to John McCain in 2008 in terms of both total votes in the primaries and committed delegates. Additionally, as the 2012 cycle was beginning at the start of 2011  several polls, both from Iowa and nationwide that seemed to show him to be the Republican frontrunner. Most importantly, at the time Huckabee seemed to be the only conservative candidate capable of challenging Mitt Romney thanks in no small part to the fact that he continued to enjoy wide support in Iowa, where he had scored a surprise victory in 2008 caucuses. In the end, though, after flirting with the idea of running quite openly, Huckabsee announced, in an appearance on his Saturday night Fox News Channel that had been well publicized in a manner akin to LeBron James announcing whether he would be playing in Cleveland or Miami that he would not be running in 2012. At that point, other than hosting a candidate forum later in 2011 that actually ended up being more informative than most of the multi-candidate debates we saw during that cycle, Huckabee largely faded from the political scene.
With the 2016 race just starting to heat up, and notwithstanding the fact that it has been nearly eight years since he was last on the campaign trail, it looks like Mike Huckabee is thinking about running for President again, and this time he seems far more serious than he was in the run-up to the 2012 cycle. As long ago as late 2013, Huckabee was suggesting that he was "open" to running for President again despite bowing out the previous cycle. Additionally, and somewhat surprisingly given the amount of time that has passed, polling both nationwide and in Iowa has shown the former Governor performing quite well against what basically amounts to a generation of Republican candidates entirely different from those he faced in 2008. Additionally, Huckabee has spent the last year attempting reinsert himself back in the political conversation by speaking out on issues ranging from same-sex marriage to Ebola, and assembling a core group of donors and supporters that would form the basis for a 2016 campaign. Last night, though, he took the most obvious step yet toward a probable run for President with the announcement that he was ending his affiliation with Fox News to explore a Presidential run:
WASHINGTON — TV host and former Arkansas Gov. Mike Huckabee says he is leaving his Fox News talk show as he considers whether to seek the Republican nomination for president, a decision he expects to reach in the spring.

Huckabee said Saturday night's edition of "Huckabee" would be his last as he ponders his political future. The weekly show, which is taped with a live audience and features political commentary as well as interviews with guests and musical entertainment, has been on the air for more than six years.

"There's been a great deal of speculation as to whether I would run for president. And if I were willing to absolutely rule that out, I could keep doing this show. But I can't make such a declaration," he said at the end of Saturday's program.

"Now, I'm not going to make a decision about running until late in the spring of 2015, but the continued chatter has put Fox News into a position that just isn't fair to them — nor is it possible for me to openly determine political and financial support to justify a race. The honorable thing to do at this point is to end my tenure here at Fox. Now, as much as I have loved doing the show, I cannot bring myself to rule out another presidential run."

The former Baptist preacher and Arkansas chief executive — he led the state from 1996 to 2007 — is a favorite among social conservatives. While hosting the TV show he has published books, appeared at conservative conferences around the country and offered harsh criticism of President Barack Obama's policies.
As I noted when I wrote about the possibility of a Huckabee run in 2016 back in November, on some level it's hard for me to see the logic behind Mike Huckabee running for President again after so much time has passed. To a large degree, his success in 2008 was as much due to one of those flukes in American politics that rarely repeats itself, especially after the passage of so much time. Perhaps if Huckabee were someone who had stayed in office during the years between then and now, I could see why he might be considered a viable candidate this time around despite having foregone a run four years ago. That's not the case, though, and there's much that has changed in the Republican Party in the intervening years. The rise of the Tea Party, of course, is the most notable example, but as it concerns Huckabee himself the fact of the matter is that there are any number of potential candidates in 2016 who would be competing for the same pool of voters as he would. Rick Santorum, who has dropped his own hints about running again recently, was arguably the standard bearer of the Huckabee voters in 2012, for example, and would presumably be a strong candidate among Evangelical and religious conservatives if he ran again this time around. Other potential candidates, such as Ted Cruz, Ben Carson, Rand Paul, and Mike Pence will also try to make their own appeals to these voters. Given this, and the fact that he has been outside of politics for so long now, Huckabee may find himself crowded out by the "new blood." Additionally, it doesn't seem likely that Huckabee would have much luck appealing beyond this evangelical base. Indeed, if anything, the antipathy outside for the former Arkansas Governor outside of that part of the GOP only seems to have increased in the years since the 2008 campaign.
It could turn out, of course, that lightning will in fact strike twice for Mike Huckabee. His best case scenario would be one where he won Iowa and South Carolina by strong enough margins that he ended up becoming the de facto conservative alternative to whomever the "mainstream" candidate turns out to be, which right now seems like it will be Jeb Bush, and thus clears the field early of the other competitors for the evangelical vote. Then, it would be a battle going forward between Huckabee and this "mainstream" candidate. Most likely, a candidate like Bush would be favored in such a situation but given the nature of the Republican Party these days, I'm not sure you can rule out the possibility that Huckabee could end up being the nominee. He'd lose the General Election, of course, but the people who support candidates like Huckabee seem to support purity more than prudence so one assumes that really wouldn't bother them.