Mike Pence For President?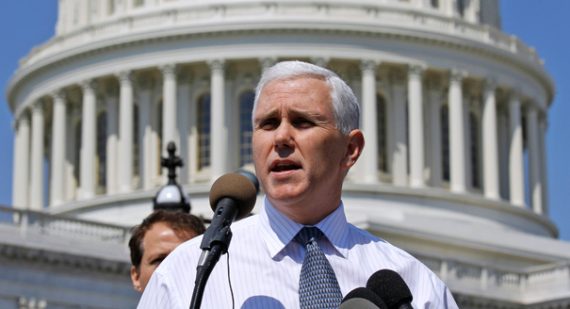 Mike Pence, the former Indiana Congressman who has served as Governor of the Hoosier State since 2013, says that he's being courted to run for President:
To this point, Indiana Gov. Mike Pence (R) has been on the periphery of talk about the 2016 presidential race.

But he says in a new interview that he is being encouraged to consider tossing his hat in the ring. Pence told Howey Politics Indiana that national GOP figures are "reaching out" to him.

The former congressman, though, has to contend with a potential reelection campaign in 2016 — meaning it's very likely he would have to decide between reelection and running for president.

He said he'll make a decision on such matters next year.

"With regard to the other aspects to your question, I would just say, our decision on making any kind of decision on reelection will come sometime in the next calendar year," Pence said.

Pence is not widely expected to run for president, but his comments suggest it's on his radar — or, at the very least, he's keeping the door cracked.
Pence's name did come up in some conservative circles in the beginning of the 2012 campaign cycle as well, but he rebuffed those entreaties to run for Governor instead. At the time it seemed like a smart move on his part. While Pence's conservative Republican bona fides are beyond question, he lacked executive experience. Replacing Mitch Daniels in the Indiana Governor's mansion fills that gap in his resume nicely and, so far, it seems as though he's having a successful first term. Given that he's got a re-election bid coming up in 2016, it seems unlikely that he'd throw his hat into the Presidential ring, or that he'd be a viable contender for the Vice-Presidential slot in 2016 either. Indeed, given the timing, the smart thing for Pence to do would be to stay in Indiana for a second term and then look to a Presidential bid in the future, either in 2020 or even 2024, At 54 years of age he's got more than enough time.
Nonetheless, we'll probably see more speculation about a Pence candidacy in the coming year or two. At the very least, that likely to help his national profile.