Mike Pence Meets With Trump About Veep Slot
Is Indiana's Governor a contender to be Donald Trump's running mate?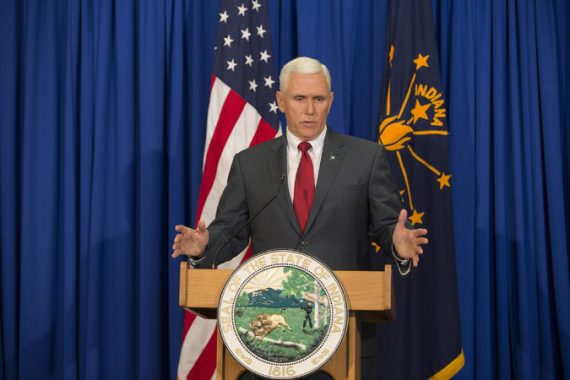 The Vice-Presidential dance on the Republican side of the aisle continued yesterday with Trump meeting with Indiana Governor Mike Pence, whose name has only recently entered the Veepstakes:
Donald J. Trump met with Gov. Mike Pence of Indiana on Saturday at one of Mr. Trump's golf courses in New Jersey, as he sizes up potential running mates before the Republican National Convention this month.

The meeting, initially expected on Friday evening, took place on Saturday morning at Trump National Golf Club in Bedminster, N.J., according to four people briefed on the get-together who requested anonymity because they were not authorized to speak about it.

Mr. Pence's wife, Karen, was at the meeting, but Paul Manafort, the Trump campaign's chief strategist who has been handling much of the search for a vice-presidential nominee, was not, two of the people briefed said.

One of those sources described the meeting as pleasant.

Mr. Pence, a favorite of religious conservatives who twice considered running for president, has risen in Mr. Trump's circles in recent days as a possible nominee. Mr. Trump's aides have started vetting him, one of the people briefed on the matter said.

Other candidates, including Gov. Chris Christie of New Jersey and Newt Gingrich, the former House Speaker, are also being vetted.

Aides to Mr. Pence could not be reached Saturday to discuss the meeting.

Mr. Trump and Mr. Pence held a meeting in April that was facilitated by Mr. Christie, a former chairman of theRepublican Governors Association who endorsed Mr. Trump after ending his own presidential bid on Feb. 10.

That meeting was an attempt to keep Mr. Pence neutral in the Indiana primary, but he endorsed Senator Ted Cruz of Texas. Mr. Trump won the state's primary, and Mr. Cruz dropped out of the presidential race.

Mr. Trump is expected to announce his choice for running mate before the party's nominating convention begins in Cleveland on July 18, and as early as this week.

There is no consensus favorite among Mr. Trump's advisers for the vice-presidential nomination, but the list of viable candidates is fairly short, according to those briefed on the process.

Mr. Pence appeals to some in Mr. Trump's circles as a pick that would reflect a level of seriousness about major decisions.
Robert Costa at The Washington Post has more:
Donald Trump and Indiana Gov. Mike Pence had a private meeting Saturday morning at Trump National Golf Club in Bedminster, N.J., that served as an informal way for the presumptive Republican presidential nominee to become better acquainted with a possible running mate.

According to two Republicans familiar with the meeting, the conversation between Trump and Pence lasted for more than an hour, and the governor was joined by his wife, Karen, as he visited with the real-estate mogul.

One person described the session as "warm and friendly," while the other called it a "getting to know you thing, a chance for both of them to connect." They both noted that the presence of Karen Pence is probably a sign that the Pence family is comfortable with the prospect of the Republican governor joining the ticket, although they said they have not spoken with her.

Both people spoke on the condition of anonymity to discuss their knowledge of the meeting, the location of which had been closely guarded for days.

Pence's stock has been rising in Trump's orbit, they said, describing him as respected by the candidate, despite Pence's endorsement of Sen. Ted Cruz (Tex.) in the Republican primary.

The governor, who is in the middle of a reelection campaign, is increasingly seen as a potential smart choice by several of Trump's aides, who have told associates that Pence's deep ties with conservatives and his House experience would be an asset.

Still, while Pence, 57, is being vetted for the vice-presidential position, Trump's advisers have said that he remains undecided about whom he will tap to run with him. Others being vetted by the campaign include former House speaker Newt Gingrich and New Jersey Gov. Chris Christie.

Campaign chairman Paul Manafort, a veteran operative who is close to party leaders, is taking the lead on assisting Trump with the selection process, following Trump's firing of Corey Lewandowski, his former campaign manager.

Compared with Pence, who has only been in sporadic contact with Trump this year, Gingrich and Christie have cultivated close relationships, with Gingrich acting as a television surrogate and occasional confidant and Christie a key player in managing Trump's transition team, which would help to organize the federal government should Trump win the election.

In Pence's favor is that, as a low-key Midwesterner and seasoned Republican, he would give Trump someone with governing experience and a running mate who presented voters with a temperamental and ideological contrast. A former talk-radio host and evangelical Christian who reveres Ronald Reagan, Pence has long couched his politics in the cadence of movement conservatism. Over the past decade, he has twice considered running for the White House before ultimately deciding against it.

Working against Pence are questions in national political circles about whether he could successfully navigate the barrage of media attention and scrutiny that would come with being at Trump's side, and whether he could successfully communicate his strident social conservatism to a fast-changing country.
Also tending to argue in Pence's favor is the time that he spent on Capitol Hill before becoming Governor. As I've noted in the past, Trump has said on more than one occasion when pressed that one of the things he'd be looking for in a running mate is someone who could help navigate the halls of Congress to press the agenda of Trump Administration, a comment that actually counts as an admission by Trump of a potential political weakness on his own part. Pence spent fifteen years in Congress slowly working himself up to the point where he became Chairman of the House Republican Conference before leaving Congress to run for Governor of Indiana in 2012. Had he stayed in office, he would likely be higher up in leadership at this point. Pence is also a strong favorite of social conservatives and, thanks to his record while in Congress, many fiscal conservatives to the point where there many groups trying to lobby him to run for President instead of Governor back in 2012, an opportunity that he ultimately passed on. It wasn't long after taking office as Governor that Pence became the subject of speculation regarding a possible Presidential bid in 2016, but he demurred to a run again and instead said he would run for re-election as Governor. In between the two Presidential elections, Pence made the national news thanks to a controversial law passed by the Indiana legislature that many saw as legalizing discrimination against gays and lesbians. After weeks of controversy, Pence reconvened the state legislature to pass changes in the law to address the complaints, but the damage was done and Pence saw his poll numbers take a hit from the controversy.
Given the news about Chris Christie and Newt Gingrich being more formally vetted for the running mate's slot, it may well be that that meeting with Pence is more of a last-minute courtesy visit than anything else. Backing up that idea is the fact that Pence has a long-time political relationship with Paul Manifort, who is now serving as Trump's campaign director. Meeting with Pence at this point in the process may be little more than a "meet with this guy and see how it goes" sort of thing than a signal that Pence is being seriously considered for the position. Also arguing against Pence being Trump's running mate is the fact that, if he accepted the position he would have to forgo running for re-election as Governor since Indiana law forbids someone from appearing on the ballot for more than one position at a time. This means Indiana Republicans would have a short period of time, until July 15th, to pick a replacement candidate. As it stands, Pence is in a tight race for re-election. A replacement candidate would undoubtedly find him or herself in a deeper hole, thus putting control of the Governor's mansion into doubt. In any case, the closer we get to July 15th the less likely it is that Pence will be the one selected.
As it stands, there are some rumors that we could see a selection announced as early as this week, although it's worth noting that Trump has said in the past that he hoped to wait until the convention to make that announcement. In any case stay tuned.