Military Family Divided By Women's Role
Greg Jaffe has an outstanding feature titled "In one Army family, women in combat evokes two different perspectives."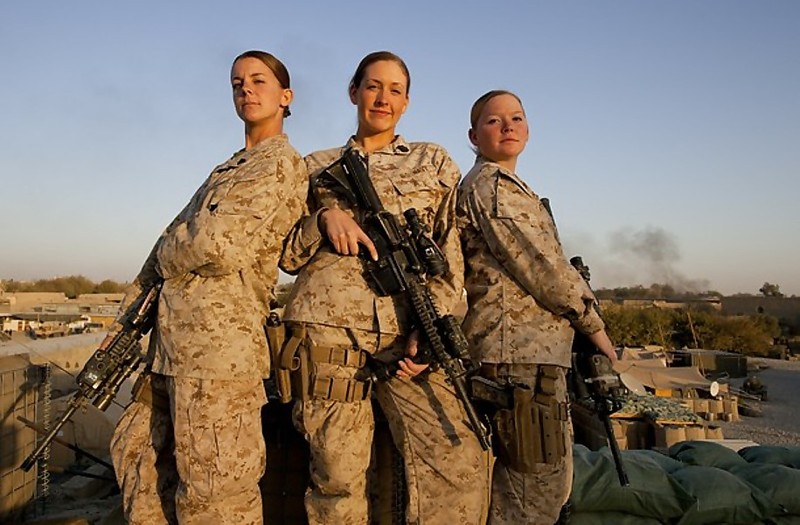 Greg Jaffe has an outstanding feature titled "In one Army family, women in combat evokes two different perspectives."
Hours after the Pentagon lifted the ban on women in combat, Valerie Warner typed out an ­e-mail to her grandfather, Volney Warner, a retired four-star general who helped oversee the integration of women into the Army in the 1970s.

Valerie Warner, an Iraq combat veteran, excitedly laid out her ­detailed plan for incorporating women into infantry units.

A few hours later, her grandfather replied, writing, "I remain convinced that women are better at giving life than taking it." He added that although women play an important role in the Army, he thinks that they have no place in combat units.

No family better captures the flurry of debate triggered by Defense Secretary Leon E. Panetta's historic announcement this week than the Warners. The decision alters decades of military tradition and opens new opportunities for women and a new debate on their role in the military.

Four of Warner's eight grandchildren — two of them women — have fought in the Iraq and Afghan wars. In 2005, one of his granddaughters, 1st Lt. Laura M. Walker, was leading her engineer unit in Afghanistan when a roadside bomb detonated beneath her vehicle and killed her. The 24-year-old was the first female U.S. Military Academy graduate to die in combat in Iraq or Afghanistan.

Their family story shows the progress made by women in the military in the past decade. But it also highlights the significant ground women must still cover to win acceptance in the military's last all-male bastions.

As a general commanding the 9th Infantry Division in the 1970s, Warner oversaw the integration of women into hundreds of non-combat arms-support jobs. "There was little time to prepare," he said. "They just started to arrive."

Soon, he found himself officiating disputes over whether hair should be tucked under steel helmets and how to handle crying female soldiers.

After a few months, he decided that his initial doubts about the women were misplaced. "Their job performance was what surprised me," he said. "The first group of women were better than the men. They really wanted to be there and knew they were part of an advanced guard."

Decades later, as a grandfather, he suggested that all of his grandchildren consider a career in the Army. "I encouraged them to take on something more important than themselves and told them the military is a good place to do it," he said in an interview Thursday.

Two granddaughters, Laura and Valerie, took his advice. They were smart, athletic and eager to prove that they were just as capable as their male counterparts. While Laura was at West Point, Valerie attended George Mason University and enrolled in ROTC.

Before the two deployed in 2004 — Laura to Afghanistan and Valerie to Iraq — Warner offered them the same advice: "Follow in the tracks of those ahead of you. . . . Keep a round in the chamber. Take care of your soldiers. Do not try to be a hero."

These days, a painting of Walker in her uniform hangs in the hallway of his home in McLean. Warner, 86, calls her death a "personal tragedy" but insists that his opposition to women in combat jobs is driven by his experiences in fighting wars, not the loss of his granddaughter.

When he was a lieutenant in Korea in the 1950s, he and his men spent months in the bitter cold and endured killing on a scale far greater than the losses faced by U.S. troops in Iraq or Afghanistan over the past decade. Under such conditions, he said, he is concerned that male soldiers would be more likely to worry about the safety of female soldiers. A gender-integrated infantry company, he said, would become "a less effective killing machine."

A decade of combat has chipped away at the support for Warner's stance inside the military. In Iraq and Afghanistan, female soldiers have operated heavy machine guns on Army trucks in combat and inflicted casualties on the enemy. They have led patrols to clear roads of buried bombs, one of the most dangerous missions in the military.
While I have my doubts that large numbers of women have the brute physical strength required for extended light infantry duty, I've long since dismissed the "men will protect the women" notion that worries General Walker. Women have been fighting alongside men in real combat—not just service and support—roles for the better part of two decades now and there's just no evidence for it. The fact of the matter is that warriors take extraordinary—some might say heroic, others might say stupid—risks to protect their comrades—even the dead bodies of their comrades—regardless of sex. That's the nature of esprit de corps, especially in infantry and special operations forces.
Laura Walker's story belies the notion that women aren't in harm's way now. The days of trench warfare and even true "front lines" of combat are long gone. That's especially true in conflicts like Iraq and Afghanistan, where "major combat operations" are over rather swiftly but followed by years of murky counterinsurgency and stability operations. While it's still more dangerous in the infantry, where the goal is to seek out and engage the enemy, pretty much everyone is vulnerable to IEDs, blue-on-blue attacks, and the other asymmetric attacks that have killed most of our forces.
Women are flying fighter jets and attack helicopters. They're serving on submarines and aircraft carriers. They're dying in our wars. The only real barrier left is ground combat arms, especially infantry. Again, I'm skeptical that a large number of women have the physical makeup for that duty. But, so long as we don't lower the standards to make a gender quota, I'm not sure why that's a problem.