Millennials Losing The Obama Love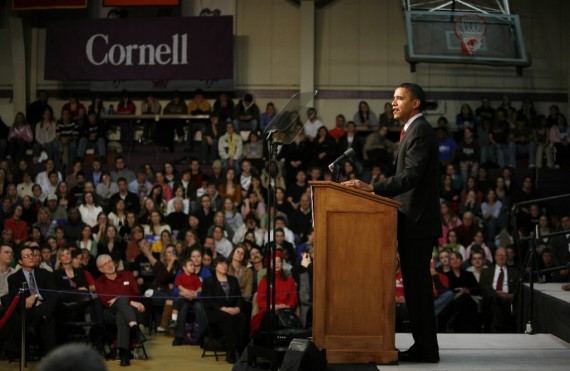 One of the core members of President Obama's constituency in 2008 and 2012 seems to be falling away:
President Obama's support among young voters has fallen to 45 percent, according to a new USA Today/Pew Research Center Poll.

Forty-five percent of young Americans – aged 18 to 29 – said they approved of Obama's job performance, compared with 46 percent who disapproved.

Forty-one percent in the USA Today/Pew poll approved of the president's signature healthcare law, while 54 percent disapproved. Those results mirror those of the general population.

The poll surveyed 2001 adults, including 229 young Americans, between December 3rd and 8th. It has an 8-percentage-point margin of error.
This polls comes along less than two weeks after a Harvard University poll of younger Americans that showed similar results regarding this demographic groups opinions about the President, as well as their opinions about the Affordable Care Act. As I noted at the time, this doesn't necessarily mean that younger voters are going to start flocking to the GOP but it could mean that they'll be less likely to turn out for Democrats in the future. Admittedly, voter participation by this generation was only marginally better in 2008 and 2012 than it had been in previous Presidential elections, and near historically low norms in off-year elections for the entirety of President Obama's time in office, but even small changes can prove to be game changers in close elections. The bigger deal, I'd suggest, is that these numbers seem to be a reflection of a rise in pessimism about the future among the generation that will be playing a large role in the life of the country for decades to come. The implications of that for the future of both politics and the economy should not be dismissed lightly.