Misleading Headline of the Day
Demonstrators once again breached Hill security.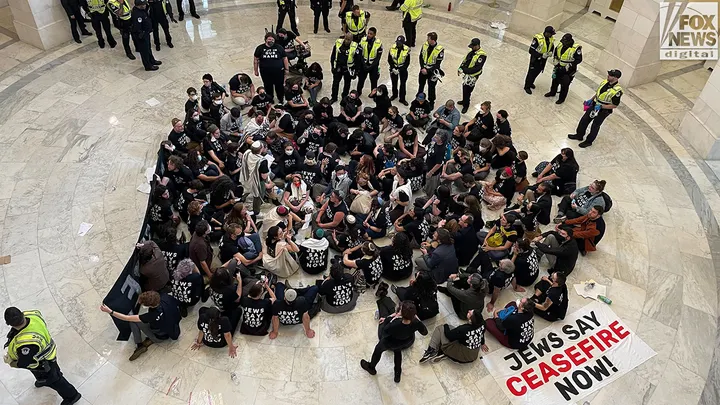 WTTG Fox 5 DC ("Hundreds arrested after Pro-Palestinian demonstrators flood Cannon Rotunda, Capitol complex"):
Hundreds were arrested Wednesday after pro-Palestinian protests broke out on Capitol Hill, with demonstrators flooding into the Cannon House Office Building and large crowds gathering with flags and signs around the Capitol complex.

The Cannon House Office Building holds several House Committee and congressional offices. By 2:30 p.m., its rotunda was full of protestors singing and chanting "ceasefire now" and "free Palestine."

U.S. Capitol Police put out an alert about the demonstrations, saying the activity was not allowed inside Congressional buildings. They worked for hours to clear the crowd that had grown inside. Police say they arrested about 300 people in total.

The detained protesters were lined up outside the building and shuttled to a temporary holding area in the Capitol complex. Capitol Police say demonstrators inside the Cannon Rotunda will be charged with illegally protesting inside a House Office Building.

They say among the arrests, three people were charged with assault on a police officer during processing.

USCP monitored the situation as more protesters gathered around the House side of the Capitol Complex through the afternoon and evening hours. For safety, they set up temporary rolling road closures and only allowed Capitol staff and employees to enter and exit in certain areas.

The protest began on the National Mall around noon and eventually made its way to the Cannon building, which is situated at Independence Ave. and New Jersey Ave. adjacent to the Capitol building.
I was pointed to the story by memeorandum and, among my first thoughts upon reading it was, "Well, I guess we now have the answer to the question 'What would have happened if brown people stormed the Capitol.'" (See here, here, here, here, and here for context.)
But, as I searched for images to support the post, I noted that only Fox affiliates, the Daily Mail, and other somewhat suspect sites covered the story. I then stumbled on a TNR report headlined ("'Not in Our Name': Jewish Activists Take Over Capitol to Demand Ceasefire in Gaza") and, checking the date, was shocked that two protests on the same day managed to breach Hill security.
But, of course, there weren't. You had to get down to paragraph 8 of the WTTG report to get to this:
Fencing went up overnight around parts of the U.S. Capitol ahead of the protest organized by the group Jewish Voice for Peace but the demonstrators were able to work their way into the building and by 3 p.m., it was packed with JVP members in black t-shirts reading "Jews say ceasefire now!"

JVP claimed on social media that at least 10,000 people were outside the Capitol while 500 made their way inside the rotunda, all there to "challenge the Israeli government's ongoing ethnic cleansing of Palestinians."
Now, I suppose one can fairly characterize an organization describing itself as "the largest progressive Jewish anti-Zionist organization in the world" and which claims to be "organizing a grassroots, multiracial, cross-class, intergenerational movement of U.S. Jews into solidarity with Palestinian freedom struggle" as pro-Palestinian. But it seems rather clear that the headline writer was trying to create a different image of the protesters than the reality on the ground.
Indeed, while it used a similar headline, the main Fox News site at least made it clear in their second and third paragraphs:
Footage from inside the Cannon Office Building showed a large group chanting "Ceasefire Now!" and calling for Congress to demand the fighting stop in Israel. The protesters were spotted wearing black T-shirts reading, "Jews Say Ceasefire Now!"

The group Jewish Voice for Peace said in a post on X, formerly Twitter, that "over 350″ demonstrators," including two dozen rabbis, were inside the large rotunda while thousands of others protested outside.
Alas, we still don't know for sure what would have happened if they had been people of color.