Anti-Zionism Isn't Anti-Semitism
Many young, progressive Jews are feeling unwelcome in young, progressive circles.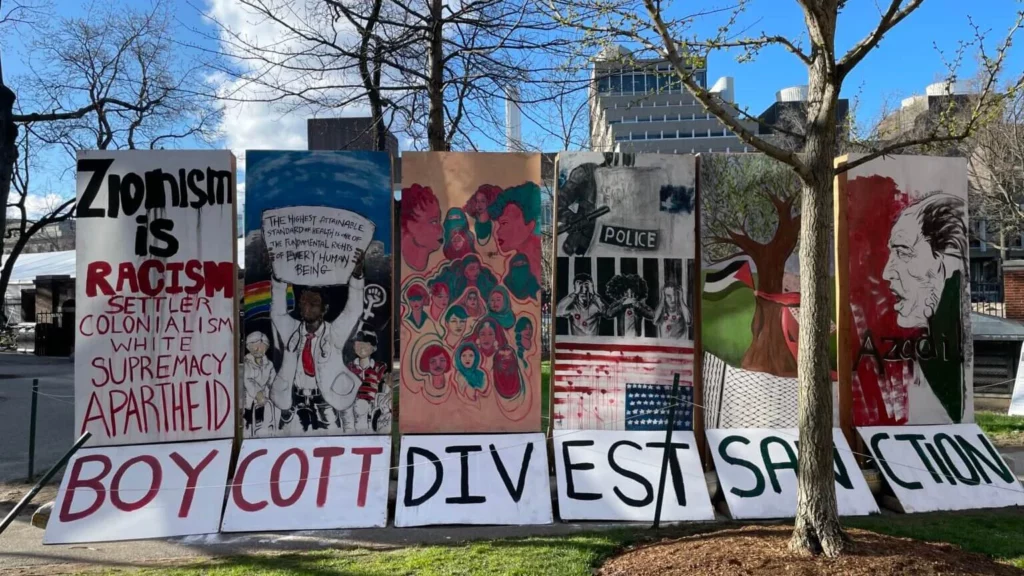 Via memeorandum, I came across an essay on Bari Weiss' newsletter by Blake Flayton titled "My Post-Graduation Plan? I'm Immigrating to Israel." and with the subhed "For me and other young Jews, the future is no longer in America. What we experienced on campus has a lot to do with it."
His opener:
I had always felt at home in America. It was my home and my parents' home and my grandparents', and it never seemed like it could be any way else. But three weeks from now, I am leaving the place where I was born and making a new life in Israel. The story of why is the story of a growing cohort of Gen Z Jews who see what the older generations cannot yet see: That the future doesn't feel like it's here as much as there.
He writes, "When people ask me what the origin point is—when I knew I would leave—it's not one particular moment, but a collection. Among them:"
I don't have time to research each of these incidents but we're a country of 330 million with hundreds of colleges and universities; a handful of incidents over the course of several years isn't shocking. Further, the vast majority of the cases seem to be of people protesting the Israeli occupation and the brutal tactics used to sustain it. While saying that Jewish students are disqualified from having an opinion on the matter is anti-Semitic, believing that the Israeli government is acting shamefully is not.
Flayton continues,
There are many other twenty-something Jews who, like me, had never felt this kind of isolation—until suddenly we did.

"I don't know a single Jewish college student who hasn't experienced antisemitism," one student from Arizona State told me.

"Jewish students on campus are forced to leave an integral and fundamental part of our identity at the door in order to be accepted by the community," another wrote to me from the University of Oregon. (Both students refused to speak openly for fear of social backlash.)

"It was at Florida International University in Miami where I witnessed antisemitism firsthand in the form of anti-Zionism," Meyer Grunberg told me. Grunberg was shocked by the leaflets distributed by the on-campus group Students for Justice in Palestine, which, he said, accused Israel of committing genocide, including the murder of Palestinian children—harkening back to the medieval blood libel.

Rob Greenberg had heard stories from his grandparents about occasional instances of antisemitism they'd experienced—his grandmother's employer didn't want to let her leave work in time for Shabbat, and so on. But growing up in Scarsdale, New York, in the early 21st century, he had never encountered any antisemitism himself.

Until he arrived at NYU.

"So many times," he emailed me, "I would see gatherings outside the library with 'progressives' holding up signs and chanting anti-Israel slogans. I will never forget one time going up to one of those students and challenging him on his positions. Within 20 seconds, when he realized I was not on his side, he called over other members of his group, and I found myself surrounded and was told to leave before anything violent breaks out. I realized then that dialogue was not what they were looking for."
Again, none of these examples are of anti-Semitism. It's certainly possible that members of Students for Justice in Palestine hate Jews. But wanting justice for Palestinians isn't per se anti-Semitic. Nor, for that matter, is failing to adjust office hours for religious activities (unless, of course, it's routinely done for non-Jewish observances). Accusations of blood libel, on the other hand, is anti-Semitic.
Bridget Gottdank's mom is Christian, and her dad is Jewish. Growing up in New York, she, too, never faced any overt antisemitism. Until she arrived at college at Coastal Carolina University. She was at a social gathering with a group of classmates near campus when Israel came up. Gottdank said something positive, and then someone she considered a friend became furious and called her a "stupid Jew."
That's almost certainly an instance of anti-Semitism.
I met Noah Shufutinsky at G.W., where he majored in Judaic Studies. "Academically, I had a positive experience," Shufutinsky told me. But campus progressives became increasingly strident in their denunciations of Israel, to the point that he felt they were "encouraging antisemitic activity."
There's certainly a fine line there. The description is inadequate to know whether it was crossed.
G.W. was the kind of place where it was considered normal for protests about raising cafeteria workers' wages to involve the Jewish state. In May 2019, for example, students rallying on the quad for a $15 minimum wage for school janitors incorporated strong condemnations of Israel into their speeches—as if janitors in Washington, D.C., not getting paid adequately was somehow the fault of Jews thousands of miles away. To Jewish students, the tethering of Israel to workers not getting their fair share felt insulting and familiar.
If this is being described accurately—and, given the tone of the rest of the piece, I have my doubts—this is, indeed, odd. It could be anti-Semitic. Or it could just be young, inexperienced protesters trying to kill two birds with one stone and thus muddling their message.
Elijah Farkash grew up in a mostly non-Jewish community on Long Island. He spent nine summers at a Jewish sleep-away camp in Pennsylvania. His family was "very Zionist," he said, and "proudly Jewish."

Then, like Shufutinsky, Farkash went to G.W., where he's now a senior and where Jews, he said, were widely viewed as "a core component of white elitism in this country."
While there are ways this could, indeed, be anti-Semitic, it's more likely the opposite: most Americans see Jews as "white people." There's an aspect of cultural erasure to that, to be sure, but it's gradually happened to other white ethnic groups throughout our history. (And it's why anti-Black racism is so persistent: they're unmeltable.)
Farkash said that students were mostly ignorant of Israel, its history, and its politics—why anyone had thought to found a Jewish state in the first place. "What they think are innocent Instagram stories can actually be very dangerous and unsettling," he told me, referring to, among other things, posts that routinely compare Israel to South Africa or the Third Reich. "Generally, I avoid discussing Israel with progressive students. It brings me too much angst."
That American college students are ignorant about history, particularly that of other countries, is neither surprising nor evidence of anti-Semitism. Comparing current Israeli policies towards Palestinians to Apartheid is hardly unreasonable. Comparing it to Nazism is fraught, indeed, but hardly evidence of anti-Semitism—non-murderous American political groups get compared to the Nazis all the time.
Then there was my own experience at G.W., in March 2020. I had been at a Shabbat dinner on campus, and I was wearing a kippah. As I was coming out, some kids started shouting, "Yahud! Yahud!"—or Jew! Jew! in Arabic—and then, for good measure, added, "You started it!", which I could only assume meant Covid. I had never experienced anything like that growing up in Scottsdale, Arizona.
I would imagine that the antecedent to "it" was something related to the mess in the Middle East, not a pandemic, but who knows? Regardless, the fact that the slur was in Arabic and took place at GW leads me to guess the students were Arab nationals. Which brings up an important point: a lot of the vitriol in the BDS movement is almost certainly a function of there being a lot of Arab students on campuses for whom this is deeply personal. Regardless, the incident was almost certainly an encounter with anti-Semitism but, ironically, of a variety likely to be quite a bit more common in Israel than the United States.
I wouldn't have bothered writing about this essay at all, though, until I got to this part:
When we talk to our parents about all this, they're baffled. They lack the vocabulary to make sense of what's going on. They don't get that the language they devised in the 1960s and 1970s—the language of inclusion and tolerance and everyone being free to be yourself—is now being weaponized against their own children and grandchildren.

What they know is the old-fashioned antisemitism of the right. This can be deadly and horrific: The Tree of Life massacre in Pittsburgh, in which 11 Jews were murdered as they prayed. The attack by another white supremacist six months later, at a synagogue in Poway, California.

But for the time being, that violence is on the margins. And the vast majority of Americans abhor it and support prosecuting it. In 2022, no Jew is worried about being attacked by the Klan on a country road.

No, what Jews in 2022 fear is being visible as Jews on the streets of Brooklyn. What Jews in 2022 fear, especially if they're in their twenties, is outing themselves as a supporter of Israel and losing all their friends. What we fear is being called apartheid lovers and colonizers and white supremacists—and how those powerful smears might affect our futures.
So, again, I think "anti-Semitism" is the wrong description of what he's experiencing. But that doesn't mean he doesn't feel like an outsider on college campuses and other concentrations of American progressives, who are much more likely to be anti-Israel than American conservatives. (Indeed, mild-mannered Jimmy Carter is the first prominent American I heard apply the "apartheid" label to Likudist policies.)
If you're under 30 and living on a college campus or in the heart of a big city, I'm not sure it's any worse to be an Israel-supporting Jew than a Baptist who publicly opposes same-sex marriage or argues that sex is an immutable characteristic assigned at birth. You're either going to be vilified and shunned or forced to remain silent about your beliefs. It goes with the territory of being young and different.