At Trump's Urging, Netanyahu Bars Two Members Of Congress From Entering Israel
After urging from President Trump, Israeli Prime Minister Benjamin Netanyahu has barred two Muslim-American Congressmen from visiting Israel. It is a foolish and outrageous decision.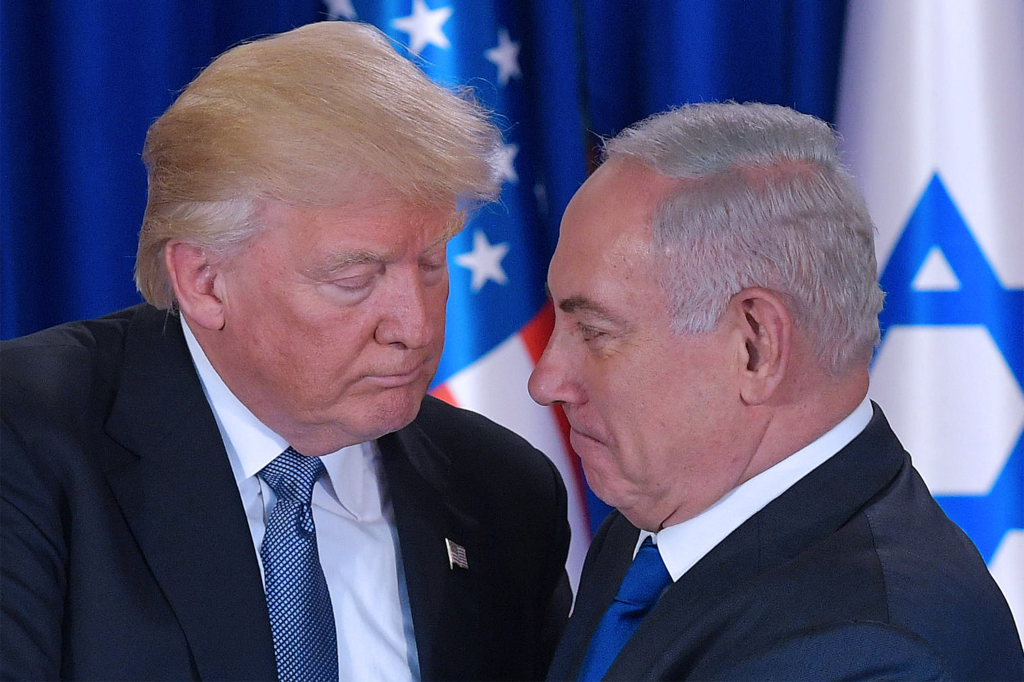 After initially allowing them to enter the country, the government of Israeli Prime Minister Benjamin Netanyahu has decided to bar two Muslim-American Members of Congress from entering the country, purportedly due to their support for the movement to boycott Israel that has become something of a worldwide movement in recent years:
JERUSALEM — Israel on Thursday barred the entry of two American Democratic congresswomen who had planned to visit the West Bank, hours after President Trump had urged the country to block them.

Mr. Trump's intervention was an extraordinary step to influence an allied nation and punish his political opponents at home.

The two congresswomen, Representatives Rashida Tlaib of Michigan and Ilhan Omar of Minnesota, both freshmen, are the first two Muslim women elected to Congress. Both are outspoken adversaries of Mr. Trump and have been vocal in their support of the Palestinians and the boycott-Israel movement.

The president has targeted them in speeches and Twitter postings that his critics have called racist and xenophobic.

It was reported last week that Mr. Trump was pressing Prime Minister Benjamin Netanyahu of Israel to deny entrance to the two women, and Thursday morning he left little doubt. While Israeli officials were still deliberating the matter, he said in a Twitter post that "it would show great weakness if Israel allowed Rep. Omar and Rep. Tlaib to visit."

Later on Thursday Israel's Interior Ministry announced that Mr. Netanyahu had decided to deny entry to the two American lawmakers, on grounds of their "boycott activities against Israel" and in accordance with the country's anti-boycott law.

Mr. Trump's decision to recommend that another country block entry to two United States citizens, let alone members of Congress, was one of the most pronounced violations of democratic norms that he has engaged in since taking office in January 2017.

It also placed him at odds with the Republican leadership in Congress and even some pro-Israel advocacy groups in the United States.

"I feel very secure in this, that anyone who comes with open ears, open eyes and an open mind will walk away with an understanding, just as all these members here do, that this bond is unbreakable," the House minority leader, Representative Kevin McCarthy of California, told reporters in Jerusalem on Sunday, while leading a delegation of 31 Republican lawmakers. "I think all should come."

Speaking at a joint news conference with Mr. McCarthy, Representative Steny Hoyer, the House majority leader who was heading a delegation to Israel of 41 Democratic representatives, agreed.

Many Israelis and Jewish leaders have also expressed discomfort with the idea that American officials could be denied entry because of their beliefs or criticism of Israel. Just last month, the Israeli ambassador to Washington, Ron Dermer, said that Israel would not deny entry to any United States representatives.

Ms. Omar had been scheduled to arrive on Sunday for a tour of the West Bank, partly under the auspices of an organization headed by a longtime Palestinian lawmaker, Hanan Ashrawi, that was expected to highlight Palestinian grievances over the Israeli occupation.

The women were planning to visit the West Bank cities of Hebron, Ramallah and Bethlehem, as well as Israeli-annexed East Jerusalem, according to Ms. Ashrawi, including a visit to the Al Aqsa Mosque, a hotly contested and volatile holy site. Most of the delegation was expected to depart on Aug. 22, but Ms. Tlaib had been planning to stay on to visit relatives in the West Bank.

No meetings had been planned with either Israeli or Palestinian officials, other than Ms. Ashrawi, who is also a member of the Palestine Liberation Organization's executive committee. She said the organization she leads, Miftah, was co-sponsoring the visit.

The purpose of the visit, Ms. Ashrawi said, was to give the congresswomen a way "to engage with the Palestinian people directly and to see things on the ground."

"What are they afraid of?" she said, referring to the Israeli government. "That they might find out things?"
While the Israeli government has not gone into detail on the reasons that the two Congresswomen are being barred, it is likely related to things they have said in the past that have made them a point of controversy and a target of attacks from President Trump and others:
[W]hile they were hailed as symbols of diversity when they arrived in Washington, they quickly became embroiled in controversy over their statements on Israel and on supporters of the Jewish state. Ms. Omar apologized after she said support for Israel was "all about the Benjamins, baby" — a reference to $100 bills.

In early March, the House voted to condemn all forms of hatredafter Ms. Omar said pro-Israel activists were "pushing for allegiance to a foreign country," a remark that critics in both parties said invoked the longstanding anti-Semitic trope of "dual loyalty."

Those remarks have been deeply problematic for Democratic leaders, who are trying to demonstrate solidarity with Israel. And they have given Mr. Trump and his fellow Republicans an opening to fan the flames of racial division, in an effort to break the longstanding alliance between American Jews and the Democratic Party.

Ms. Omar and Ms. Tlaib's public support for the boycott movement had already drawn criticism from the White House. In remarks last month that were widely condemned as racist, Mr. Trump said that four congresswomen of color — Ms. Omar and Ms. Tlaib, as well as Representatives Alexandria Ocasio-Cortez of New York and Ayanna S. Pressley of Massachusetts — should "go back" to the countries they came from.

Axios reported recently that President Trump had told advisers that he thought Mr. Netanyahu should bar Ms. Tlaib and Ms. Omar under a law that denies entry to foreign nationals who publicly show support for a boycott.
Netanyahu's decision came just hours after President Trump took to Twitter to call on Israel to ban the two members of Congress from entering the country:
Jennifer Rubin calls the move a "grave misstep" on Israel's part:
The ban is a stunning, unprecedented step, one that signals Israel, long a bastion of democracy in the Middle East, cannot tolerate criticism — even from nationals of its closest ally. For Netanyahu it sends the message that he is Trump's puppet, willing to damage the long-term relationship with the United States to assuage the ego of a president who is in a political tailspin.

"This reversal is counterproductive to say the least and gives a victory to the BDS Movement. All Members of Congress would benefit from visiting Israel and seeing the diversity of the people and richness of the culture," says Aaron Keyak, former head of the National Jewish Democratic Council. "This action also sets a dangerous precedent for the many other countries — many led by dictators and ruthless thugs — that US elected officials visit.'" He adds that this is "a painful moment for those of us who care about a strong U.S.-Israel relationship and fight for the cause of peace."

He was not alone, according to multiple sources. Heads of major Jewish organizations had been on the phone with the U.S. ambassador to Israel imploring Israel not to take this step. According to the leader of one such group, the leader's group had been urging the Israeli government to stick by the original decision to let the congresswomen in, while being under no illusion about the congresswomen's views. The potential political and reputational costs of not letting them in might be even higher than of letting them in, the leader acknowledged.
And Daniel Larison calls out President Trump's decision to side with a foreign government over two Members of Congress:
Trump's behavior is predictably outrageous and destructive, and he is telling scurrilous lies about both Tlaib and Omar. The only disgrace is the liar in the White House. At this point, we don't expect anything else, but this time it is particularly dangerous. Trump is engaging in incitement against Tlaib and Omar again by spreading more lies about them. He is also urging a foreign government to block elected U.S. representatives from visiting that country because of their political views and because they are his political opponents. The president is abusing his power, he is putting these Congresswomen in danger again, and he is siding with a foreign government against fellow Americans.

Other governments will be able to cite this the next time they want to block critical members of Congress from coming to their countries. That will hinder Congress in its ability to do proper oversight of U.S. relations with many states and it will prevent them from being able to learn for themselves about the effects of U.S. policies made in Washington. This will make for a worse, even less-informed Congressional role in matters of foreign policy than we already have, and in the short term it will encourage other governments to penalize the president's domestic opponents as a way of currying favor with him.
The New York Times Editorial Board, meanwhile, wonders what the two leaders are afraid of:
Sad, to borrow one of Mr. Trump's favorite words. How sad that two leaders — each desperate to look tough to their own bases — are risking a bipartisan relationship built between these two nations over generations. Only weak leaders would risk so much for a reward so negligible. To what end? To win a few political points against two of the newest members of Congress? To capture a few news cycles? To dial up the outrage machine just one more notch? Confident leaders would never have risked so much for so little.

Though many American presidents have sought to influence Israeli decisions throughout the history of the Arab-Israeli conflict, they usually did so diplomatically — and to advance America's interests. Mr. Trump, by contrast, leaned on Mr. Netanyahu as he would on one of his own appointees, in broad view, and in direct violation of what the president of the United States should be doing when democratically elected lawmakers are threatened with a blockade by an allied leader.

There can be, and has been, considerable debate over what the two congresswomen, the first two Muslim women elected to Congress and both sharp critics of the Israeli government, have said and done. They have supported the controversial Boycott, Divestment and Sanctions (B.D.S.) movement aimed at pressuring Israel into ending its occupation of the West Bank, a movement which some Jews have deemed to be anti-Semitic.

(…)

[C]ontrary to Mr. Trump's tweet, it is blocking entry by two American legislators who are critics of Israel that shows great weakness, especially after Israel hosted visits by delegations of 31 Republican and 41 Democratic lawmakers this month. It has long been Israel's mantra that critics of its policies should come see for themselves, and the country is certainly strong enough to handle any criticism from two members of Congress. Mr. Trump has done Israel no favor.
From the Israeli side of the equation, a decision like this makes the government look as if it is incapable of absorbing and accepting criticism from its closest ally and that its leadership is willing to pander to the most extreme elements of politics in both countries for political advantage. The fact that the Netanyahu government had initially agreed to allow the Congresswomen to visit the country and then changed its positions when President Trump inserted himself into the matter suggests that it is willing to do the bidding of the Administration in order to curry favor with the President.
Additionally, the decision to bar two of the three Muslim Members of Congress from entering the country is, as Larison notes in a subsequent post, a terrible look for the Israeli government. For one thing, it appears from afar to put the lie to the Israeli government's claim that their nation is a free and open society in which opposing points of view are welcome. If that were the case, then allowing Congresswomen Omar and Tlaib to visit the country regardless of the fact that they are critics of the government would be seen as an opportunity for Israel to showcase the fact that, unlike many of its neighbors, it is open to those with opposing points of view. Instead, this kind of move undercuts that argument and appears likely to only energize the BDS movement that appears to be the main justification for today's decision. It also appears to show that rather than being an open society, Israel is afraid of opposing points of view to the point that it would ban people who hold them from even entering the country. This isn't a show of Israeli strength, it is a sign of weakness and a sign that the argument it has made in the past in response to critics — that they should come and see the success of democracy in Israel for themselves — is a lie.
As for Trump, this move is hardly surprising. Omar and Tlaib and members of "the squad" that Trump has attacked in the past and whom he has told to go back to their own country notwithstanding the fact that they are all American citizens and that three out of four of them were born in the United States. It also continues to spread the false and largely debunked argument that has become popular among Republicans that the two women are anti-semitic due to the fact that they have attacked actions and policies of the Israeli government in the past. And, of course, it puts the lie to Trump's claim that he puts America first. If that were the case then he would be criticizing Israel for barring American citizens because of their political views rather than being the head cheerleader for a decision that is, in the end, outrageous and entirely unjustifiable.
Finally, as David Frum notes on Twitter, this is yet another example of President Trump's abuse of Presidential power and his violation of accepted political norms:
This isn't the first time that President has done something like this, of course. Early in the year during the government shutdown, Trump used his authority to block a Congressional delegation led by Speaker Nancy Pelosi from using government planes to visit American troops in Afghanistan. In that case, Trump's move was just a childish response to Pelosi's decision to cancel the State Of The Union Address until after the government shutdown was resolved. This time, we have an American President siding with a foreign government over American citizens and members of a co-equal branch of the Federal Government. I'd say that I am shocked, but I'm really not.
This is a dumb and unjustifiable decision on the part of Netanyahu and an outrageous decision on the part of the President. For both men, though, it will likely be cheered on by the most radical of their supporters. In the end, this is an entirely predictable decision by both men, and it tells us all we need to know about both of them.
Update: In a partial reversal, Israel has granted Congresswoman Tlaib permission to visit the West Bank on humanitarian grounds due to the fact that her grandmother is in poor health. it is unclear if she will be permitted to conduct any of her other planned meetings.