Trump Doubles Down on Stupid
The President is defending his racist tweets against four Democratic Congresswomen, calling them Communists who hate America.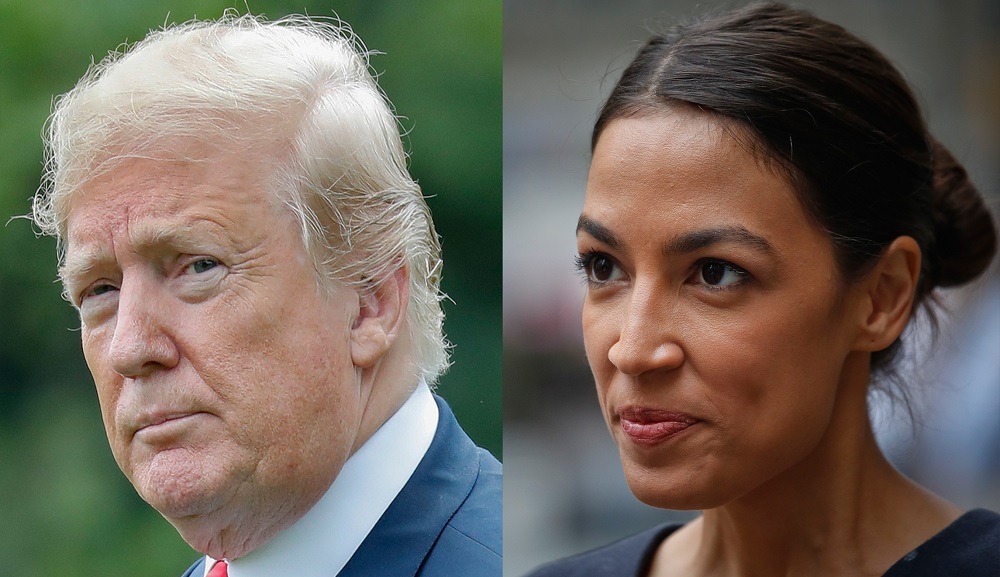 Yesterday's idiotic, racist tweets were apparently just the beginning of a new strategy.
President Trump on Monday stepped up his attacks on four progressive, minority Democratic lawmakers, which were widely condemned by Democrats as racist and unbecoming of an American president.

One day after Trump said the women should "go back" to their home countries, even though all are U.S. citizens, the president denied he was being racist and expressed no remorse when told that white nationalist groups found common cause with his message.

"It doesn't concern me because many people agree with me," Trump told reporters on the South Lawn of the White House during an event designed to highlight American manufacturing.

Trump said the members of Congress "hate our country," harbor hatred of Jews and love for terrorist groups and are "free to leave" the U.S. if they choose.

"They can leave. And you know what? I'm sure there will be many people that won't miss them. But they have to love our country. They're congresspeople," he said.

The president's attacks were aimed at Reps. Alexandria Ocasio-Cortez (D-N.Y.), Rashida Tlaib (D-Mich.), Ayanna Pressley (D-Mass.) and Ilhan Omar (D-Minn.). The first three were all born in the U.S. and the latter is a naturalized citizen who was a refugee from Somalia.

"I'm saying that they're socialists definitely. As to whether or not they're communists, I would think they might be," the president continued, adding in an apparent shot at his critics that "politicians can't be afraid to take them on."

Trump's sustained barrage appeared to be aimed at firing up his mostly white political base ahead of the 2020 presidential election. But it also galvanized infighting-plagued Democrats in the House and exposed rifts within the Republican Party over Trump's rhetoric.

Trump spoke shortly after Speaker Nancy Pelosi (D-Calif.) rallied support for a forthcoming resolution that would condemn the president's statements as xenophobic. The move came after the president doubled down on his criticism of the lawmakers in a string of Monday morning tweets, in which he called on them to apologize for their "foul language & racist hatred."

The president responded by accusing Pelosi of making "a very racist statement" when she said he wanted to "make America white again."

"If they want to gear their wagons around these four people, I think they're going to have a very tough election because I don't think the people of the United States are going to stand for it," Trump said of the Democrats.

After remaining silent over the weekend after Trump leveled his initial attacks, a growing number of GOP lawmakers who mostly represent swing states and congressional districts criticized the comments.

"I am confident that every Member of Congress is a committed American. @realDonaldTrump's tweets from this weekend were racist and he should apologize. We must work as a country to rise above hate, not enable it," tweeted Rep. Michael Turner, a Republican who represents a safe Ohio district, according to the nonpartisan Cook Political Report.
We'll see whether Turner is an aberration or whether other decent Republicans follow suit. Sadly, I'd bet heavily on the former.