Trump Responds To Pelosi By Canceling Military Air Support For Congressional Trips
President Trump responded to the suggestion that the State of the Union be rescheduled by revoking military transportation for a Congressional trip to visit troops in Afghanistan.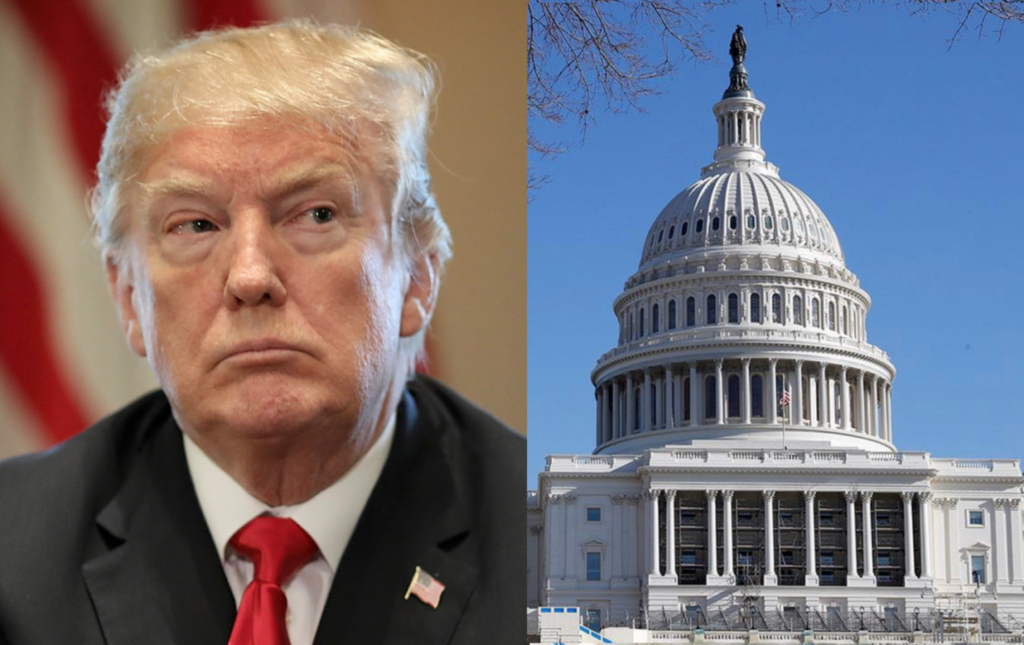 One day after Speaker of the House Nancy Pelosi suggested postponing the State of the Union in light of the government shutdown, citing what is largely a pretext of concerns about security as the reason, President Trump has responded by canceling military air support for Congressional Delegation trips scheduled to leave town today, including one that Speaker Pelosi was scheduled to be on:
WASHINGTON — President Trump retaliated on Thursday against Speaker Nancy Pelosi for threatening to cancel his planned State of the Union address, writing in a letter that he, in turn, was postponing her planned trip abroad, calling it a "public relations event."

"I am sorry to inform you that your trip to Brussels, Egypt and Afghanistan has been postponed," Mr. Trump wrote. "We will reschedule this seven day excursion when the shutdown is over."

Military transport is traditionally provided to the House speaker or congressional delegations for foreign trips. Ms. Pelosi was scheduled to depart Thursday afternoon, joined by Representative Adam Schiff, chairman of the intelligence committee and Representative Eliot Engel, chairman of the foreign affairs committee, and other members of Congress.

The trips are traditionally kept secret when lawmakers are heading to wars zones. But the White House has known about it since early last week, when it was brought to its attention by the Defense Department, according to White House officials.

Some members of the congressional delegation were seen at the Capitol getting off an Air Force bus, which was going to take them to Joint Base Andrews to depart on their trip.

"We're going off to Afghanistan," said Representative Stephen Lynch of Massachusetts, one of the delegation's members after getting off the bus. "We should be allowed to do our oversight."

In his letter, tinged with sarcasm, the president wrote that Ms. Pelosi could still take the trip if she chose to fly commercial.

He wrote: "It would be better if you were in Washington, negotiating with me and joining the Strong Border Security movement to end the shutdown."

The letter was the first response from the White House, which had stayed uncharacteristically silent after being caught off guard Wednesday by Ms. Pelosi's threat to reschedule the Jan. 29 State of the Union address in light of the partial government shutdown.
Here's the letter:
President @realDonaldTrump's letter to @SpeakerPelosi concerning her upcoming travel pic.twitter.com/TtBCvwp080

— Sarah Sanders (@PressSec) January 17, 2019
The Congressional Delegation (CODEL) trip was scheduled to depart for Joint Base Andrews at 3:00 p.m. today Washington time, and the letter was apparently sent shortly after 2:00 p.m. when Pelosi and other Members of Congress were either already sitting on an Air Force bus waiting to leave Capitol Hill or on their way there for a flight that was scheduled to depart at 3:30 p.m. today. Additionally, while Trump's letter only refers to the CODEL that Speaker Pelosi was scheduled to be on, the White House has apparently confirmed that the decision to cancel military air support for all CODELs that were scheduled during the time the shutdown is going on. The Pelosi-led CODEL was scheduled to stop in Brussels both to refuel and to allow Pelosi and other Members of Congress to meet with NATO representatives. From there, it would have apparently gone on for another refueling stop in Egypt, with the ultimate destination being Afghanistan. Until now, the CODEL had been as secretive as a Presidential trip to a war zone would be, but Trump ruined that when he made the destination of the trip public. It's also worth noting that his suggestion that Pelosi fly commercial is absurd both due to the obvious security concerns of the person who is second in line to the Presidency traveling to a war zone and the fact that there aren't exactly a lot of commercial flight to Kabul. Meanwhile, while the President is canceling military air support for CODELs, he is not doing so for the delegation of Cabinet officials led by Treasury Secretary Steve Mnuchin that will be traveling to Switzerland for the financial and business conference in Davos.
Clearly, this is as much of a political move on Trump's part as Pelosi's suggestion regarding the State of the Union was, although in both cases the action was most certainly within their power given the positions that they hold. While both letters from each side refer to negotiations regarding reopening the government, the fact of the matter is that there are no negotiations going on and, thanks to the President, no sign that any such negotiations are planned or that they are even going, and no sign that any such talks would even be productive. What happened here is pretty obvious, President Trump, who uncharacteristically had not responded to Pelosi's letter either via his Press Office or on Twitter likely spent the better part of the day yesterday grousing about the fact that Pelosi had pulled the rug out from under him with regard to the State of the Union. In his mind, he needed to show his base that he isn't weak and that he can stand up a woman like Pelosi, who he has generally treated with kid gloves compared to other Democrats. So basically, the President is deprived of the pageantry and free air time granted by the State of the Union and Pelosi gets denied a military airplane for a trip that was ultimately about visiting American troops in Afghanistan. Seems to me that Pelosi hasn't lost much of anything and that Trump comes across looking like a petty jerk. Really, though, the whole thing is just dumb and will not lead to anyone getting any closer to solving the shutdown.
Senator Lindsey Graham criticizes both sides:
Sen. Lindsey Graham (R-S.C.) wants the president and speaker to play nice.

The feud between President Donald Trump and House Speaker Nancy Pelosi over the partial government shutdown reached new levels this week when Pelosi essentially uninvited the president from delivering the State of the Union in the House Chamber. Trump, in turn, barred Pelosi from boarding a government plane for a trip to Afghanistan just under an hour before she was scheduled to leave.

"Obviously, if you would like to make your journey by flying commercial, that would certainly be your prerogative," Trump wrote.

Each side cited the government shutdown in foiling the other's plans. Pelosi argued it would not be possible to secure the Capitol when so many federal workers are going unpaid. Trump said it would be "inappropriate" for Pelosi to travel with no deal to end the shutdown in sight.

But Graham said both sides were just being petty.

"One sophomoric response does not deserve another," Graham wrote Thursday on Twitter. "Speaker Pelosi's threat to cancel the State of the Union is very irresponsible and blatantly political. … President Trump denying Speaker Pelosi military travel to visit our troops in Afghanistan, our allies in Egypt and NATO is also inappropriate."
The whole thing is just sophomoric, really, but then perhaps that is an insult. To Sophomores.
Update: The President has also canceled the visit of several Administration and Cabinet officials to Davos.