White House Denies Netanyahu Request For Meeting Amid Signs of Increased U.S.-Israeli Tension
In another sign that things may not be going so well between Washington and Jerusalem, President Obama will not be meeting with Prime Minister Netanyahu when he's in the United States.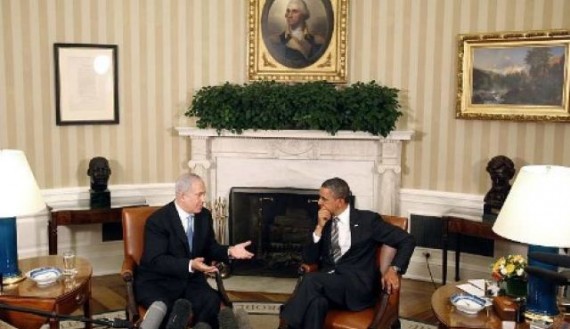 President Obama and Israeli Prime Minister Benjamin Netanyahu will both be in New York later this month for the annual United Nations General Assembly Meeting, although they won't be in the city at the same time. Nonetheless, the Obama White House has apparently denied a request from Netanyahu's office for a meeting during the time the Israeli leader is in the country:
(Reuters) – The White House has rejected a request by Prime Minister Benjamin Netanyahu to meet President Barak Obama in the United States this month, an Israeli official said on Tuesday, after a row erupted between the allies over Iran's nuclear programme.

An Israeli official told Reuters on condition of anonymity that Netanyahu's aides had asked for a meeting when he visits the United Nations this month and "the White House has got back to us and said it appears a meeting is not possible. It said that the president's schedule will not permit that."

Netanyahu has met Obama on all but one of his U.S. trips since 2009. The president was on a foreign visit when the prime minister came to the United States in November 2010.

He argues that setting a clear boundary for Iran's uranium enrichment activities and imposing stronger economic sanctions could deter Tehran from developing nuclear weapons and mitigate the need for military action.
This news comes at a time of what seems to be increased public tension between the Obama White House and Netanyahu, including what was reportedly a very tense meeting between Netanyahu, the U.S. Ambassador to Israel, and several Congressmen along with several public comments by the Israeli Prime Minister expressing what seems to be his frustration at American unwillingness to act more forcefully against Iran with regard to its nuclear program. For it's part, the White House is denying that there is any snub of Netanyahu going on, blaming the inability to meet on the fact that the two men's schedules are simply not compatible during the time the Prime Minister will be in the U.S.:
"The President arrives in New York for the UN on Monday, September 24th and departs on Tuesday, September 25th. The Prime Minister doesn't arrive in New York until later in the week. They're simply not in the city at the same time. But the President and PM are in frequent contact and the PM will meet with other senior officials, including Secretary Clinton, during his visit," National Security Council spokesman Tommy Vietor said in a written statement.
In all honestly, I'm not buying it. Yes the President of the United States is a busy man but his schedule is always subject to change and if there was really a belief that a meeting with the Prime Minister of Israel was necessary, then room could be made in the schedule somewhere. So it seems to me like there's something going on here. The reports of the meeting with the Ambassador in Jerusalem would seem to indicated that Netanyahu is pressing Washington to put more definite pressure on Iran immediately and, indeed, today he made comments that seem to pretty much confirm that: 
Earlier on Tuesday, Netanyahu launched an unprecedented verbal attack on the U.S. government over its stance on the Iranian nuclear program.

"The world tells Israel 'wait, there's still time'. And I say, 'Wait for what? Wait until when?' Those in the international community who refuse to put red lines before Iran don't have a moral right to place a red light before Israel," Netanyahu told reporters on Tuesday.

"Now if Iran knows that there is no red line. If Iran knows that there is no deadline, what will it do? Exactly what it's doing. It's continuing, without any interference, towards obtaining nuclear weapons capability and from there, nuclear bombs," he said.

U.S. Department of State spokeswoman Victoria Nuland stressed again on Tuesday that the U.S.  administration doesn't see public discussion of Iranian nuclear program and red lines as useful. "We don't think it's particularly useful to have those conversations in public. It doesn't help the process and it doesn't help the integrity of the diplomacy. To be standing here at the podium parsing the details of the Iranian nuclear program is not helpful to getting where we want to go," she said, briefing the media.
The other point, of course, is that setting down a red line in public essentially means that the President would lock the United States into taking military action at the point it appeared those red lines had been crossed. In that regard, it strikes me as generally unwise to do something like that unless you've already made the decision to go to war. For example, with President George H.W. Bush gave Saddam Hussein a deadline by which his forces must be out of Kuwait in advance of Operation Desert Storm, he did so largely knowing that Saddam would not comply and that war would come once the deadline passed, which is exactly what happened. For many reasons, including the one's I discussed yesterday, it would be unwise for the United States to lock itself into such a course of action vis a vis Iran at this point in time.
There's always the possibility, of course, that something I speculated about months ago could actually be true. It could be possible that all of this U.S.-Israeli "tension" is a PR show for the benefit of the Iranians, although if that was the case I'm not entirely sure what the end game would be other than, perhaps, a scenario where we basically tell the Iranians that they need to start complying with demands regarding their nuclear program, otherwise we aren't going to be able to hold the Israelis back any longer. If that's not the case, if this is all for real, then it certainly does seem that the relationship between the United States and Israel is worse than it has been for quite some time.
Allahpundit, meanwhile, wonders about the domestic politics of all of this:
It strikes me as very uncharacteristic of Obama, whose top priority is always his own reelection, to deny Bibi a courtesy visit with an election just six weeks away, unless maybe O's suddenly convinced that Israel really is going to attack in October. In that case, Obama's calculus might shift: His top priority would be to prevent the U.S. from getting dragged into a war with Iran, which might involve attacks on U.S. bases in the region, skyrocketing oil prices, and lord knows what else. The political consequences of something that volatile would be hard to predict, so here he is signaling to the world that if Israel makes a move, they're making it on their own. I'm … not too sure that's going to convince the Iranians, but it might get enough attention among Israelis to turn up the domestic pressure on Netanyahu not to attack alone. They're O's real target audience here, I think. Surely he's doing himself no favors electorally at home with a snub this prominent so late in the game.
I've got no doubt that Mitt Romney and other Republicans will pick up on this story as another sign of what they claim to be, rather falsely, Obama's disregard for an ally, and such rhetoric will play very will with the Evangelical base of the GOP for whom obsessive support of whatever it is the Likud Party and its allies on the right side of Israeli politics want to do. I'm not so sure, though, that it's going to have any real impact on the race itself. Despite Republican dreams, there's little chance that the Jewish vote is going to be any less reliably Democratic than it has been for decades. Moreover, I've never seen any indication that this type of argument is likely to have much of an impact on independent and swing state voters who have indicated repeatedly that their top concerns in this election all revolve around the economy. Are any of those people really going to base their vote on the fact that the President didn't meet with the Prime Minister of Israel? I don't see it happening.
I don't know what's going on behind the scenes here, so I'm not going to say which side is right or wrong here. For one thing, it's possible that neither of them are right, or that neither of them are wrong . Based on my observation, though, it does seem that Netanyahu has been beating the drums for war quite loudly in recent weeks. Whether this is a bluster or a reflection of the fact that Israel is close to a decision that could result in a unilateral attack on Iran's nuclear facilities is something only he knows himself. Based on this news, though, I think its pretty clear we can expect more strident rhetoric from the Israelis. Whether it amounts to anything is something we'll just have to wait and see.