Trump Doubles Down: Jewish American Democrats Disloyal To Israel
President Trump doubled down on his tirade against Jewish American Democrats from yesterday with some even more offensive comments.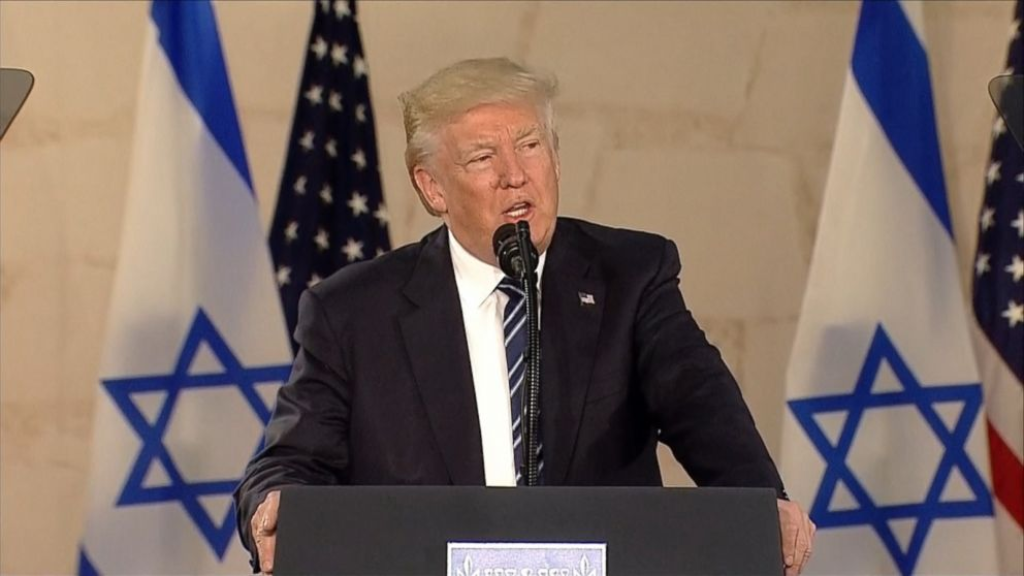 President Trump doubled down on his comments about Jewish Americans who vote for Democrats from yesterday, saying that they are being disloyal to Israel and to their fellow Jews:
WASHINGTON — President Trump on Wednesday thanked a conspiracy theorist for saying Jews in Israel love the president "like he's the King of Israel" and doubled down on his efforts to pit American Jews against one another, accusing Jewish voters of disloyalty if they voted for Democrats.

It was the second day in a row that Mr. Trump addressed Jews and loyalty, a theme evoking an anti-Semitic trope that Jews have a "dual loyalty" and are often more loyal to Israel than to their own countries.

"If you want to vote Democrat, you are being very disloyal to Jewish people and very disloyal to Israel," Mr. Trump said Wednesday at the White House.

Speaking to reporters as he left the White House on his way to Louisville, Ky., to address a veterans group, Mr. Trump said his remarks were not anti-Semitic.

Earlier on Wednesday, Mr. Trump thanked the conservative radio host Wayne Allyn Root for lavishing praise on Mr. Trump for his successful diplomacy with Israel. Mr. Root is a one-time vice-presidential nominee for the Libertarian Party who now hosts a radio show on Newsmax TV and often promotes conspiracy theories.

Broadcasting Mr. Root's words to the president's more than 63 million Twitter followers and repeating his provocative message to American Jews, Mr. Trump drew immediate accusations that he was fanning anti-Semitic views.

"It is the height of hypocrisy to use Christian theology to bully Jews and to push out some messianic complex — literally, it's hard to think of something less kosher than telling the Jewish people you're the king of Israel, and therefore, we should have some fidelity to you for that reason," Jonathan Greenblatt, the head of the Anti-Defamation League, said Wednesday on CNN. "I don't know if he's read the Bible, but in the Old Testament, that's not what we believe."

(…)

Some of the president's Jewish supporters defended Mr. Trump for the second day in a row.

The Republican Jewish Coalition said the organization takes Mr. Trump "seriously, not literally."

In a Twitter post on Wednesday after Mr. Trump repeated his "loyalty" charge, the Republican Jewish Coalition wrote, "President Trump is pointing out the obvious: for those who care about Israel, the position of many elected Democrats has become anti-Israel."

Representative Lee Zeldin of New York, a Republican who is Jewish, praised Mr. Trump for his support of the Jewish community and Israel.

Mr. Zeldin said the president was right to push back on the "Omar/Tlaib wing of the Dem party."

"He's a fighter & wont back down. On these policy priorities, he's correct," Mr. Zeldin wrote in a tweet.
Here are President Trump's Tweets:
…..all Jews, Blacks, Gays, everyone. And importantly, he's good for everyone in America who wants a job." Wow! @newsmax @foxandfriends @OANN

— Donald J. Trump (@realDonaldTrump) August 21, 2019
Here's video of the President's remarks:
Wayne Allyn Root, who Trump quotes in this tweet is a conservative talk radio host based in Las Vegas who has been a strong supporter of the President since he entered the race in 2015. Back in 2008, Root purported to leave the Republican Party and was named the Vice-Presidential running mate of the Libertarian Party on a ticket that included former Georgia Congressman Bob Barr. After losing that race and subsequently losing a bid to gain a seat on the Libertarian National Committee, Root returned to the GOP where he once again began espousing his far-right views, including joining with then civilian Donald Trump in spreading the racist myth that President Obama was not born in the United States. He is a frequent guest on Fox News Channel and Fox Business Channel and, apparently, is now Trump's latest ideological muse. (For those interested I wrote about Root during his supposedly libertarian days at The Liberty Papers, you can read those posts here, here, here, here and here.)
Not surprisingly, Trump's latest comments, as well as those he made yesterday, have aroused significant blowback from Jewish American Democrats:
Jewish Democratic lawmakers are livid over President Donald Trump's remarks this week accusing Jewish Americans of "great disloyalty" if they vote for Democrats, saying the president is stoking anti-Semitism.

The lawmakers' outrage comes as Trump reiterated on Wednesday his disloyalty comment while broadening it out to all voters, telling reporters: "If you want to vote Democrat, you are being very disloyal to Jewish people and Israel." He also continued his attacks on Democratic Reps. Ilhan Omar of Minnesota and Rashida Tlaib of Michigan, whom he accused of hating Israel over their support for the boycott, divestment and sanctions movement against Israel.

"When he uses a trope that's been used against the Jewish people for centuries with dire consequences, he is encouraging — wittingly or unwittingly — anti-Semites throughout the country and world," Senate Minority Leader Chuck Schumer (D-N.Y.) tweeted on Wednesday. "Enough."

Rep. Ted Deutch (D-Fla.) also called on Trump to stop using "this kind of rhetoric."He said on CNN Tuesday night that the president was "creating an environment in which anti-Semitism can flourish" and urged Democrats and Republicans alike to condemn the president's remark.

Democratic presidential candidate Bernie Sanders (I-Vt.), campaigning in Iowa, also weighed in, saying, "I am a proud Jewish person. And I have no concerns about voting Democratic. And, in fact, I intend to vote for a Jewish man to become the next president of the United States."

(…)

Rep. Susan Wild (D-Pa.) also criticized Trump's remarks Tuesday on MSNBC and emphasized that Jewish voters do not form a monolith.

"Our president has no business trying to divide people based on their religion or politicizing people's religion," she said. "Being Jewish is also very much a cultural issue — it's not just about religion — and the president seems to fail to understand that."

Sen. Ron Wyden (D-Ore.) also denounced Trump's remark, emphasizing the foreign policy implications of "politicizing our policy toward Israel and harming support for America's strongest ally in the Middle East."

"Donald Trump is using the oldest anti-Semitic slur in the book to slander the three-quarters of American Jews who voted for Democrats in the last election," he said.
Much like the case of the President's remarks yesterday, there really isn't much to be added here except to note that he has, at least, answered the question of what kind of disloyalty the President was referring to when he made his initial comments. Essentially the President has taken one of the classic anti-semitic tropes, one that accuses Jews of having loyalty to Israel that outweighs their loyalty to their country of birth. He's also saying that these Jewish Americans, which comprise nearly three-quarters of all the Jewish Americans in the country according to exit polling, are disloyal to their fellow Jews. In addition to being plainly anti-semitic, this is the kind of thing one expects to hear from the "very fine people" that Trump defended after the Charlottesville riot, not the President of the United States. Sadly, we are living in a different era, Not only do we have a President who feels free to say whatever he feels like, he does so without any filter or any regard for whom he might hurt or what impact his words may have.
In the early days of the Trump Administration, it was common for some people to brush aside what he was saying by saying we knew what we were getting into when he was elected. To some extent this is true. After all, this is the man who first dipped his toes in the political waters by embracing the racist birther conspiracy. When he became a candidate for the Republican Presidential nomination in 2016, he did so by attacking Mexicans, Muslims, disabled people, a Federal District Court Judge who happened to be Mexican-American and a Gold Star Family who happened to be Muslim. In response to N.F.L. players who were peacefully kneeling to protest racially biased police violence, he responded by calling the largely African-American players "sons of bitches."
In recent weeks, though, he has gotten worse, and more personal in his attacks. We can see this in his racist attacks on four minority Congresswomen, on House Oversight Committee Chairman Elijah Cummings. and on CNN anchor Don Lemon, who is African-American and who Trump once against described earlier today as "one of the dumbest men on television," something he has said about the CNN host in the past. Going beyond race, we have his comments from yesterday and today. This seems like more than the same-old Donald Trump. It seems like a man who is willing to pick at the scabs of racist wounds that have never really healed. By all indications, it's only going to get worse.