Mitch McConnell Pulls The Rug Out From Under The House GOP On Payroll Tax Cut
Senate Minority Leader Mitch McConnell has set the House GOP adrift.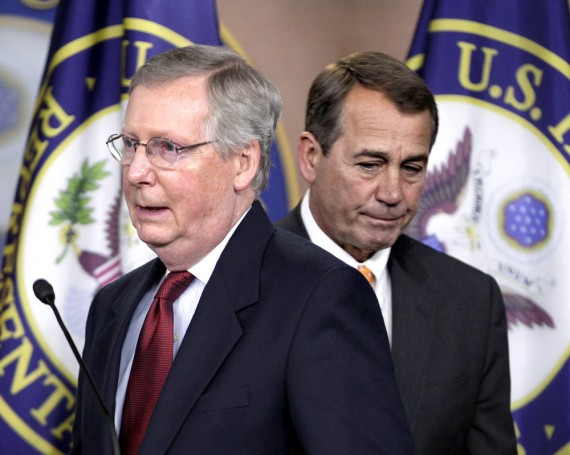 Senate Minority Leader Mitch McConnell came out with a proposal today that appears to take both sides in the ongoing Payroll Tax Cut debate, but which pretty much undermines the House Republican position on the Payroll Tax Cut extension:
WASHINGTON—Senate Republican Leader Mitch McConnell says the House and Senate should meet in Washington to extend the payroll tax set to expire Dec. 31.

With the clock ticking, McConnell says the House should pass a short-term extension that gives 160 million Americans certainty that their taxes will not rise Jan. 1. The Kentucky Republican also called on Senate Majority Leader Harry Reid to convene negotiators on the longer-term extension that House Republicans are demanding.
Here's the press release from McConnell's office:
U.S. Senate Republican Leader Mitch McConnell issued the following statement Thursday regarding a path forward on Keystone XL Pipeline jobs, extending unemployment insurance, the temporary payroll tax holiday and seniors' access to medical care: "The House and Senate have both passed bipartisan bills to require the President to quickly make a decision on whether to support thousands of U.S. manufacturing jobs through the Keystone XL pipeline, and to extend unemployment insurance, the temporary payroll tax cut and seniors' access to medical care. There is no reason why Congress and the President cannot accomplish all of these things before the end of the year. House Republicans sensibly want greater certainty about the duration of these provisions, while Senate Democrats want more time to negotiate the terms. These goals are not mutually exclusive. We can and should do both. Working Americans have suffered enough from the President's failed economic policies and shouldn't face the uncertainty of a New Year's Day tax hike. Leader Reid should appoint conferees on the long-term bill and the House should pass an extension that locks in the thousands of Keystone XL pipeline jobs, prevents any disruption in the payroll tax holiday or other expiring provisions, and allows Congress to work on a solution for the longer extensions." ###
Leaving aside the necessarily partisan tone of the release, there really isn't any substantive difference between what McConnell says here and the position that Harry Reid and Senate Democrats have taken on this issue. Reid, after all, has said that he will not appoint conferees until the House acts on the two-month extension, and that is exactly what McConnell is calling on the House to do. Regardless of how you parse it, Mitch McConnell has just hunt John Boehner and the House GOP out to dry.
None of this is surprising, especially when you consider that McConnell and other Senate Republicans are reportedly now worried that this disaster could cause them to miss out on a chance to grab the Senate next year:
Senate Republicans are worried the standoff over extending the payroll tax holiday could hurt their chances of winning the upper chamber next year.

Senior Republican aides have made clear in private conversations that their bosses are not happy with how House Republicans have handled a bipartisan Senate compromise to extend tax relief for two months.

It's not helping," a veteran Senate Republican strategist said of the House GOP fight against the Senate package. "Senate Republicans are tired of paying the price for the lack of legislative thoughtfulness in the House."

The political operative said incumbents such as Sens. Scott Brown (R-Mass.) and Dean Heller (R-Nev.) could pay the price.

These Republican senators have spoken out against House GOP colleagues. Others lawmakers on the ballot next year have urged House members to pass the payroll tax package to avert tax hikes in January.
These are well-founded concerns, of course, and it explains why you've seen several Republican Senators speak out against the House GOP's actions, and, I would submit, why McConnell is taking this position now. There is no way for Republicans to win this battle politically and McConnell wants to cut the losses before it gets worse. I think Boehner probably feels the same way, his problem is that he doesn't have nearly the same control over his caucus that McConnell does, which is likely the main reason for this entire debacle. A rational politician like Boehner would have taken the two-month extension (with the Keystone XL proviso) without even thinking, so would most of the long-serving Congressmen that Boehner counts as allies no doubt. The Tea Party Caucus, seemingly egged on by House Majority Leader Eric Cantor, who seems to have spent the last year working to undermine Boehner's authority and power, are either so obsessed with hurting the President, or so ignorant of the damage they are causing themselves, that they are willing to act like kamikazes just as they did during the debt ceiling negotiations. It's not a recipe for stable majority.
I noted yesterday that McConnell has pretty much been silent on this issue since the Senate passed its compromise extension. Now, he's chosen to speak, and he has done so in a manner that pushes the House GOP further out on the gangplank. At this point, they'd do well to listen to him, pass the Senate bill on a voice vote, and get out of town for the Holidays before they end up damaging themselves further. In fact, with McConnell taking this position I don't see how the House Republicans can maintain their position with any credibility. They are alone, adrift. They either blink, or they look like idiots.