Mitt Romney Is Right: Corporations Are [Made Up Of] People
Although he didn't get the words quite right yesterday, Mitt Romney was exactly right about corporations.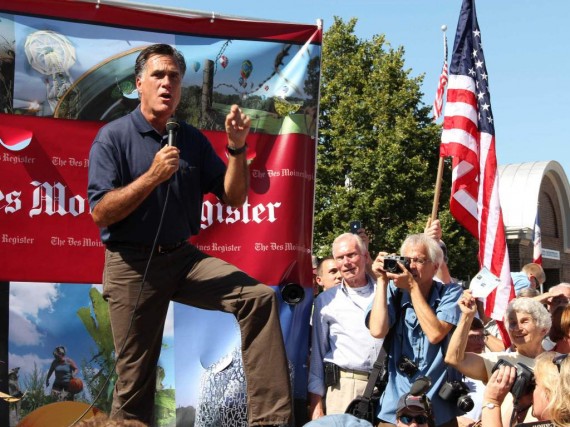 Mitt Romney caused somewhat of a kerfuffle yesterday when, in response to a heckler at the Iowa State Fair, he made the comment that "Corporations are people too." As James Joyner noted yesterday, Romney's argument is essentially correct in the sense that Romney was making the comment; namely that raising taxes on corporations ultimately means you're raising taxes on people. Nonetheless, Romney's response was slightly inartful, most likely due to the fact that it was made off-the-cuff, and The Cato Institute's Ilya Shaprio argues that he should have put it just a little bit differently:
Obviously, Romney is not saying that corporations are living, breathing beings with rights to abortion (or not, or depending on the stage of development of the fetal/baby corporations) and marriage, who are subject to Obamacare's individual mandate (or even Romneycare's for Massachusetts corporations), can be put to death if they murder someone, and so forth.  He means that corporate money always comes from, flows through, and ends up in human hands.  It cannot be otherwise: we are the only beings/entities/"things" on the planet that deal in money.  Not even the honey badger does that.

I probably would've phrased it differently — Democrats and left-wing activists are already having a field day (for example, mixing Romney's speech with Barbra Streisand's singing "People") — but there's really nothing wrong with Romney's point.  Indeed, it's the tax-policy corollary to the legal point I've been making ever since Citizens United came down: corporations don't have constitutional rights because they're corporations, but because they're made up of individuals, who don't lose their rights when they associate (in corporate form or otherwise).
In a previous blog post, that dealt with the aforementioned Citizens United case, Shaprio made this point:
Corporate participation in public discourse has long been a controversial issue, one that was reignited by the Supreme Court's decision in Citizens United v. FEC, 130 S. Ct. 876 (2010). Much of the criticism of Citizens United stems from the claim that the Constitution does not protect corporations because they are not "real" people. While it's true that corporations aren't human beings, that truism is constitutionally irrelevant because corporations are formed by individuals as a means of exercising their constitutionally protected rights. When individuals pool their resources and speak under the legal fiction of a corporation, they do not lose their rights. It cannot be any other way; in a world where corporations are not entitled to constitutional protections, the police would be free to storm office buildings and seize computers or documents. The mayor of New York City could exercise eminent domain over Rockefeller Center by fiat and without compensation if he decides he'd like to move his office there. Moreover, the government would be able to censor all corporate speech, including that of so-called media corporations. In short, rights-bearing individuals do not forfeit those rights when they associate in groups. This essay will demonstrate why the common argument that corporations lack rights because they aren't people demonstrates a fundamental misunderstanding of both the nature of corporations and the First Amendment.
Or, in other words, and to expand a bit on what Romney said, Corporations are made up of people. When you talk about doing something to a corporation, you are, in the end, talking about doing something to the individuals who own that corporations because, in the end, a corporation is nothing more than an association of individuals for the purpose of pursuing a business objective. Our law has recognized legal personhood for corporations in a variety of circumstances (Citizens United is not one of them) because of the law's recognition that the interests of the people who work for the corporation as directors and officers may not necessarily coincide with those of the corporation itself. Thus, the law has created fiduciary duties that these officers and directors owe to the corporation (the shareholders)., provided opportunities for shareholders to challenge the decisions, and requires corporations to retain legal counsel separate and distinct from that representing the interests of officers and directors. The law considers the corporation a de jure person for these purposes in order to protect the interests of the individuals who make up the corporation.
Of course, there are some who recognize the ultimate truth of what Romney and Shapiro have said but don't think it matters because corporations are made up of the wrong kind of people. Ezra Klein is one of the pundits who seems to think this way:
Romney was also making a more specific argument — if the government taxes corporations, those taxes eventually filter down to specific people. That's true. But which people?
My response to that question is why does it matter? Of course, to Klein it matters because he goes on to make the case that the corporate income tax primarily impacts "the rich." Even if that's true, I'm not entirely sure why that's relevant unless you happen to a redistributionist, and it is their worship at the altar of the redistribution of wealth by the state that makes it impossible for libertarians such as myself to seriously consider supporting Democrats most of the time. In the end, if you're talking about a policy that will cause harm to people, it shouldn't matter that those people are members of the evil "rich."
I'm not much of Mitt Romney fan, but was absolutely right here and those who would make war on the corporation as if it were some soulless entity they can simply siphon tax dollars from are completely wrong.