Mitt Romney Stepping Back Into Political Arena
Mitt Romney returns from the political graveyard.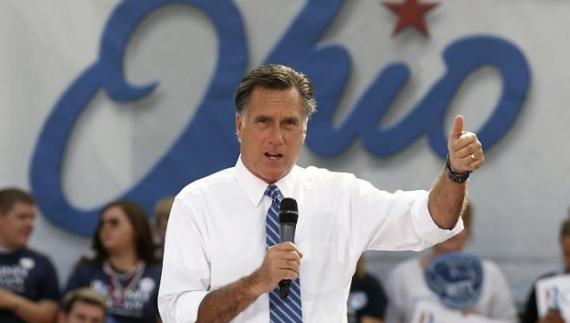 After he lost the Presidential election last November, most political observers believed that Mitt Romney would mostly fade into the background. Unlike previous losing Presidential candidates like John Kerry and John McCain, Romney didn't have another political office to go back to after the election, and he'd made it clear that he didn't intend to run for anything again. That's why it's somewhat surprising to see him stepping back into the political arena:
More than half a year after his election loss, Mitt Romney is putting a tentative foot back onto the public stage.

Restless, a little wistful and sharply critical of President Barack Obama's second term, Mr. Romney said in an interview that he plans to re-emerge in ways that will "help shape national priorities."

As a first step, the former Republican presidential nominee plans to welcome 200 friends and supporters to a three-day summit next week that he will host at a Utah mountain resort.

He is considering writing a book and a series of opinion pieces, and has plans to campaign for 2014 candidates. But he is wary of overdoing it. "I'm not going to be bothering the airwaves with a constant series of speeches," he told The Wall Street Journal, speaking from his home in La Jolla, Calif.

The Utah event, six months in the making, will be splashy, expensive and closed to outsiders and the press. The meeting will be "forward looking," as Mr. Romney describes it, but also nostalgic for a race that slipped away.
Perhaps the most interesting part of this is the idea that Romney will be campaigning for candidates in 2014. Quite honestly, I can't see anywhere where there might be a candidate willing to have Mitt Romney come in and campaign for him. For example, you certainly aren't going to see Romney on stage with Gabriel Gomez, the Massachusetts GOP's candidate in the upcoming Special Election to fill John Kerry's Senate seat. Now, if by "campaigning" Romney's people mean fundraising, and specifically persuading many of the big money donors that donated to both of his Presidential campaigns to write checks for Republican candidates for the Senate and House, then I can see a role for Romney to play in the 2014 campaign. As an actual "campaigner," though? Nope, I'm not seeing it at all.
Leaving aside the fact that he lost an election, the main reason that the idea of Romney as a campaigner for the GOP going forward is that he is, for better or worse, out of step with the direction that the party is moving right now. Indeed, I think it's arguably the case that Romney wasn't exactly in step with where the GOP was in 2012. The activist base avoided getting behind him as long as they could during the primaries, and never really struck me as being all that enthusiastic for his candidacy until he selected Paul Ryan as his running mate. After he lost the election, Romney became pretty much an "unperson" on the right. While the common conservative claim that Romney lost because conservative voters stayed home can be shown to be demonstrably untrue simply by looking at the election results, it is certainly the case that the GOP base was never all that enthusiastic for Mitt Romney. So, it's unclear why they'd want to see him return or why his endorsements in 2014 would matter to anyone.