Modestly Good News From The March Jobs Report
March's Jobs Report was good, but could be better.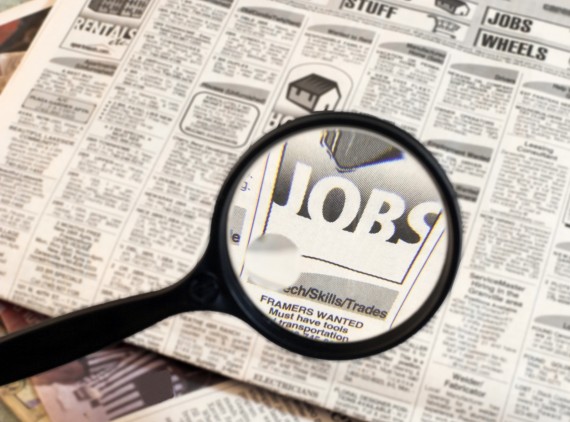 The U.S. labor force continued its modest but positive expansion in March according to the latest jobs report from the Bureau of Labor Statistics:
Total nonfarm payroll employment rose by 215,000 in March, and the unemployment rate was little changed at 5.0 percent, the U.S. Bureau of Labor Statistics reported today. Employment increased in retail trade, construction, and health care. Job losses occurred in manufacturing and mining.

In March, the unemployment rate (5.0 percent) and the number of unemployed persons (8.0 million) were little changed. Both measures have shown little movement since August. (See table A-1.)

Among the major worker groups, the unemployment rates for adult men (4.5 percent), adult women (4.6 percent), teenagers (15.9 percent), Whites (4.3 percent), Blacks (9.0 percent), Asians (4.0 percent), and Hispanics (5.6 percent) showed little or no change in March. (See tables A-1, A-2, and A-3.)

The number of long-term unemployed (those jobless for 27 weeks or more) was essentially unchanged at 2.2 million in March and has shown little movement since June. In March, these individuals accounted for 27.6 percent of the unemployed. (See table A-12.)

In March, the labor force participation rate (63.0 percent) and the employment-population ratio (59.9 percent) changed little. Both measures were up by 0.6 percentage point since September. (See table A-1.)

(…)

Total nonfarm payroll employment rose by 215,000 in March. Employment gains occurred in retail trade, construction, and health care, while job losses occurred in manufacturing and mining. (See table B-1.)

Retail trade added 48,000 jobs in March. Employment gains occurred in general merchandise stores (+12,000), health and personal care stores (+10,000), building material and garden supply stores (+10,000), and automobile dealers (+5,000). Over the past 12 months, retail trade has added 378,000 jobs.

Construction employment rose by 37,000 in March. Job gains occurred among residential specialty trade contractors (+12,000) and in heavy and civil
engineering construction (+11,000). Over the year, construction has added 301,000 jobs.

Employment in health care increased by 37,000 over the month, about in line with the average monthly gain over the prior 12 months. In March, employment rose in ambulatory health care services (+27,000) and hospitals (+10,000). Over the year, health care employment has increased by 503,000.

Over the month, employment continued to trend up in food services and drinking places (+25,000) and in financial activities (+15,000).

In March, employment in professional and business services changed little for the third month in a row. In 2015, the industry added an average of 52,000 jobs per month.

Employment in manufacturing declined by 29,000 in March. Most of the job losses occurred in durable goods industries (-24,000), including machinery (-7,000), primary metals (-3,000), and semiconductors and electronic components (-3,000).

Mining employment continued to decline in March (-12,000) with losses concentrated in support activities for mining (-10,000). Since reaching a peak in September 2014, employment in mining has decreased by 185,000.

Employment in other major industries, including wholesale trade, transportation and warehousing, information, and government, changed little over the month.
The jobs numbers for January and February were modestly revised, with January's net jobs number being revised downward from +172,000 to +168,000 and the numbers for February having been revised from +242,000 to +245,000 for a net revision of -1,000 for the two months combined. On the positive side, though average hourly earnings for all employees increased by seven cents per hour, while the average hourly work week was unchanged from February. The increase in wages is seen as particularly good sign given the fact that those numbers had been stagnant for a number of months. Additionally, while the top-line U-3 employment rate did rise one-tenth of a point that appears to be due mostly to the fact that the number of people looking for work increased, a sign that potential employees are becoming more optimistic about the labor market. Digging deeper into the data, the long term unemployment rate continues to improve while both the labor force participation rate and the employment rate increased from previously historic lows. The changes for these last three items were admittedly modest, but they were nonetheless positive.
The New York Times puts a positive spin on the numbers:
Americans are going back to work.

Powered by a burst of hiring in recent months and an uptick in wages, the huge army of workers that had been on the sidelines of the recovery is slowly returning to the job market.

The Labor Department said on Friday the proportion of Americans in the labor force crept up slightly to 63 percent — the highest level in two years. Although still well below where it should be, that represents a move in the right direction and extends a trend that began last fall.

Over all, the economy added 215,000 jobs in March, as employers continued to hire at a robust pace, despite volatility on Wall Street and turmoil overseas.

The unemployment rate rose to 5 percent, compared with 4.9 percent in February. But that was a positive indication, analysts said, since the increase in participation accounted for the jump.

Although other economic data has been mixed recently, the Labor Department report paints a picture of a remarkably steady job market. Since the beginning of 2015, the economy has added well over 200,000 jobs a month on average.

Indeed, Friday's report suggests an economy gradually returning to a normal trajectory, like the one that prevailed before the Great Recession began in December 2007.

March's gain was in line with that trend. Economists and traders have been equally focused on other factors in the monthly jobs reports recently, like average hourly earnings and the proportion of Americans in the labor force.

That is because one of the biggest question marks of the recovery has been why wage gains have been so modest despite the steady hiring gains. That may be starting to change.

Last month, average hourly earnings rose by 0.3 percentage point, bringing the yearly wage gain to 2.3 percent. Economists had been expecting a 0.1 percent increase, so March's change suggests wages are strengthening.

The economic backdrop to the election is also starting to change. Democrats note that unemployment has in fact fallen sharply since President Barack Obama took office; the jobless rate stood at 7.8 percent in January 2009.

But Republicans in turn can cite stagnant wage growth, as well as the exit of many workers from the labor force in recent years, as they criticize Mr. Obama's stewardship of the economy from the campaign trail

While the unemployment rate has been falling, until recently so has the proportion of Americans who are either employed or actively looking for a job.

In March, the percentage of Americans who are counted as part of the labor force crept up, as it has done in recent months after bottoming out at 62.4 percent in September 2015, the lowest since the late 1970s.

(…)

"The labor force in the last few months has seen significant gains," Claire McKenna, a senior policy analyst with the National Employment Law Project, an advocacy group for lower-wage workers, said before the report was released. "Things are moving in the right direction but very slowly."

Still, Ms. McKenna noted, the participation rate was three full percentage points below where it was when the recession began in 2007.

The falling percentage of Americans in the labor force in part reflects the retirement of baby boomers and other demographic factors, rather than underlying economic weakness.

But Ms. McKenna noted that at 77.8 percent, even the participation rate for prime-age workers ages 25 to 54 was still down two percentage points from late 2007.

"Wages and participation are where the rubber meets the road," said Michael Gapen, chief United States economist at Barclays, in an interview before the release of the report Friday. "We will take our cue about the overall strength of the economy based on that."
Still hanging over the economy, of course, is the question of Federal Reserve policy going forward and what impact jobs numbers such as this are likely to have on the interest rate situation. It has been three months now since the board increased interest rate for the first time in nearly a decade. Since then, though, the Fed has demurred on follow-up increases notwithstanding policy statements in December that made clear that further rate increases would be coming if the economic data justified that decision. The reluctance to increase rates in the first quarter of 2016 was likely motivated in no small part by disappointing reports about economic growth in the final quarter of 2015  as well as continued signs of economic turmoil in Asia. At some point, though, the Federal Reserve is likely to look to raise rates again, and this will especially be true if the labor market continues to improve as it has in the past three months.
The other factor at play here, of course, is the election and the fact that both parties will seek to use elements of a jobs report like this, which can classified as modestly good but far from perfect, to advance their cause. For Democrats, the increase in jobs combined with the fact that the top-line unemployment rate has declined significantly since President Obama took office. Republicans, meanwhile, have been emphasizing the lack of wage growth, the fact that long term employment and labor force participation remain stubbornly low, and the fact that job growth itself is barely at replacement level to argue that the economic could, and should, be doing much better, with some candidates arguing that their policies could lead to GDP growth closer to 4% than the 2.0% to 2.5% we've been experiencing since 2009. While sustained 4% growth seems unlikely, it is undeniable that the modest growth we've seen over the past seven years has made for one of the slowest recoveries since the end of the Second World War. Unfortunately, the kind of action that Congress could take that would impact these numbers the most, such as comprehensive tax reform that would implement pro-growth strategies, seems unlikely given the current state of gridlock on Capitol Hill. Until then, we'll likely just continue coasting alone.